Gold for both Shauna Coxsey and Rustam Gelmanov in Bouldering World Cup in Kazo
April 25th; 2016
Shauna Coxsey dominated the second round in Kazo to take her second gold this year whilst Rustam Gelmanov took gold in the men's event.
Shauna Coxsey flashing W3. IFSC vid grab
Big news from Kazo was that Shauna Coxsey utterly dominated the women's competition all weekend finishing in first place in the qualification round, the semi's and then the final! Shauna's performance in the final was little sort of incredible topping all four problems; three of which she flashed! Melissa le Neve, runner-up last weekend in Meiringen, was second again with two tops in two attempts whilst third place went to Miho Nonaka with two tops in three attempts. Michaela Tracey just missed the finals coming in 7th.
Rustam Gelmanov flashing M4 to win the comp. IFSC vid grab
The men's comp was much more closely contested – so much so that all last weekend's podium winners didn't make the finals this weekend! Rustam Gelmanov however, returned to wining way by topping three blocs in three attempts winning the comp by flashing M4. M4, the final men's bloc was impressive – severely overhanging, it squeezed in all the tricks; volumes, compression moves, double dynos and even a kneebar for those that got that far! Rustam's win was his first for two years. Italian Michael Piccolruaz came in second with two tops in two attempts and Kokaro Fujji delighted the home crowd with a third place podium position. Once again, lots of big-name men failed to make the cut into the finals proving that the men's stream is much more open.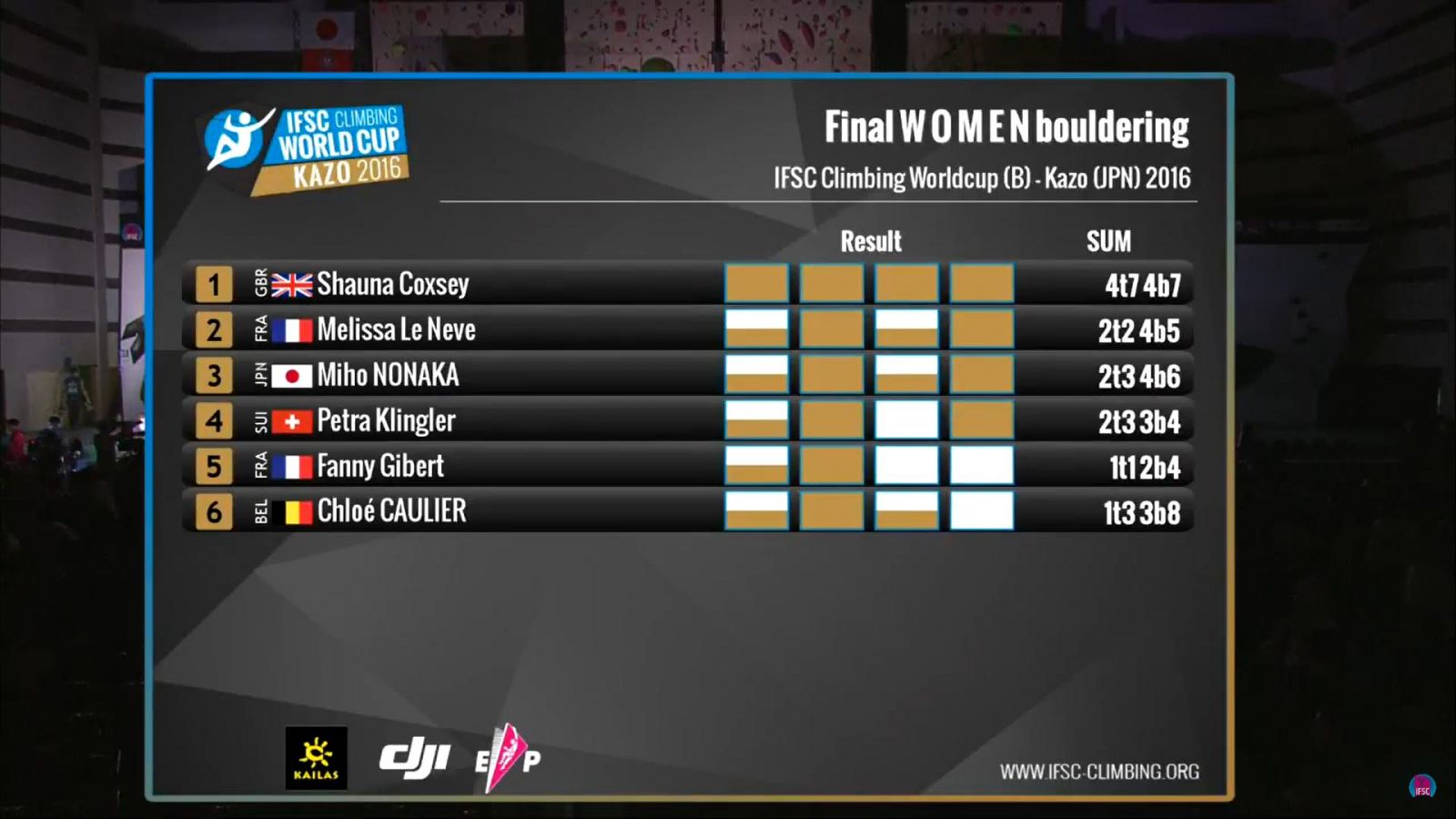 Women's results from Kazo
Men's results from Kazo
After two events Shauna has a convincing lead in the women's comp with 200 pts; Melissa Le Neve having 160 in second place and Fanny Gilbert 94 pts in third. Michaela Tracey is in sixth overall (83 pts) and Leah Crane in 11th (53pts).
Current leader in the men's comp is Rustam Gelmanov with 128 pts, whilst Alesey Rubtsov in second has 123pts and Kokoro Fujii is in third with 100pts. Leading GB competitor, Tyler Landman is in seventh overall with 75pts whilst Dave Barrans is in 25th (20pts) and Nathan Phillips in 32nd (7pts).
The third round next weekend will be in Chongqing, China.