Go West, Go Wales – Welsh scene off to flying start to the year
April 12th, 2015
The Welsh scene is on fire it seems with a series of early season repeats coming from DMM athletes, James McHaffie and Pete Robbins.
Pete Robbins seconding the first pitch of Coeur de Lion. Photo James McHaffie
Just as March was running out James 'Caff' McHaffie napped the third ascent of Megalopa F8c+ at LPT. Megalopa was first done back in 2011 by Neil Dyer who just piped Pete Robbins to the first ascent after the pair had been working on the route together. Pete succeeded shortly afterwards. Megalopa follows The Walking Mussel F8b+ to the rest and then heads off rightwards tackling the headwall by a series of bouldery and droppable moves on reasonably decent holds. Caff's ascent wasn't with a degree of stress of wet holds and doggie weather. Attributing his renewed interest in sport climbing, as well as his fitness, to a trip to Oliana in Spain in February during which Caff had repeated Mind Control F8c/+.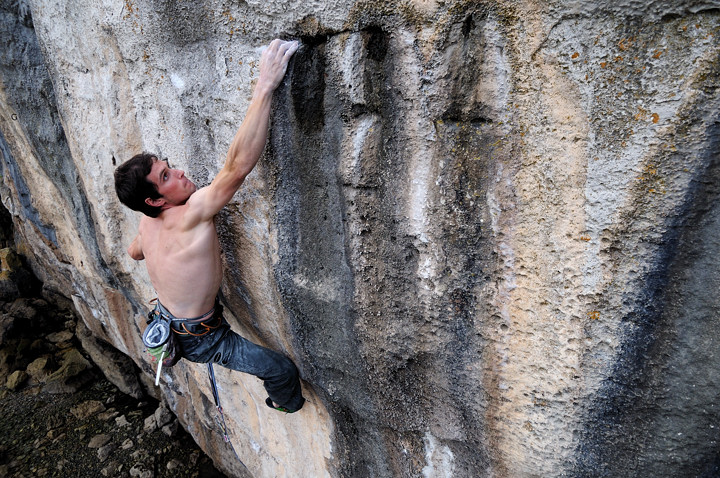 Pete Robbins working on Megalopa prior to his second ascent. Photo Keith Sharples
The action moved to slate on Friday (April 10th) when Caff joined forces with Pete Robbins for some slate action in Twll Mawr – the monster hole in the Llanberis slate quarries. Famously, Twll Mawr – the literal translation of which is 'Big Hole' – is home to such routes as Joe Brown's Opening Gambit XS 5c , Johnny Dawes's The Quarryman E8 7a and Coeur de Lion E8 7a. The Quarryman – with its famous 'full-on' groove has seen a number of repeats but Coeur de Lion has laid unrepeated since Dawes's first ascent back in 1987.
The V12 news feed reports that Caff had abbed down the line to clean it earlier in the week during which he chalked it and checked out the harder moves. Accordingly Caff lead the first two pitches and not surprisingly reports that the climbing is both run out and hard. The first pitch alone has E7 and V8+ sections although the second pitch was easier at hard E6 6c. Pete lead the top pitch which weighs-in at E6 6b/c. Pete is quoted on the V12 news feed as saying that the first pitch is "F8a+ in total and definitely worth E8 for anyone talented enough to on-sight it".
V12 also report that young (13 year old) Archie Ball headpointed My Halo E7 6b on the Seamstress Slab.
To read more on these stories click through to the V12 and/or the DMM news feeds.
To follow Caff click through here to his website…