Gaz Parry goes Supersónico 8c+
Jan12th, 2015
In his best effort to date, well known climber and CLIMBER magazine columnist Gaz Parry, has just completed Supersónico 8c+, his long term project in Spain.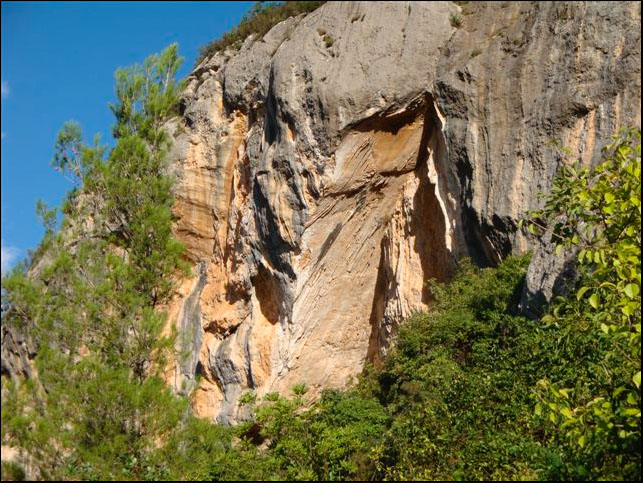 Sector 45 Degrees, Costa Blanca
Supersónico is at Sector 45 Degrees which is located in The Vall De La Gallinera in the Costa Blanca, a crag which Gaz along with Mike Langley and friends bolted a while back. Mike Langley picks up the story with the background. "When Gaz first showed me a thumbnail picture of a potential new Costa Blanca crag in summer 2011 I booked the first flight with a bag stuffed full of hangers and drill bits to join him on the bolting mission. It was obvious as we first trekked up to the huge cliff that there plenty of awesome lines but the Supersónico proj line stood out as the 'King Line'! So it sounds good, but can we have a description please? Mike again, "You can see this 45 degree monster from miles away as you drive through the hills. However, from underneath it looks seriously intimidating. This simply has to be one of the best lines I have ever seen".
Having bolted it, Gaz started work and the roller-coaster ride that is so familiar to many sport climbers operating at the limit of their envelop. "I've tried it on and off for 3-4 years but never really put time in. We moved back to Spain in November and I decided to commit to climbing it". Once committed, Gaz went the whole nine-yards. "I was training, running, cycling and eating well". His progress was steady but just after Christmas time Gaz hit a major problem – he pulled his back on the hard starting moves. Gaz again, "Ups and downs today on the project. First redpoint of the day I got a high point, through the 3rd crux and a few moves off a shake. Setting off for the second go on the route, it starts with a really high step and a massive and contorted cross over". You can guess there's a 'but' coming can't you in Gaz's story – and it doesn't take long…" but when I brought my right foot up I felt a massive twinge in my hip/back. I really struggled to reverse this as you can't actually fall off here without going splat. I couldn't really walk or move and ended up lying down on the floor with Kate pulling off my boots and putting my shoes on".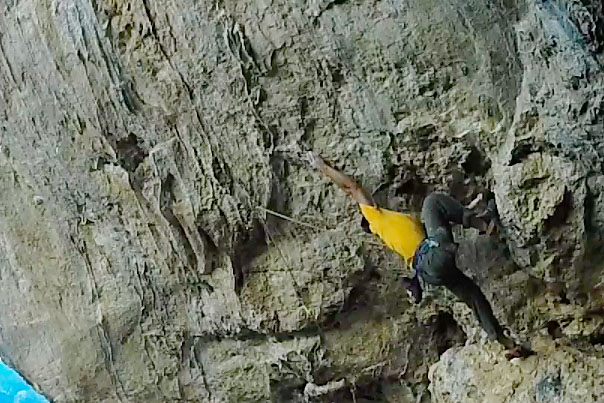 Gaz on the cross-over starting moves…
Slowly Gaz recovered and then got back on the case. On Jan 9th he topped-out. Posting on social media Gaz was clearly chuffed, "Oh yeah, wanted to say this for a while. I sent this line today, 8c+, for sure my hardest climb yet. Long time coming and lots of belaying from Katherine Mills. Nice one Ted Kingsnorth for holding the rope on the day".
Supersónico 8c+ with Gaz high on the arête. Photo David Petts
Gaz gave us a few more of the specifics. "Supersónico is approximately 30m long. Essentially 4 boulder problems with a shake before the last. The top wall after the boulders is around 7b+. I think it breaks down to about 8b, some good tuffs but no shake, then 8b up the arete, then 7b+". Gaz couldn't think of a route in the UK to compare it too but did suggest it was "probably as good as any line around".
Both Mike and Gaz have confirmed that there's plenty more lines left to do yet at the crag.
Thanks to Mike Langley from The Castle Climbing Wall for the extra beta and to David Petts for the video grab.
Keep in touch with Gaz's climbing by clicking through here to his website/blog...
Gaz is sponsored by Scarpa, Edelweiss, Grivel, Mountain Boot Company, Blurr and Powerfingers