Garnbret dominates Innsbruck taking double golds
Janja Garnbret scooped gold in both Lead and Boulder at the latest World Cup events at Innsbruck whilst men's golds go to Schubert (Lead) and Ogata (Boulder).
Nearly a month after the second of the two Salt Lake City events all eyes turned to Innsbruck last week for another World Cup Boulder round as well as the first World Cup Lead competition of the season. With less than two months to go before the Tokyo numerous Olympians were on the starting line-ups keen, no doubt, to boost their 'match fitness' and check-out their current form. Sadly, covid restrictions complicated travel arrangements considerably for Team GB climbers and, much to the frustration of all concerned, none of the GB athletes attended Innsbruck.
For those climbers who entered into both Lead and Boulder comps the four-day, back-to-back action was pretty intense; doubtless it was 'good training' especially for the Olympians! Wednesday (qualification) and Friday (semi and finals) were set aside for the Lead comp whilst Boulder was held on Thursday (quals) and Saturday (semi's and finals). Those climbers only entering one of the events were seemingly at an advantage so it was only to be expected that some athletes going for the 'double' might slip a little in the standings when competing against climbers only doing one discipline.
With Tokyo coming up over the horizon very quickly it was understandable that a number of Olympians were keen to compete albeit that some were juggling with injuries. Adam Ondra, for example, having hurt a shoulder in an SLC bouldering event was entered in Lead only for Innsbruck. Julia Charnourdie was making a welcome return to competition have had to 'sit-out' both the SLC boulder rounds due to a shoulder injury sustained during the warm-up to the first SLC event.
Alongside the younger athletes, Jongwon Chon was back in action on the mats for the first time in a long time. Sadly, Akiyo Noguichi, having announced her retirement after the Olympics, was appearing at Innsbruck in her last ever World Cup competition!
Women's Lead
Arguably women's lead qualifications went with 'form' in that Janja Garnbret finished in first place. However, the two young lead guns, Laura Rogora and Brooke Raboutou, finished in second and third respectively pushing some of the more established lead competitors down the table. Neither Rogora nor Raboutou are ever far away from the action these days and given both are heading to Tokyo both are a significant threat to Garnbret's Lead results. In the overall competition, Raboutou especially is looking particularly threatening to Garnbret's dominance given her recent performances in WC Bouldering events where she's picked up two Bronze medals. Whilst Rogora and Raboutou continued to press Garnbret's Lead dominance, Japanese stars Akiyo Nogouchi and Miho Nonaka, two early-qualifying Olympians, were forced down the rankings. However, both were firmly in contention in 7th and 8th place respectively. Remember too that the young Korean Lead star Chaehyun Seo wasn't competing in Innsbruck either.
Friday's semi-final was a perfect reminder of just how potent a threat to Garnbret Lead dominance these young climbers are when Rogora actually climbed higher on the route than Garnbret. However, when the final results came in, Rogora was timed out so Garnbret took the top spot once again. Nevertheless, the point will be doubtless be noted by Garnbret's team that given the route Rogora is a serious threat. Raboutou again posted a strong performance to finish in third but once again Noguchi and Nonaka were forced down the table. Interestingly Viktoriia Meshkova, the late-qualifying Russian climber that's heading for Tokyo, also posted an impressive performance to finish in 6th place and so earn a spot in the Lead final. For both Raboutou and Meshkova it was to be their first-ever Lead final at a World Cup.
Friday night's women's Lead final proved to be a very exciting round. The taxing route, harder than that in the semi, was said to be F8b+/c. Remarkably, out of the eight women going through to the final, six were qualified Olympians! Miho Nonaka was first to climb and having got through the first dyno move fell on the second. Whilst she ultimately finished in 5th it's worth noting that she is on the only Olympian to have competed in WC finals in all three disciplines – ie Lead, Boulder and Speed – this year! As such she's made a very welcome return to form following an earlier injury. Akiyo Noguchi was next to climb and, having latched the move that dispatched Nonaka, she went on the climb much higher on the route - high enough, in fact, to finish in third place overall adding yet another Bronze medal to her already very impressive tally.
The lower moves, the low dyno in particular, was to prove the undoing of both Garbret's Slovian teammates, Lucka Rakovec and Vita Lukan. Sadly, after her stellar performance in the semi's, Laura Rogora too fell from the lower dyno having been very hesitant on that move. Doubtless being one of the shorter competitors didn't help her much but it seems that dynos may be something of a weakness in her game; no doubt she'll be working on between now and Tokyo.
Brooke Raboutou however had no such problems on the lower wall/dyno's and climbed both strongly and creatively finding good resting places where needed. Ultimately, Raboutou fell several moves higher than Noguchi approaching the final difficulties of the route to take a well-deserved Silver – doubtless the first of many more Lead medals she'll collect during her career. Climbing last, Janja Garnbret's performance left nothing to be desired; with just seconds left on the clock she alone topped out on the route to take her first gold of the week.
Men's Lead
Like the women's lead event, the field for the men's lead event had a number of 'new' young guns; Colin Duffy and Alberto Gines Lopez both of whom have qualified for the Tokyo Games. Both climbed well in the qualification round finishing in 6th and 11th place respectively so comfortably reaching the semis. Adam Ondra, came out all-guns-blazing to finish in top spot ahead of close rivals and well-established lead performers Jakob Schubert, Alex Megos, Domen Skofic and Stefano Ghisolfi. They finished in 2nd through to joint 4th respectively with Tomoa Naraski and Sascha Lehmann close behind in 7th and 8th.
The semis saw a fair few climbers struggling low down; Colin Duffy and Domen Skofi amongst them. Both Kokoro Fujii and Tomoa Narasaki were out-gunned by their teammate Masahro Higuchi; he alone from the Japanese squad made it into the finals. Stefano Ghisolfi, Alex Megos Luka Potocar, Sascha Lehmann and Jakob Schubert all made the cut too but all were out-climbed by Alberto Gines Lopez who claimed 2nd place; unsurprisingly, Adam Ondra finished on top again but only by the narrowest of margins, in this case just a single move!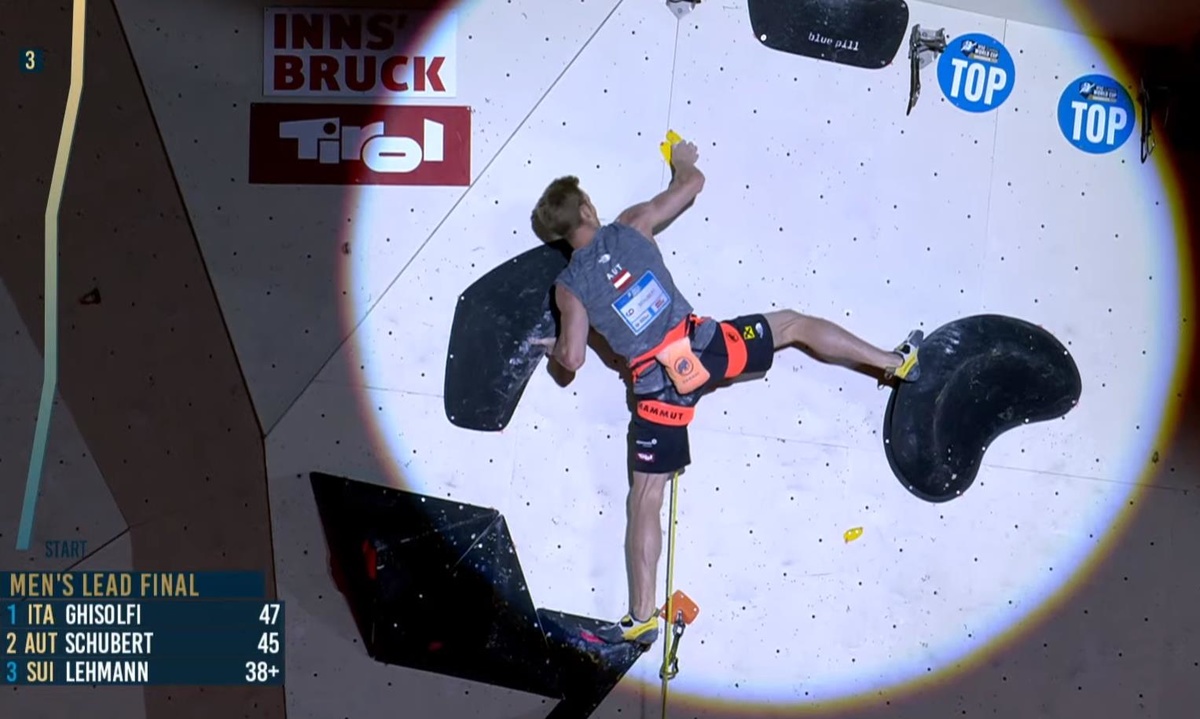 The men's final route just like the women's was harder than the semi route - in this case, it apparently weighing-in around F8c+. There must have been a few nervous moments amongst the setters when Stefano Ghisolfi climbed first and very nearly topped the route! Three finalists, Megos, Higuchi and Lehmann all fell within a move of each other so the stage was set for Schubert, Lopez and Ondra to come out and deliver. Climbing third last, Schubert posted a solid performance ultimately falling a whisker higher from where Ghisolfi had fallen. Could Lopez do the business and force Ondra out? Sadly, Lopez too fell lower than expected so it looked as though the victory was going to Ondra.
In one of the biggest upsets in the entire competition, if not the season to date, Ondra however didn't deliver! In the later stages of the men's lead event, heavy rain was falling forcing competitors to walk into the stadium in their gym shoes then change into the climbing shoes. Humidity was also very high. Whether it was a combination of those factors that upset Ondra's apple cart we'll never know but climbing on a resistance route that should have suited him, Ondra made a first foot-fault very low down on the route and was forced to make a dramatic 'save' but then fell off again moments later when his heel 'blew off' whilst he was heel hooking a volume! Spectacularly, Ondra fell off at move 17 and placed last gifting the win to Schubert, the silver to Ghisolfi and Bronze to Lehmann. In 99.9% of the competitions, the results would have been different but it was, if anyone needed proof, a perfect example of how volatile fortunes can be at the top end and especially in lead comps where a single mistake can be very 'costly'!
Women's Boulder
If we'd learnt anything from the earlier WC Boulder events of the year it was that the hitherto dominant Janja Garnbret had not one but two new rivals in the form of Natalia Grossman and Brooke Raboutou – both of whom were on a massive roll following the two SLC events! Remember that Grossman had won both those events with a nearly faultless performance the like of which Garnbret herself usually delivered. Raboutou had also made a name for herself in boulder having collected the Bronze medal in each of those events as well. The fourth WC Boulder event at Innsbruck was therefore nothing if not eagerly awaited!
Whilst the other, long-established, boulder competitors were looking to spoil the party and write their own names onto the medal list it's fair to say that the qualification round didn't go their way. Garnbret topped the leader board but it was Raboutou that placed ahead of Grossman for once when the quals were over. Raboutou, Grossman and Miho Nonaka all topped four blocs but Garnbret went one better – as often she does – and topped all five in the round. Akiyo Noguchi was a whisker behind albeit she lead the field of the remaining competitors with three tops.
The women's semi was another event round; the climbing was electric as usual but controversial filming by the company responsible for the live stream caused an uproar; we'll talk about that later but let's cover the climbing first, however. No one would be surprised that Garnbret finished in the top spot; she alone topped four blocs whilst her nearest rivals, Futaba Ito, Miho Nonaka, Natalia Grossman and Akiyo Nogouchi all topped three each. Stasa Gejo took the sixth and final place to go forward into the finals; Raboutou slipped into 8th place so missed the opportunity to battle for more ironwork.
So then, the filming controversy. This blew up when 7th placed Johanna Farber was put, metaphorically, in a spotlight she'd undoubtedly rather not have been in! Specifically, one of the camera operators – employed by ORF – locked on and featured inappropriately Johanna Farber as she climbed one of the boulders. Viewers and fans immediately objected to the coverage; ultimately the footage was taken down and edited and ORF apologised to Farber, the IFSC, as well as Austria Climbing and the wider community for their filming.
The Saturday night finals proved equally dramatic - albeit for totally different reasons. Firstly, Miho Nonaka, having qualified, dropped out of the finals. She had tweaked a knee in the semi's and had taken the precaution of getting it checked out at the hospital. As it was she was seen walking later that evening albeit with a limp. Hopefully, it'll not affect her Olympic preparations. Barring her Olympic appearances later this summer the women's final would be the final occasion on which Akiyo Noguchi would ever be seen on the mats competing in a World Cup event! Noguchi has had a long and distinguished career and clearly she would hope to get a spot on the podium to add further to her medal tally.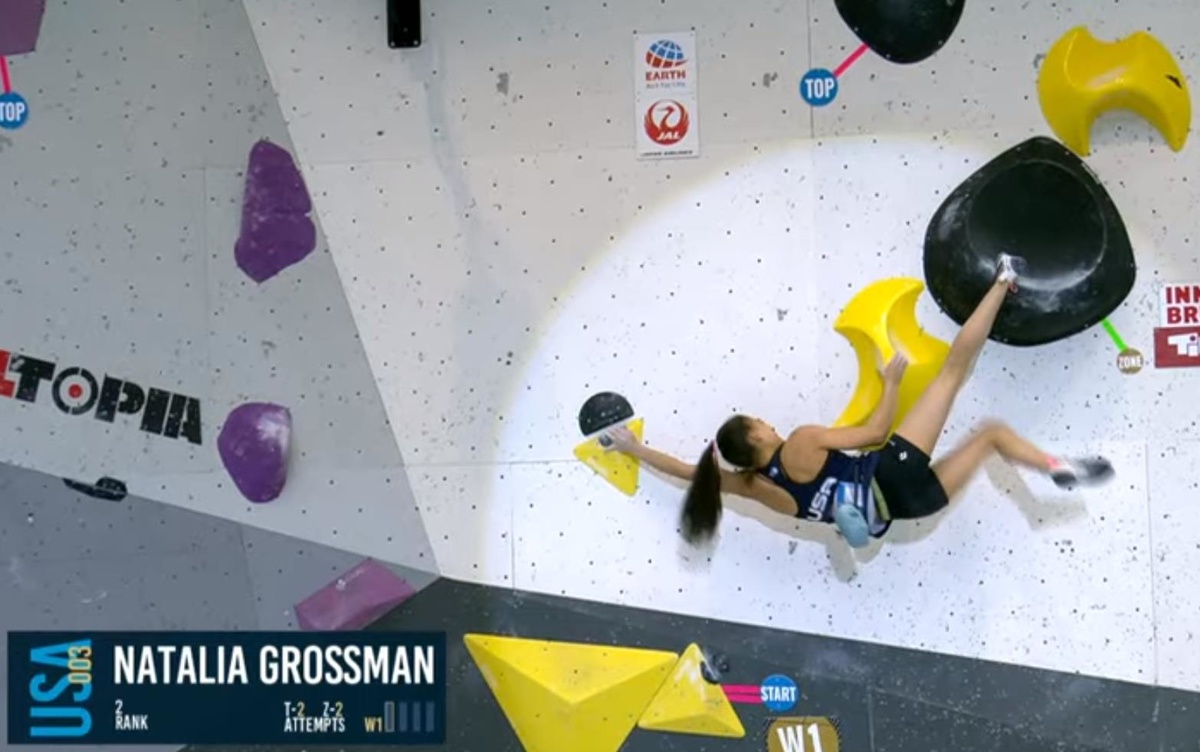 Opening the finals, W1's all but snuffed out Nogouchi's hopes of a further medal as she alone came up empty-handed. Whilst Stasa Geo got the zone, all three of the remaining finalist s Ito, Grossman and Garnbret topped out; Garnbret flashing it in her characteristically dynamic style to take an early lead. When Stasa Geo got W2 on her second attempt – a coordination/parkour slab – the competition really started to come alive. Akiyo Noguchi was next out and she wasted no time demonstrating why she's been such a fierce competitor over the years when she put her troubles on W1 behind and flashed W2! Futaba Ito didn't do well on W2 and Grossman took five attempts to get the top so when Garnbret emerged onto the mats it was all very much still to play for. Garnbret's response was typical – she flashed it duly cementing her lead yet further!
At the halfway stage it was starting to look as though third place on the podium was still up for grabs; was the slight opening in the doorway enough for Nogouchi to go out in style? Grossman looked to be heading for a Silver and Garnbret yet another Gold. Somewhat dramatically, however, the weather was about to take a hand in the proceedings!
W3 was a balance slab that necessitated a rock-over on a heel to finish. Once rocked over the finalists were then in balance and could finish by touching the final holdless volume! Only Garnbret and Grossman topped out; Grossman on her 2nd attempt but Garnbret flashed it to take her third top in as many attempts ahead of Grossman. Stasa Geo got the zone hold whilst both Ito and Nogouichi came up empty-handed.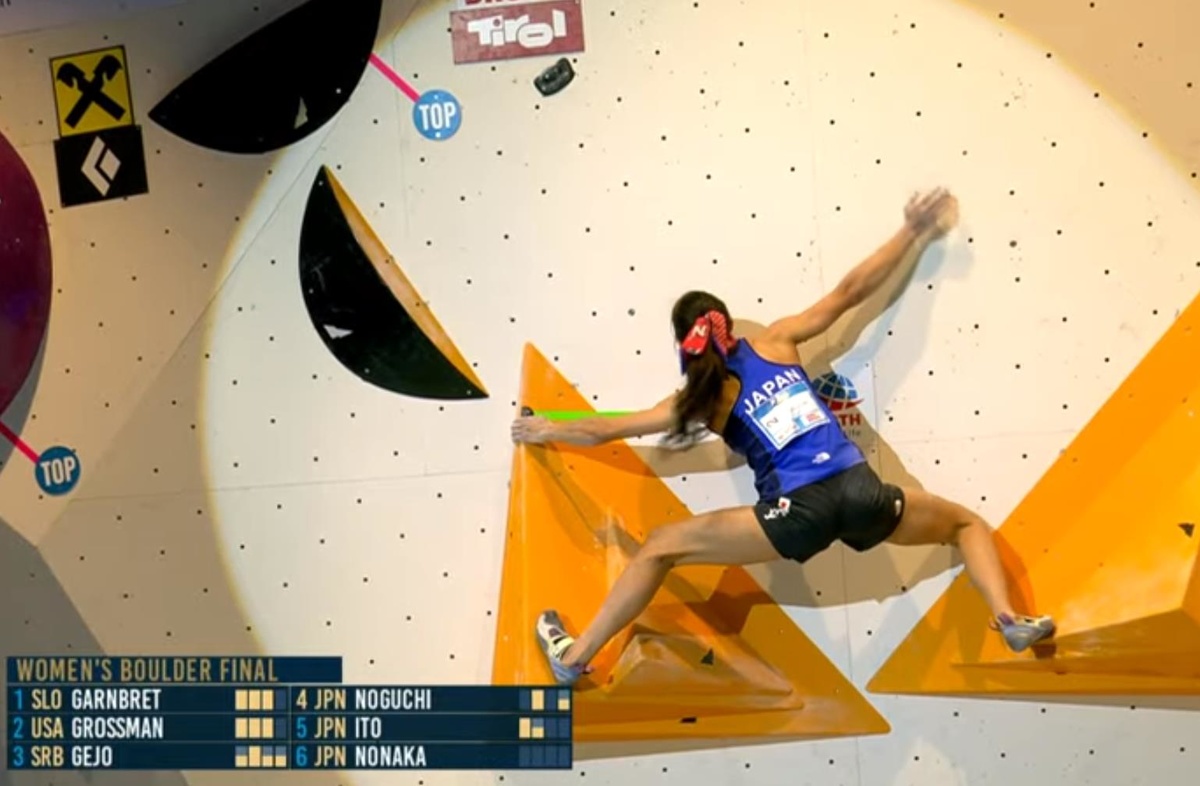 The nail-biter competition would only be decided after the fourth and final boulder but with Nogouchi climbing the heavens opened and dramatically the competition was halted. Finally, a decision was made to not restart the competition and women's final was decided on the basis of the first three blocs; Garnbret had won, Grossman and Geo picked up silver and bronze and Nogouchi was 'robbed' of the chance of any further medal by the weather of all things!
Men's Boulder
Arguably with Adam Ondra not contesting the men's Boulder event at Innsbruck was more open than usual. As it was the Japanese men pressed home their strength and depth in the team and remarkably finished with no less than six climbers in the top ten places after qualification! Jakob Schubert, Jongwon Chon, Mickael Mawem and Nicolai Uznik taking the remaining top ten places. Somewhat surprisingly, Simon Lorenzi, Nathaniel Coleman and Alex Mego took the final places and were just able to qualify for the semi-final.
Team Japan soundly stamped their collective authority on the semi's too; Kokoro Fujii, Tomoa Narasaki and Yoshiyuki Ogata taking all three of the highest places ahead of Nathaniel Coleman, Nicolai Uznik and Simon Lorenzi. Unexpectedly, especially after an ace qualification round, Jakob Schubert finished in 14th place although he wasn't the only climbing that was perhaps feeling the effects of the lead comp as Alex Megos posted what on the face of it was a sub-optimal result placing 12th.
When the men's final, having been delayed by the dramatic thunderstorm which curtailed the women's final, eventually got underway that too had been pulled back to a three bloc round. Although the action was enthralling, tops were very limited. Whilst Nathaniel Coleman was the first competitor to unlock the start and the tricky crowd-pleasing campus moves on M1 he failed to top. Tomoa Narasaki also got close on M1 – like Coleman he also got the zone – so it was left to Yoshiyuki Ogata to do the honours and take the only top of M1.
M2 was a little more forgiving and Ogata, Narasaki, Uznik and Lorenzi all topped. Lorenzi's top – on his tenth attempt – was a little short of remarkable. Starting with about 30 secs left on the clock he finally unlocked a tricky coordination/parkour section and looked over his shoulder to see he had less than ten seconds remaining. It's probably true to say that seldom, if ever, in the history of competition climbing has a climber flown through the remaining moves so quickly to top a problem as Lorenzi did; miraculously he hit and held the finishing hold as the clock registered 0:00! Sadly, it wasn't enough for him to medal but it's a timely reminder that it's never over till it's over and it can be well worth that 'one last attempt' at a problem!
M3 involved a devilish foot traverse along a set of sloping volumes. Tomoa Narasaki managed to get the zone something which halfway leader, Yoshiyuki Ogata, was denied. In a remarkable display of footwork and coordination, Kokoro Fujii topped M3 on his second attempt to finish the competition. Team Japan had swept the board talking all three medals; Ogata collecting the gold, Narasaki the silver and Fujii the bronze.
Lead Results
Boulder Results
Watch the Lead finals below…
Watch the Boulder finals below…