Garnbret and Schubert take gold in Munich
May 20th; 2019
Janja Garnbret and Jacob Schubert take gold in the penultimate 2019 WC Bouldering event at Munich.
Janja Garnbret, in characteristic mode finishing off W2 to take the win at Munich
Munich, as expected, delivered an absolute storming competition over the weekend. All eyes were on Garnbret to see if she could maintain her winning form and take a fifth WC victory from five events. By his standards Adam Ondra had a poor result in Wujiang and would clearly be gunning to make amends whilst locals Alex Megos and Jan Hojer would be doing their best to delight the home crowds and get a podium finish. A number of countries – Japan included – were holding domestic competitions this weekend and hence weren't fielding their top flight athletes. Japan, for example, were holding their Combined Nationals and all the Olympic hopefuls including Akiyo Noguchi, Miho Nonaka, Tomoa Narasaki, Kai Harada, Keita Dohi, Kokoro Fujii – all finalists in Wujiang – were therefore fully committed to that and hence absent from Munich. Finally, given that Munich was the penultimate bouldering event in the 2019 season, many athletes were hoping to bump up their bouldering rankings to boast their chances of selection for Toulouse.
Garnbret was her usual brilliant self in the qualification round easily wining Group A with all five tops. Over in Group B, Urska Repusic and Fanny Gilbert also took five tops. Emily Phillips smashed out four tops in Group A to finish in joint 5th.
None of the men topped all five blocs in either Group A or B although the crowd were delighted to see Jan Hojer finish third overall – one of seven athletes finishing with four tops and five zones. Ondra, seemingly back to his former self, finished in the group in joint fifth. British interest was maintained by Nathan Phillips and Billy Ridal scoring three top (4 zones) and two tops (5 zones) finishing in joint 13th and 19th respectively.
The women's semi-final was totally bereft of any tops for a long time. Finally, Ievgeniia Kazbekova strolled to the top on W2 and immediately went to the top of the standings. Her top on W2 was the only top on any bloc by any women until Janja Garnbret came out last. It took Garnbret less than a minute to flash W1 – immediately she was into the semi's and could have left the stage at that point. Clearly that was never going to happen and she proceeded to demolish all the other blocs in turn although interestingly she took three goes to get the top on W2. Apart from that slight blip, Garnbret was flawless.
The men's semi-final was much more evenly balanced but Ondra looked to be back on form and he alone took four tops to finish in first place. Jongwon Chon likewise appeared back on track and delighted the crowd with three flashes to finish second. The Munich crowd however went nuts when Jan Hojer finished in third and Alex Megos in tenth. Nathan Phillips and Billy Ridal both topped M3 and finished in 14th and 16th place respectively – both well-deserved and hard fought for places.
Adam Ondra absolutely destroying M1 during his flash
Sunday night's final started with the men's and it was, as ever, a stacked field. M1, a typically aesthetic looking bloc comprising Tetris-style volumes, set the scene. Despite some excellent attempts – including a near first go from Schubert - it was Ondra alone that got the top; remarkably flashing it where others weren't even able to complete it! M2 was easier and everyone completed it although only Ondra flashed it. By the half-way stage Ondra had a built a commanding lead and he was really looking very hungry for victory.
Jan Hojer flashing M4 setting himself up for a third place in front of his home crowd
M3 involved a very delicate leftwards rising traverse and then an all-out explosive jump to the distant finishing hold – a half-decent screw-on fixed to the lip of a blobby volume. Aleksey Rubtsov and Jacob Schubert topped M3, Schubert catching the finishing hold one-handed on his second attempt to the uproar of the crowd. However, Ondra out-classed the other finalists again with yet another flash! Interestingly he made a superb corrective 'save' during the initial section of the problem when he nearly over-balanced but he hung-in for the flash. It seems as though he was ordained to win Munich – seemingly on fire!
M4, a left-tracking traverse across the steepest section of the wall provided a spectacular finish. It appeared that the problem could be done in several ways – either dynamically or statically by clever use of toe-heel moves. A number of the finalists explored a variety of methods. Anze Peharc got very close to the delight of the crowd but it was Jan Hojer deploying his immense physical strength who got the first top. In fact Hojer crushed it; ultimately that gave Hojer a well-deserved third place finish – all the better for being in front of a home crowd! Schubert stuck to his favoured dynamic method and got the top on his 3rd attempt; that was his third top overall albeit in more goes that Ondra.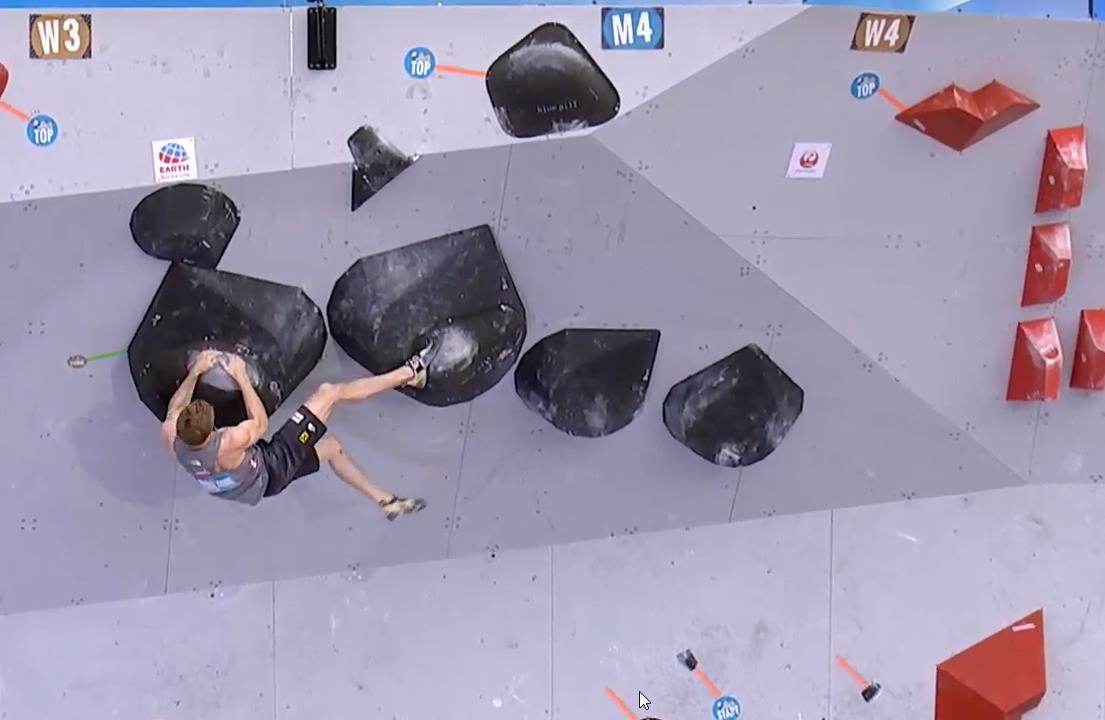 Jacob Schubert getting M4 on 3rd go to take the win by narrowest of margins talking his 3rd ever bouldering win and his 21st overall in a glittering career
It looked as though Schubert had been competing for the silver and if the rest of the competition went the same way as it had up to that point then that was where Schubert would finish. Climbing last, Ondra had the win in his sights but wasn't able to find a way through the traverse. Surprisingly, given how well he climbed on the first three blocs, he didn't get the zone on M4 so had to settle for three tops and three zones which gave him second place overall, the win going to Jacob Schubert with three tops and four zones! Schubert's win, by the narrowest of margins, was his 3rd ever WC bouldering win and the first for some time but his 21st WC gold overall. That in itself is remarkable achievement – especially considering the wins are across two disciplines; he's now jointly leader of the all-time men's gold medal winner table and level pegging with Kilian Fischhuber the legendary Austrian WC boulderer.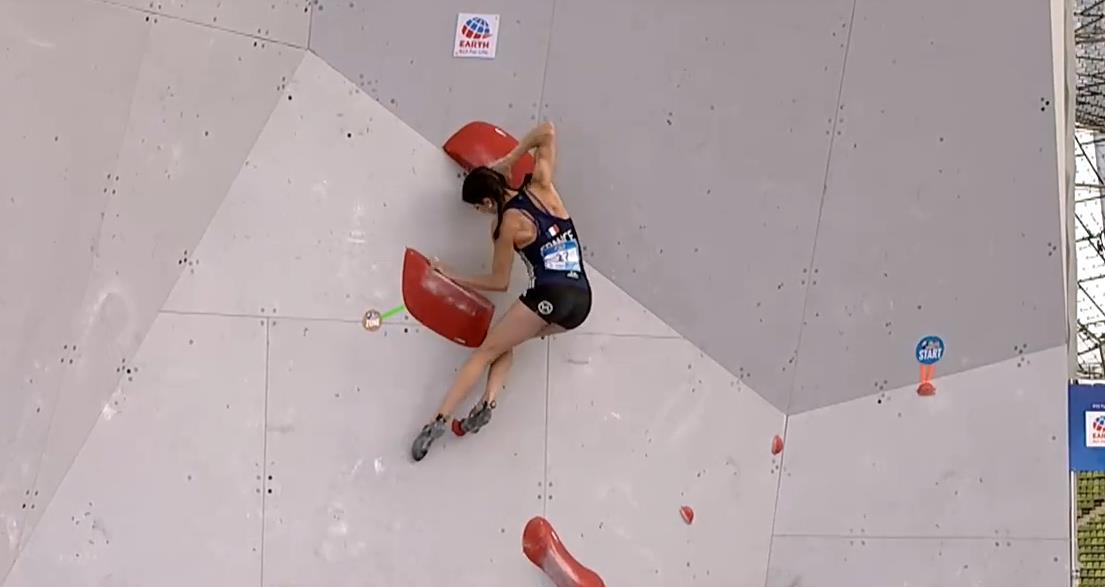 Fanny Gilbert flashing W1 to get her final off to a great start
And so then to the eagerly awaited women's final. There can be absolute no doubt that thus far, Janja Garnbret had totally dominated the competition and it seemed inconceivable that she wouldn't continue to do exactly that. Ukrainian climber Ievgenilia Kazbekova alone stood out in the semi but it seemed probably that the experience of Gilbert or Kadic might pay dividends. W1 however, saw a top from Ievgenilia Kazbekova top and a flash from Fanny Gilbert before Garnbret come out and waltzed up it in in characteristic form. Garnbret was already on top due to countback.
Gilbert got W2 done on her second attempt but it was the top by Mia Krampl that really got the crowd going. Krampl hobbled onto the stage before W2 and then proceeded to take several falls off the dynamic moves to get established onto the collection of massive volumes which dominated the middle of W2. It seems she wouldn't possible be able to progress with a knee injury which was clearly causing her considerable pain. But that's exactly what she did and duly topped out on her 5th attempt. Garnbret – like Gilbert – topped on her 2nd attempt. She looked almost human on this faltering slightly on a couple of the moves before characteristically cutting loose and latching the finishing hold with her body arcing out behind her. Midway through the final and Garnbret was pulling away from Gilbert.
Julia Chanourdie battled for nearly 2:30mins on W4 for her flash. Not only was it an excellent come-back it shows her future potential in the Combined as her speed climbing is pretty respectable
W3 saw yet another player, Julia Chanourdie, pick up a top. Chanourdie is gaining confidence in every WC she's doing now and emerging as someone that could well figure in the Combined arena given her speed climbing is pretty decent. Amazingly, Mia Krampl continued her run on the tops despite her knee injury; Gilbert's 3rd go top on W3 seemed almost casual however by comparison until Garnbret come out and totally cruised up it impressively cracking the double dyno and following flick move perfectly first go!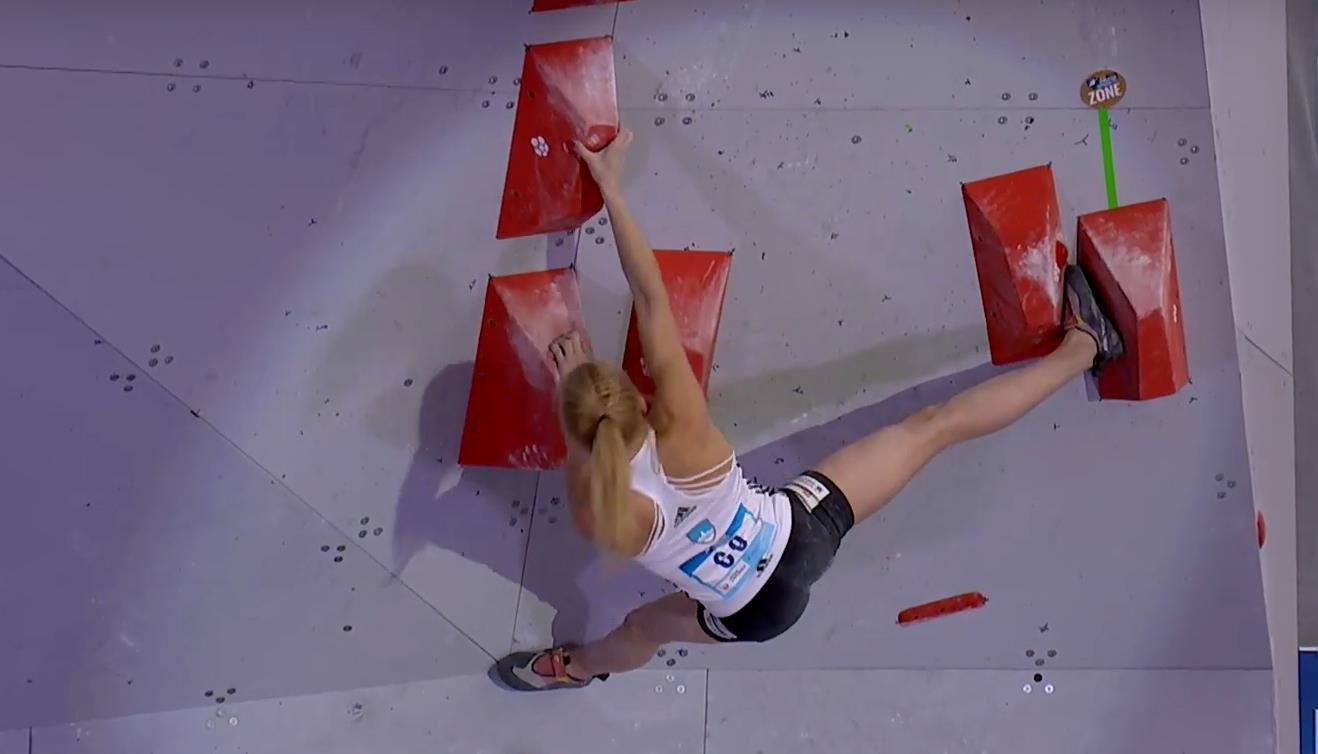 Janja Garnbret crushing W4 to win at Munich. She's now not lost a WC Bouldering event since Meiringen 2018!
Finally then the athletes faced W4 another Tetris-volume style bloc. Chanourdie battled for nearly 2:30 but managed the flash; Katja Kadic also topped out – her first of the final. Mia Krampl continued her run of tops but almost had to be carried off after finishing W4 – remarkably, she even threw in a figure-of-four move which the crowd loved.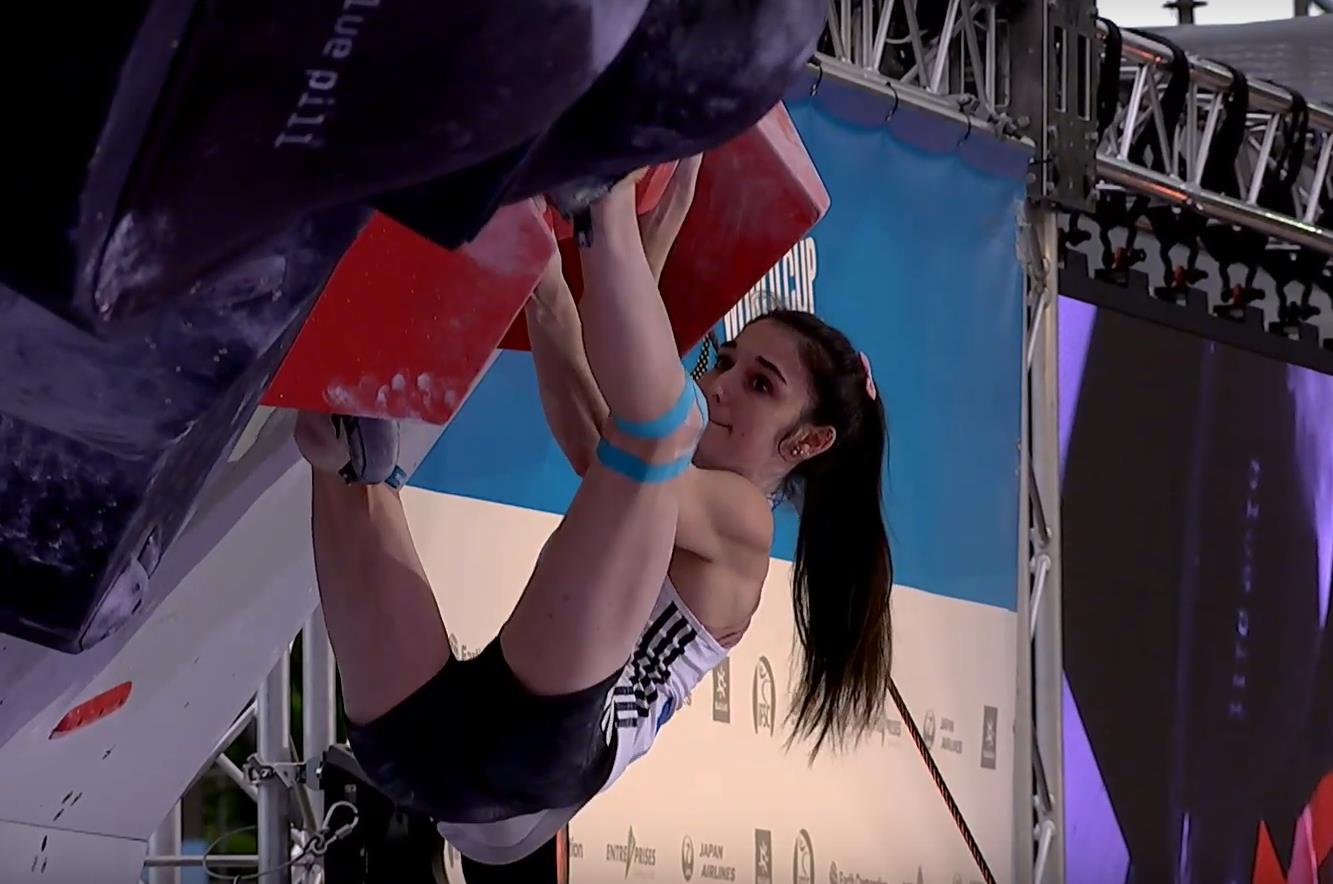 Mia Krampl climbing with a heavily strapped knee about the throw in a figure-of-four on her third top in the final
Fanny Gilbert topped W4 on her second attempt which left the competition win in Garnbret's hands. Charlie Boscoe's commentary was classic as Garnbret came out and started to climb; "She's never competed in a Munich WC and not won it". Needless to say, Garnbret's flashed of W4 not only won her the competition, her fifth win from five WC's this year, but it kept alive the possibility of the clean sweep for the sixth win at Vail in three weeks time. That would be the first time any athlete has won all six competitions in one discipline in one season. As it was, Munich was Garnbret's 24th WC victory; only Angy Eiter on 25 WC wins and Jain Kim on 29 WC wins have more than her in the all-time hall of fame.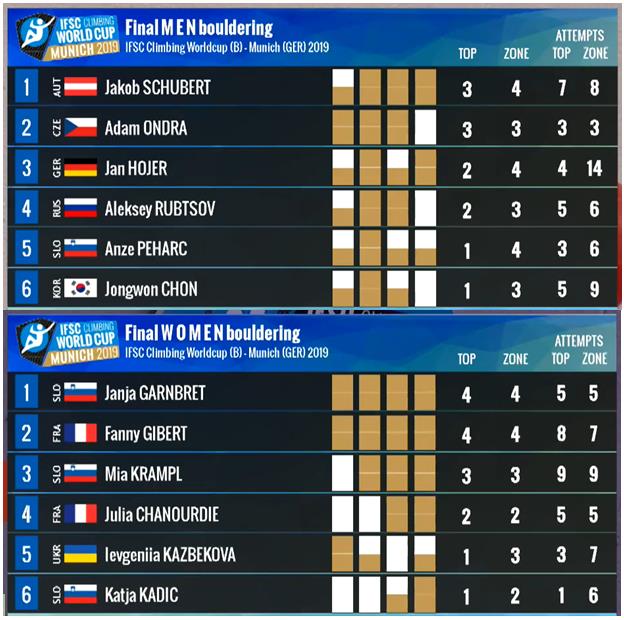 Munich Results
Watch the Munich finals below.