Garnbret and Narasaki take boulder gold at Wujiang
May 6th; 2019
Janja Garnbret and Tomoa Narasaki took the gold medals in the boulder WC at Wujiang over the weekend.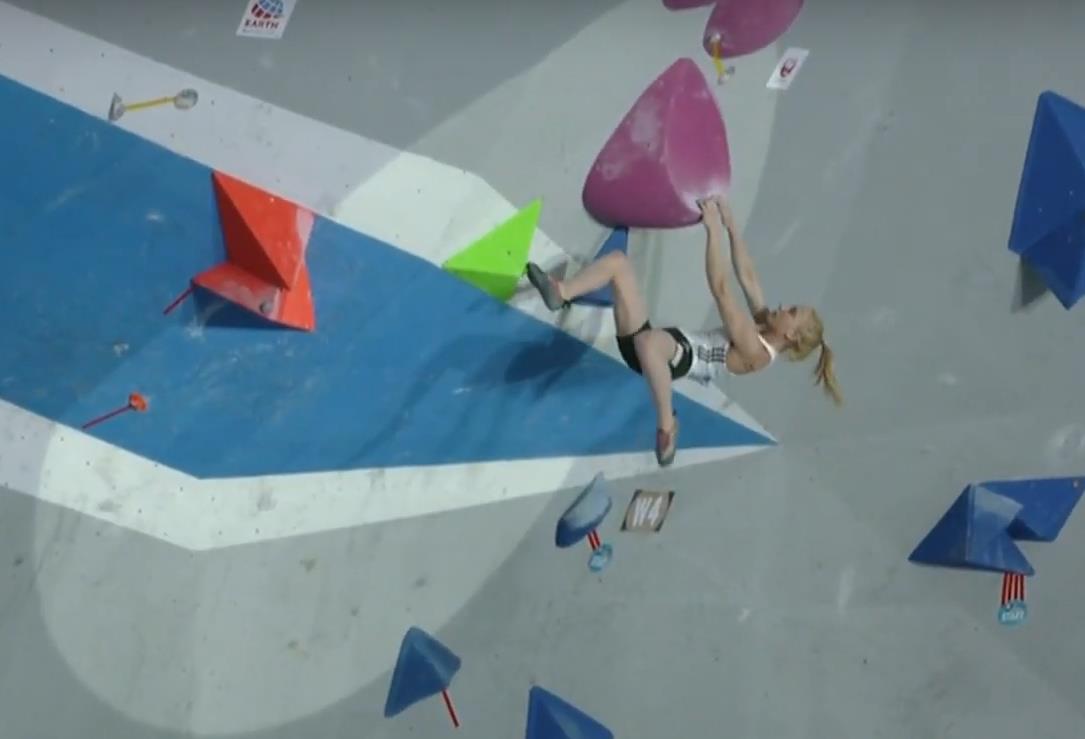 Janja Garnbret easily flashing W4 and taking her fourth WC win from four events in 2019
With the athletes and audiences still buzzing after the excitement in the Chongqing leg of the Chinese stop-over everyone was wondering if the first ever bouldering event at Wujiang would be even better? For starters, two major players, Miho Nonaka and Adam Ondra, were due to return to the stage having missed Chongqing. Would Janja Garnbret's dominance continue in the women's event? Would the ping-pong results in the men's event continue or would we see one or more of the athletes starting to dominate?
Tomoa Narasaki topping M1 – the only climber to do so
Saturday's qualification rounds saw plenty of tops in the men's event – no less than 15 climbers topping all five boulders in the two qualification rounds. Although Jakob Schubert commented that the boulders hadn't been too testing, mistakes were punished and the list of climbers that didn't make the semi's included a number of top climbers such as Alex Megos, Sean McColl, Stefano Ghisolfi, Sascha Lehmann and perhaps most surprising of all, last weekend's Chongquing winner, Manuel Cornu.
Top's in the women's qualification rounds weren't anywhere nears as plentiful although not surprisingly Janja Garnbret still scooped up all five – the only climber to do so. Five climbers got four tops whilst Miho Nonaka narrowly made the semi-final cut having got a crucial fourth zone. Again, the list of climbers not making the semi's contained some big names; Ashima Shiraishi, Jain Jim and Margo Hayes.
What was also interesting about the women's qualification rounds however were that some of the speed specialists did pretty well: Anouck Jaubert (29th), Yiling Song (43rd) and Aleksandra Kalucka (45th) all of whom collecting at least one top for their efforts. This is further evidence that performance levels across the board are hotting up as specialists continue their training and improve in their non-specialist events.
The Sunday morning semi's saw the usual mixed fortunes. Not surprisingly, Janja Garnbret continued to dominate the women's event flashing the first three blocs as though they were warm-ups. Only on the fourth and final bloc – a technie slab – did she falter slightly and even then she topped out on her third attempt. Miho Nonaka was back to her best however out-climbing both Jesica Pilz and Akiyo Noguchi. Ai Mori and Julia Chanourdie also made the cut into the final – their first ever.
Ai Mori (the joint youngest climber in women/men's semi final at 15 years old) doing W4 in the final to get the bronze in her first ever WC boulder final
The men's semi was full of surprises not least because two of the stronger competitors, Jongwon Chong and Adam Ondra got pretty much shut down; Chong collecting just one top but Ondra failed to get any! Ondra had missed the Chongqing event as he'd picked up a bug. However, having done the qualification round he declared himself fully fit so his performance in the semi was be especially concerning for Team Ondra. Team Japan took all three of the top places with Kokoro Fujii, Tomoa Narasaki and Kai Harda all putting in very convincing performances. Jakob Schubert and Jan Hojer also made the cut into the finals with the sixth place also going to Team Japan – specifically to Keita Dohi.
Janja alone topped W2 doing it on her first attempt. Akiyo flashed to the penultimate hold but couldn't complete – none of the others finalist got close – a clear indication of well Garnbret and Noguchi climbed at Wujiang.
The women's final was little short of remarkable; mainly on how easy Janja Garnbret made all the final blocs look. W1 took Janja two goes to do but all the others she flashed making them look easily too. Charle Boscoe, the IFSC commentator, has said previously that it gets increasingly difficult to find the words to describe Janja's performances as she continues to outclimb all her competitors. Straight after finishing the final Boscoe summed this week's Garnbret performance thus: "She's just been on another plant this weekend. She's the only climber with 5 tops in qualification, only climber with 4 tops in semis and only climber with 4 tops in the final; she's not just won this World Cup here in Wujiang but she's utterly, utterly dominated it!" Garnbret's win in Wujiang – her 23rd WC win in total – is her fourth from the four competitions in 2019 alone. No-one has ever won all the World Cup competitions in an event in a season. Anna Stohr got close in the bouldering and Jacob Schubert nearly did it in lead in 2011. However, with four wins from four competitions and only two more bouldering competitions to go in 2019 Janja Garnbret could be the first person ever to do that.
Akiyo Noguchi getting W4 on her second attempt to take silver
With Garnbret dominating the 2019 events you can but feel sorry for her would-be competitors. Taking W4 as a case study; Julia Chanourdie didn't stick the starting jump, last week's bronze medallist, Jessica Pilz got the start but couldn't do the middle section and last year's WC overall winner, Miho Nonaka, finally managed to hit the top but was timed out. That left Ai Mori who got it on her third attempt and Akiyo Noguchi who did it on her second attempt. By comparison, Garnbret flashed it in less than 30 secs! In the end, Noguchi had to settle for silver and Mori bronze; they climbed well but that's not enough against Garnbret in her current form. The diminutive figure of Mori though, at just 15 years old and hence ten years Noguchi's junior, is one to watch out for in future competitions.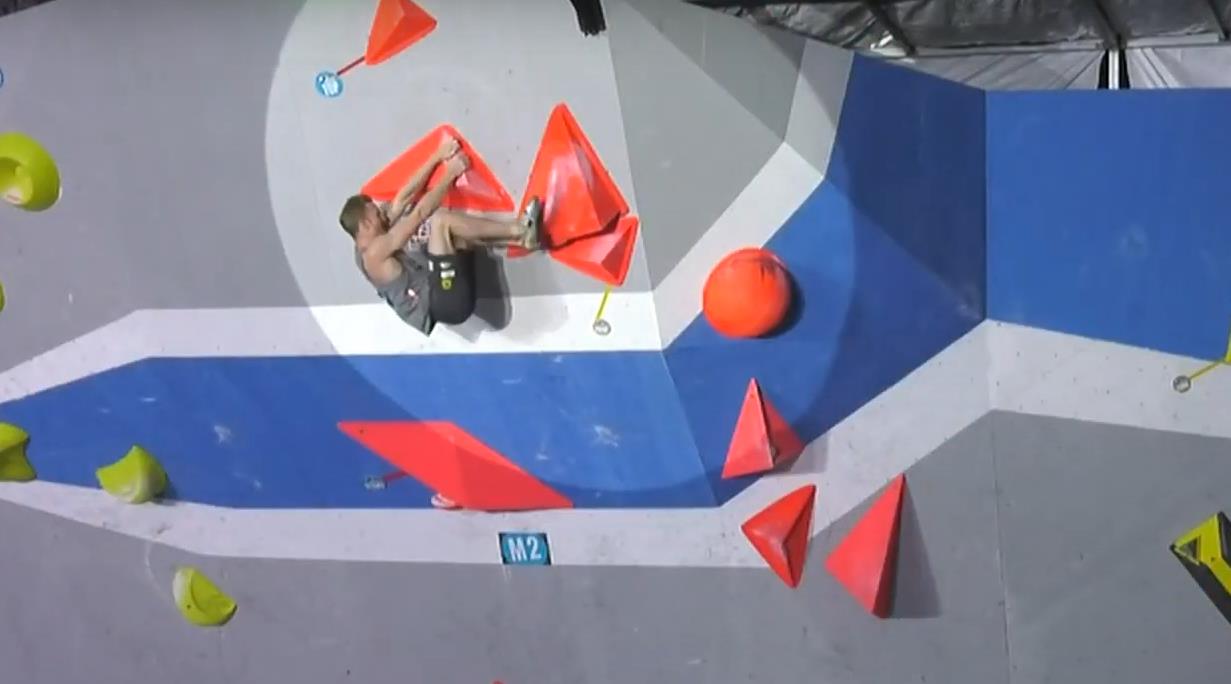 Jacob Schubert doing M2 on his second attempt
To say that the men's was a stacked final was no exaggeration; all the finalists – apart from Keita Dohi - had either won an IFSC World Cup or World Championships although as Keita Dohi has won the Youth Olympic Games he's no slough either! With no less than four Japanese climbers in the final it was a definitely possibility that it could be an all Japanese podium. One by one the men's finalist got close to M1 but no-one managed it until Tomoa Naraski came out and promptly flashed it! He hadn't won a WC bouldering event since Moscow 2018 but he certainly got his Wujiang campaign off to a flying start – quite literally!
Kai Harada flashing M4 to take the lead – albeit momentarily
Lead specialist Jacob Schubert seemed intent on spoiling the Japanese party; he got M2 on his second attempt one attempt less than Tomoa. M3 was the regulation techie/marginal slab. Keita Doha topped out on his second go and then Kai Harada also topped out – or did he?! Harada certainly got both hands on the top volume but there was considerable debate as to whether he 'controlled' the top hold sufficiently. The competition was halted whilst the replay was consulted; finally the judged decided he had in fact controlled the final hold and he was duly awarded the top. No such issues for Tomoa who, despite having to wait patiently in the wings until the judges deliberated on Harada's did he/didn't he top, erupted onto M3 even jumping onto the actual top rather than settling for matching the lower reaches of the final top. It was an emphatic move from Tomoa and seemed to signal his determination to win.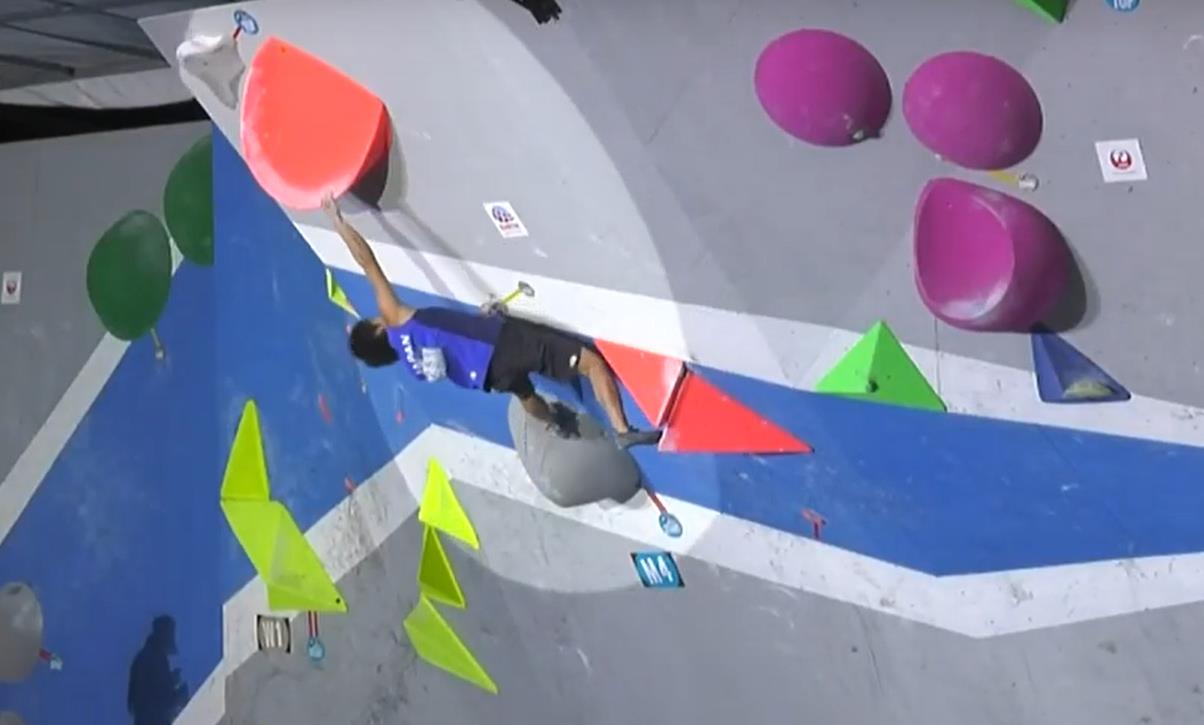 Tomoa Narasaki getting the zone on M4 to take the win – his first WC win since Moscow 2018
Kai Harada wasn't going to roll over however and hand Tomoa an easy victory; he came out a promptly flashed M4 to take the lead. Tomoa Narasaki would have to get the zone within several attempts to take the win. Narasaki couldn't top M4 but got the zone on his first attempt and took the win, his first for over a year.
The Wujiang results
Watch the Wujiang bouldering finals below...
.