Garnbret achieved first ever clean sweep in IFSC WC Boulder season
June 11th: 2019
Janja Garnbret, as widely expected, achieved a clean sweep in the 2019 IFSC World Cup Boulder with her sixth win of the season in Vail over the weekend. Tomoa Narasaki took the 2019 men's title finished the season just five points ahead of Adam Ondra.
Janja Garnbret on her way to topping W4, the Vail and the 2019 Overall win
The final event of the 2019 IFSC WC Bouldering calendar, Vail was always going to be big news! Leaving aside the intense interest in the possible clean sweep from Janja Garnbret, Akiyo Nogucihi and Fanny Gilbert were locked in a battle for second and third. Miho Nonaka too was back in business having seemingly recovered from her former injuries. Whether the pressure of the possible clean sweep had affected the usually rock-steady Garnbret we'll never know but unusually she finished the semi-final round second to Fanny Gilbert. Gilbert was pushing hard for her first ever WC win and was determined to take the result down to the wire. When Fanny Gilbert flashed W1 and Janja Garnbret didn't a possible upset was looking more likely. However, Gilbert's finals went downhill thereafter and she only managed to top W3 missing out completely on W2 an W4; ultimately finishing in third place. Akiyo Noguchi typically climbs well at Vail having podiumed on six previous occasions so it was no surprise to see her replicate that success again. Like Gilbert, Noguchi also flashed W1, then she topped W2 and W4 but stumbled on W3. However, it was enough for second place. As so often the case, when the pressure builds on Garnbret she delivers - and so it was at Vail. Although she had a shaky start burning a number of attempts on W1 and W2 she topped both. Then she fired W3 on her second attempt and flashed W4 the win at Vail was hers. Miho Nonaka finished in fourth, Luce Douady in fifth and Mao Nakamura sixth.
Yoshiyuki Ogata topping M4 to take his first ever WC win and the bronze in the 2019 Overall
The men's event however was absolutely wide open, as they have been all season, although many had their eyes firmly fixed on Adam Ondra and Tomoa Narasaki given they were shoulder-to-shoulder - figuratively not literally – in the overall standings. The Vail finalists also included Yoshiyuki Ogata who had been treating a win for some time as well as the 2017 Vail winner, Jongwon Chon, Jan Hojer and Sean McColl. Remarkably, Vail was McColl 150th WC start! M1 and M2 saw tops by all the finalists apart from McColl who failed to get M1 done. The second half of the men's final was crucially much harder and hence divisive. It was M3 which caused the wheels to fall off the Ondra machine; remarkably he failed to even get the zone. Having flashed M1 and topped M2 and M4, Jongwon Chong finished in third place. Tomoa Naraski climbed very well taking tops on M1, M2 and M3 - enough to see him finish in second place. The deserved winner however was Yoshiyuki Ogata; taking all four tops was a stunning way to secure his first ever WC gold. Hojer finished in fourth, Ondra in fifth and McColl sixth.
Turning to the 2019 Overall, Janja Garnbret - having dominated the 2019 WC Bouldering events from the get-go – was the deservedly winner and hence became the first ever athlete to win all the events in a discipline in a season! Akiyo Noguchi battled hard all season to finish second on no less than four occasions; her silver medal for the 2019 overall will surely be the hardest she's ever had to fight for any of her medals? Fanny Gilbert finished in third place taking the 2019 season bronze.
The women's Vail podium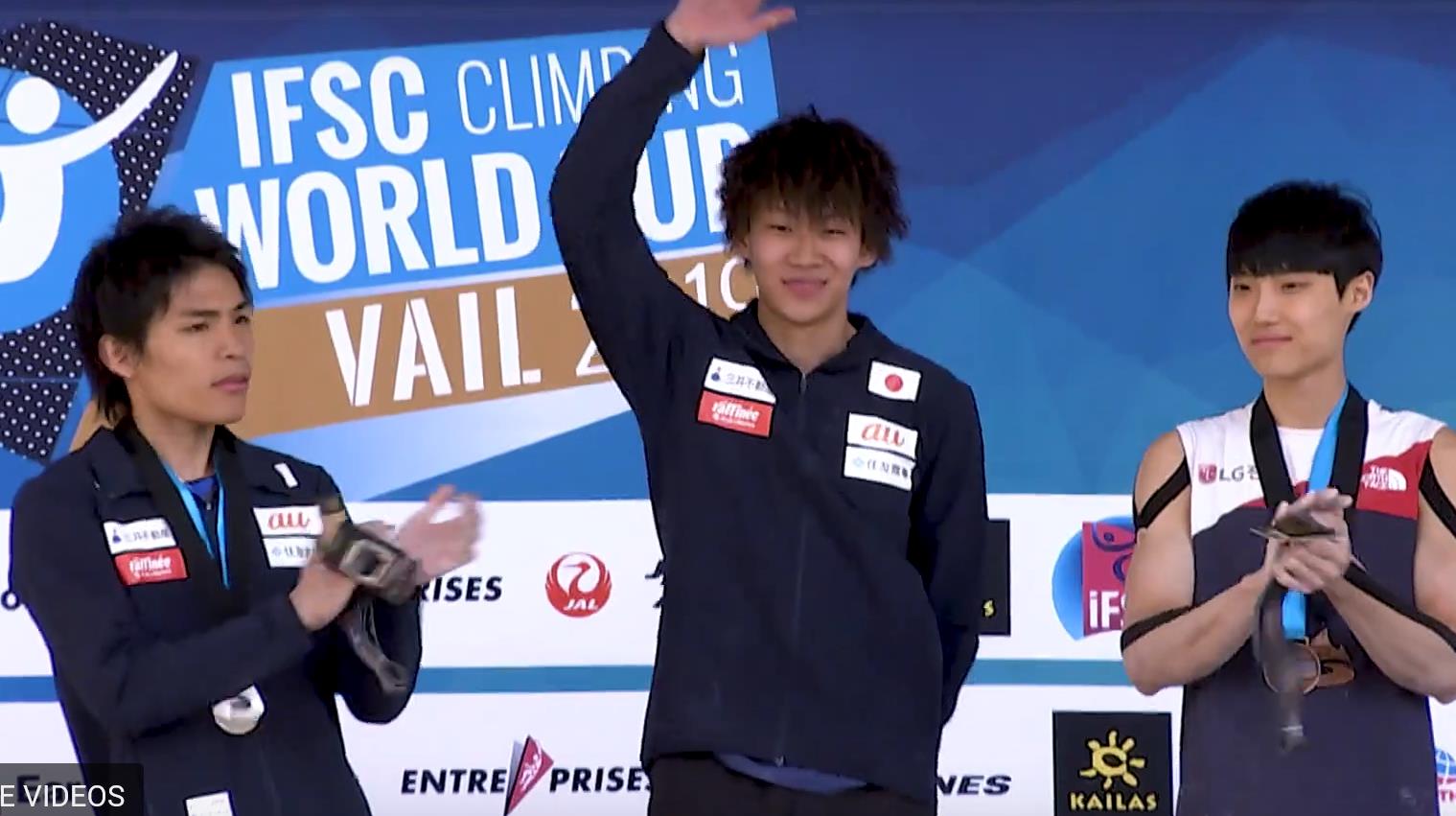 The men's Vail podium
The men's 2019 overall race was in stark contrast to the women's event however; going into Vail Adam Ondra and Tomoa Naraski were, as previously noted, little more than a proverbial score-card apart! Ondra had been gunning for the overall all season but having lost some momentum mid-season it was far from a certainty he would win. As it was, Ondra could only manage fifth in Vail so it was Tomoa Naraski's consistency throughout the season (he had one first and three second place finishes in his four events) that pulled him just five points ahead of Ondra to take the 2019 title. Yoshiyuki Ogata, the winner at Vail, finished in third place for the season.
The Vail Results
Finally then let's look how Team GB athletes did across the season. Looking at the women first, Shauna Coxsey made a very welcome return to form and finished with in a very creditable 10th overall – this from just the two opening competitions in Meiringen and Moscow where she finished 3rd and 2nd respectively. Emily Phillips finished the season in overall 22nd having made semi-finals at Moscow and Munich. Given Emily is the current GB Speed record holder it'll be very interesting to see how the rest of her season goes! Perhaps the biggest frustration/disappointment of the season will be felt by Molly Thompson-Smith who – having taken the BIFF title back in January – was plagued throughout the bouldering season with one injury after another. Hopefully she's on the mend now and will be able to put this behind her for the remaining events of the WC season.
Highest placed Team GB male was Nathan Phillips followed by Billy Ridal and the evergreen David Barrans; all of whom made one semi-final each – Phillips finishing 14th at Munich, Ridal 16th at Munich and Barrans 19th at Chongqing.
| | | |
| --- | --- | --- |
| Nathan Phillips | 32nd | 53 pts |
| Billy Ridal | 38th | 20 pts |
| David Barrans | 42nd | 14 pts |
| Will Bozi | 49th | 8 pts |
| Aiden Roberts | 54th | 5 pts |
| | | |
| --- | --- | --- |
| Shauna Coxsey | =10th | 145 pts |
| Emily Phillips | 22nd | 70 pts |
| Hannah Slaney | =54th | 9 pts |
| Jennifer Wood | =54th | 9 pts |
| Jo Neame | 62nd | 3 pts |
Watch the Vail final below.