Franco Cookson repeats Academia in Cornwall
Aug 17th; 2018
NorthEast trad specialist, Franco Cookson has just had a productive trip down to Cornwall repeating a number of routes including Academia (E10 7a), Mark Edwards's unrepeated route from August 2007 at Boscawen Point.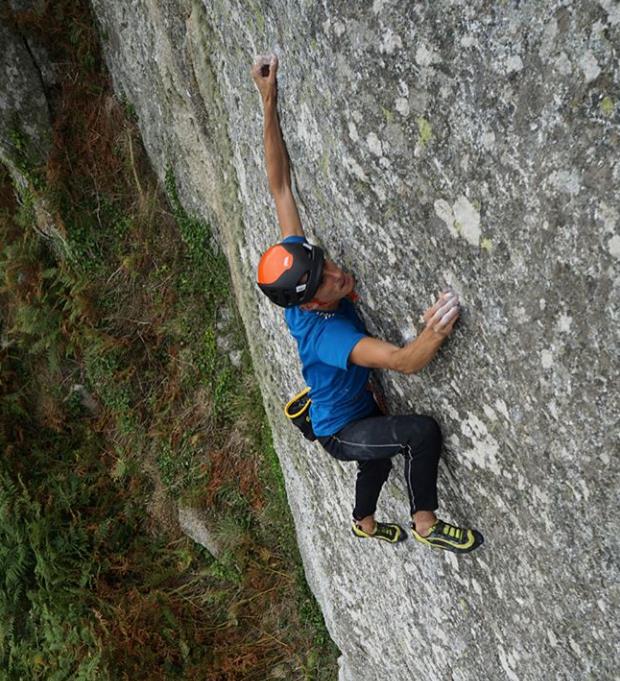 Franco Cookson - going big on Academia. Photo Anna Healy
Franco described his first thoughts as he arrived at the crag and saw Academia; "On arrival at the crag the wall is obvious and it looks not too high, but with a rocky landing. The description of the route says that the grade is for an ascent without mats. That's maybe kind of nonsense to most people these days, but as we didn't have any mats, I thought it was kind of nice to repeat it in this style. Only when you get on it do you realise it's not really something you can fall off."
Despite having hurt both ankles in a ground fall earlier this year Franco was undeterred! He describes his ascent; "Against my better judgement, I jumped on this thing with terrible humid August conditions and wrecked tips. Bad plan. Got to the last hard move and took the whinger! Big fall. Lots of time to think. Amazingly I was alright and before the adrenaline wore off, I jumped back on and did it. Rad!"
Climber got in touch with Franco for more details on his ascent and his trip down south…
You seem attracted to hard thin 'dirty vert' climbing - is that what appealed to you about Academia?
Absolutely. I had a look at quite a few of the unrepeated lines down in Cornwall and I pretty much wanted to try them all. The rock formations on the granite down there are so cool and even the overhangs offer some really fun and interesting pitches. This trip was mainly a "prospecting" trip – having a look at what was there and finding things for the future. The original plan was to have a look at a couple of existing climbs and then maybe try and find some unclimbed stuff. There were tonnes of gaps, particularly on the south coast, but we didn't really get round to trying them, as there was enough hard and interesting climbing on the established climbs. I definitely love crimpy slabs – there are obviously elements of strength involved in pushing it on the hard ones, but it's much more about inventiveness, creativity and expression. I think you can learn a lot about yourself by really focussing in on one thing like that.
The fall looks pretty gnarly?
Yeah. When you're on the slab, it feels quite friendly, but when you start to think about jumping off it, you realise it's a serious place to be. Falling off from the point I did is ill-advised. I was quite annoyed with myself that I did fall off, but certainly very pleased to have walked away from it.
Can you compare Academia to other stuff you have done of a similar ilk?
Not very well. It's rare that I do something so quickly, as most of the hardest stuff I've done have been new routes that have taken many months of preparation, so a comparison is not very easy. The climbing on this particular slab is quite a bit more basic than sandstone climbing or some of the other granite about. There is a lovely section of moves moving up on sloping footholds and crystals, with the odd mantel, before the crux, which is very thin and sketchy. Whilst it is a scary solo, that hardest move is not particularly weird and feels a lot easier on top rope than solo. I suppose you could put it in that category of "not outrageously hard, but fairly dangerous". The thing I've tried that it was most like in style was Dave Macleod's Glen Shian slab "Die By The Drop", but I didn't actually get all the way up that, so can't really comment!
What's your overall impression of the climbing down in Cornwall?
Just great! I spent every summer there as a kid, so it holds a really special place in my heart. But even if you've never been, the rock architecture and the magical little places you find will definitely get you coming back time and time again. You get the usual complaints about Cornwall: big drive, fickle conditions etc. We set off from Northumberland early on a Saturday morning and were there by the afternoon. We stopped when we liked and had a relaxed drive down: much better than being stuck in an airport. Conditions obviously aren't ideal in August, but if you get up early, pick shady crags, climb when the tide is out/sea is calm and check humidity forecasts, it's totally doable. If you get it sussed, you can feel pretty smug when you're lobbing your ropes in the car at 11am and heading for the beach.
Follow Franco in Instagram here…