Fowler and Littlejohn become new BMC Patrons
Wednesday 17th September 2014
The British Mountaineering Council have announced the appointment of Pat Littlejohn OBE and Mick Fowler as BMC Patrons. Both men have immense records of climbing and mountaineering achievements, and have set standards for difficulty and adventure for the best part of four decades.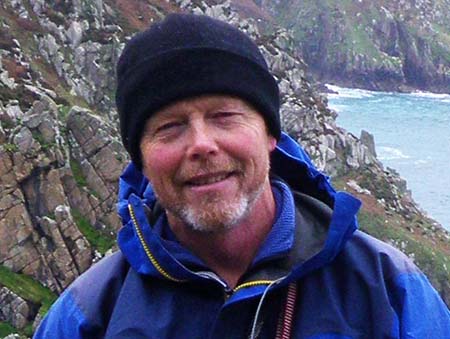 Pat Littlejohn is responsible for providing many climbers with some of their most memorable sea cliff and mountain adventures, thanks to numerous classic climbs he has established (usually onsight and ground-up) all over the UK during the course of a climbing career which began in the 1960s: Eroica and Darkinband at Pentire; The Crow in Cheddar; Deep Space and Star Gate at Mother Carey's; Pagan and Hunger at Gogarth; The Axe on Cloggy, to name just a few of his first ascents.
Also an accomplished alpinist, Pat applied his rock climbing skills to high alpine rock walls in the 1970s and 80s, with near-free ascents of the South Face of the Fou and the Hemming-Robbins route on the West Face of the Dru. Looking further afield for adventure in the 90s, Pat climbed the North East Pillar of Taweche in Nepal with our other new Patron Mick Fowler. More recently, Pat has been developing climbing in Africa, most notably in Ethiopia and northern Kenya.
Pat is an International Mountain Guide and has worked in outdoor education since the 1970s. He was Director of the International School of Mountaineering based in Leysin, Switzerland from 1983 until 2013. Pat served as BMC Vice-President from 2007 until 2010, and in 2008 he was awarded an OBE for services to mountaineering.
On his appointment as BMC Patron, Pat said: "I was delighted to be offered this opportunity to continue my involvement with the BMC, which plays a vital role in keeping British climbing exciting, dynamic and adventurous."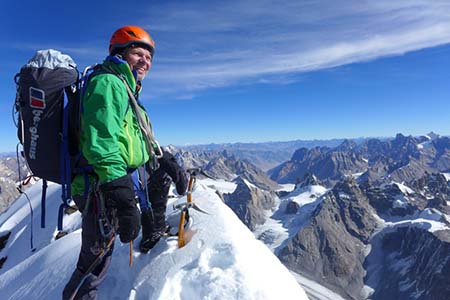 Dubbed 'The Climbing Taxman' by the media, and voted 'The Mountaineers' Mountaineer' by the Observer Magazine, Mick Fowler is the 'amateur' climber par excellence, matching the standards of many professional climbers while holding down a full-time job at HM Customs & Revenue.
Mick first made the headlines with ascents of difficult rock routes and ice climbs in the late 1970s, and much like Pat Littlejohn, developed a reputation for adventurous pioneering on Britain's sea cliffs. Based in London in the 1980s, he was one of a group of climbers who would regularly make the journey to Scotland for a weekend of winter climbing; his record was 11 consecutive weekends.
Meticulous research and planning has enabled Mick to use his annual holiday allowance to make a series of expeditions to the Greater Ranges, where he has amassed an enviable record of alpine-style lightweight first ascents.
With climbing partner Paul Ramsden, he has twice been awarded the Piolet d'Or, the annual award for the year's greatest mountaineering achievement. In 2002, the pair received the award for their first ascent of the North Couloir of Mount Siguniang in the Qionglai Mountains of China, and in 2013 they became the first pair to win a second award with their first ascent of the Prow (North East Ridge) of Shiva in the Indian Himalayas. Mick also received the King Albert award for 'outstanding contribution to mountaineering' in 2012. In 2011 Mick teamed up with novice Himalayan mountaineer BMC CEO Dave Turnbull to make the first ascent of Mugu Chuli in western Nepal.
Mick served as President of the Alpine Club from 2011 to 2013 after winning the first contested election in the organisation's 150-year history. He has also found time to write two books about his exploits, Vertical Pleasure (1985) and On Thin Ice (1995), both of which were shortlisted for the Boardman Tasker Prize for mountain literature.
Looking forward to his new role as BMC Patron, Mick said: "For nearly 40 years the BMC has helped me in ways such as enabling access to climbing areas in the UK (including some of interest to hardly anyone else!) to arranging insurance for Himalayan expeditions. It is an honour to become a Patron and do my best to ensure that it continues to protect the freedoms and promote the interests of future generations of climbers, hill walkers and mountaineers."
The BMC welcomes Pat and Mick on their latest 'adventure', as they join Sir Chris Bonington CBE, Lord Roger Chorley, Doug Scott CBE and Lord Tony Greaves as BMC Patrons. Earlier this year BMC Patron Ian McNaught-Davis passed away.