Foundry Bouldering Open 2015
Tuesday 10th February 2015
Feb 10th, 2015
As previously reported, Ben Moon and Ella Russell took the top senior honours at the F-BO15 over the weekend. The Junior comp was won by Finn Hatton and Becki Whaley.
The Foundry's long history of bouldering comps goes right back to the 90's when the likes of Chris Sharma and Katie Brown competed on the hallowed resin of The Wave. On Saturday c.100 competitors rocked-up looking for a slice of action. Foundry regulars were out in force including a certain Ben Moon. Ben had competed in last year's event, F-BO14 – and despite pulling a place in the final he had to retire with cramp and passed his place to Stu Littlefair. The question on everyone's lip was simple – would Ben wreak his revenge in F-BO15?
Setters Rob Napier and Andy Long, assisted by Climbing Works Guru Percy Bishton, had been seen with a glean in their collective eyes so it was obvious that they'd cooked-up a few surprises for the competitors to get their teeth into. The days when comp blocs are exclusively a line of crimps up overhanging madness are long gone - replaced by techie/funky stuff as well as some powerful stuff thrown in for good measure. As it was, the men's final for F-BO15 had amongst its gems a hand-jam crack, a rope-mounted, free-hanging ball plus a dirty technie volume crusher that Rob Napier said was "a real back-breaker". Oh yes, and a powerful slope-fest up the middle of The Wave. The women's blocs had more of the same – sans any blocs with free-hanging balls however. Maybe next year ladies?
Under the watchful eye of El Supremeo (a.k.a. Judge) Graham Alderson, the qualifiers were duly sifted out for the final. Cometh the hour, cometh the final and so it was that the six finalists were lead out in two's (one male and one female) onto the blocs in turn. As is the intention, the four blocs in both the men's and women's final played to different strengths and weakness of the finalists, what was great though from a spectators perspective was that it was a full-on visual entertainment. That and the fact that the crowd got to see just how strong and how well a certain Mr Moon still is – inspirational.
Here's the final place results:
Mens:
1st Ben Moon, 2nd Cailean Harker, 3rd Sam Whittaker, 4th Mike Adams, 5th Stu Littlefair, 6th Ethan Walker
Womens:
1st Ella Russell, 2nd Becki Whaley, 3rd Gracie Martin, 4th Sarah Pashley, 5th Ellie Bachmesiter, 6th Charlotte Warner
Here's a selection of images from the final round...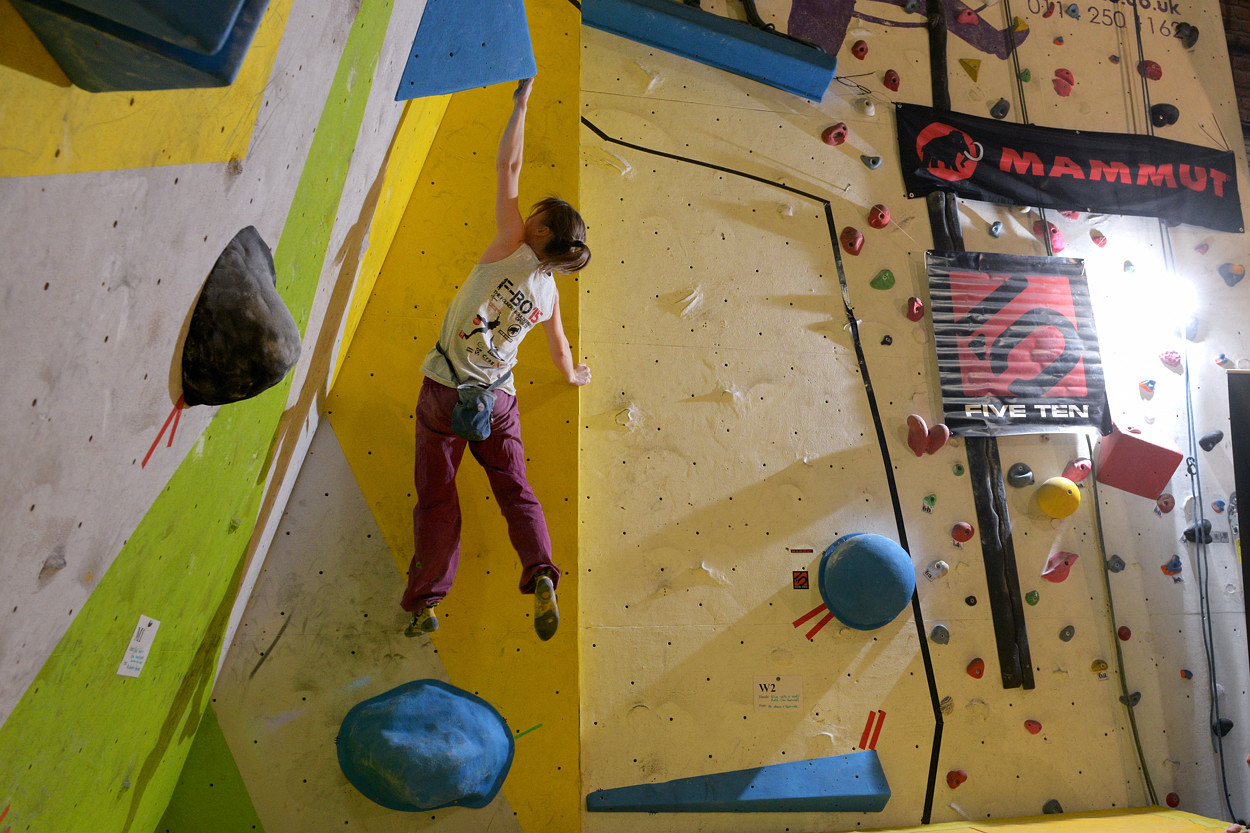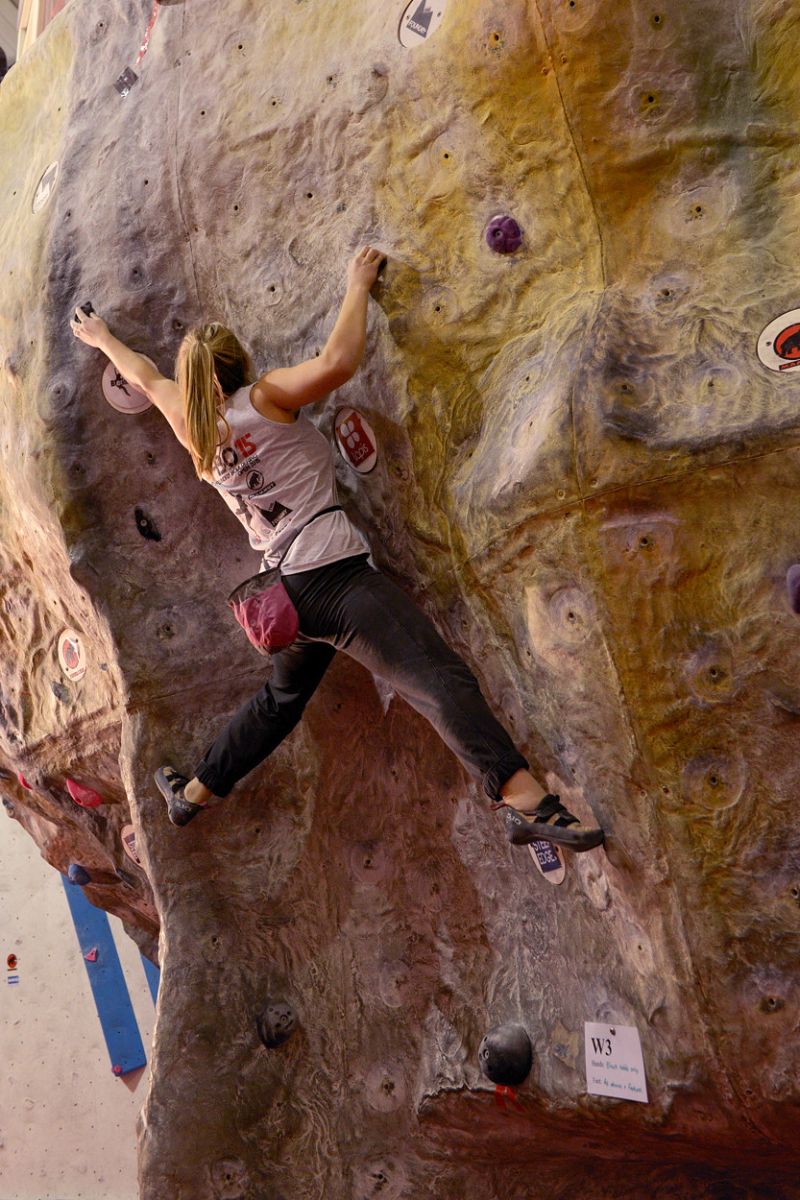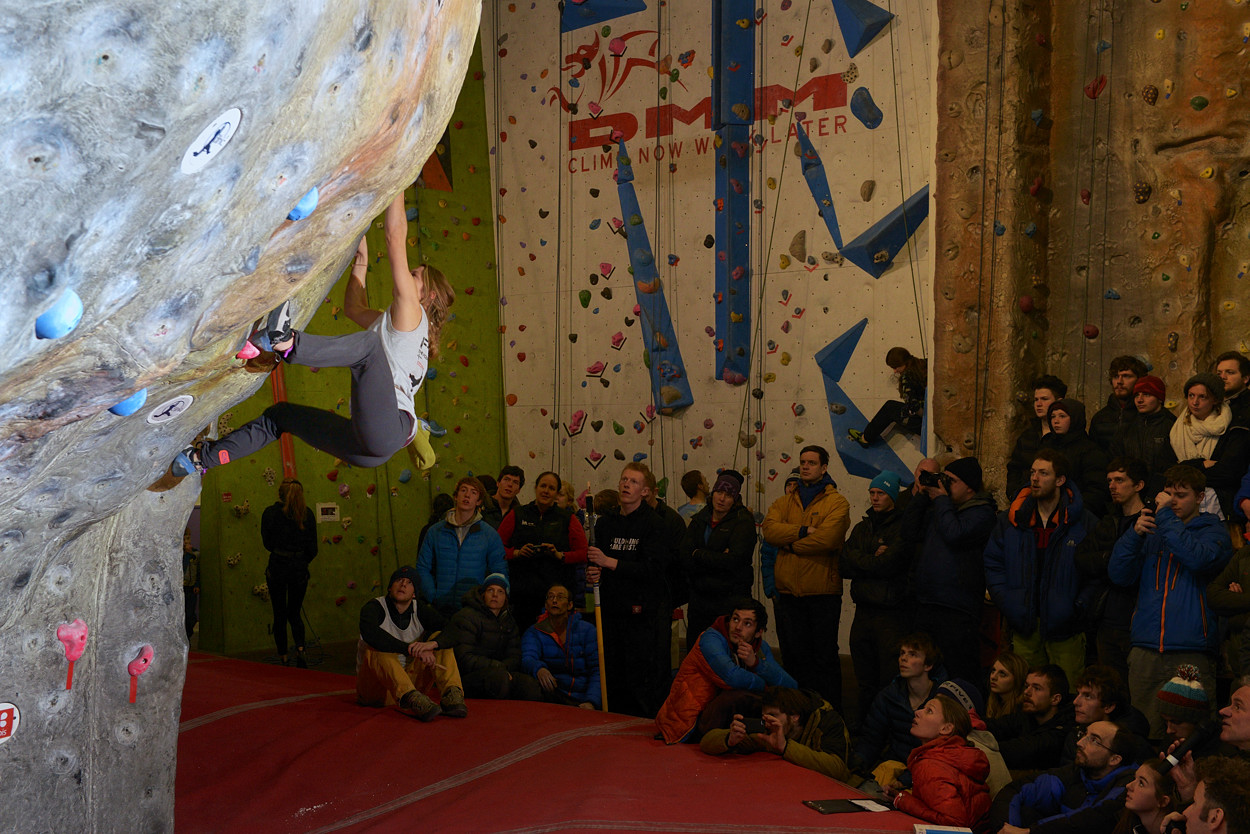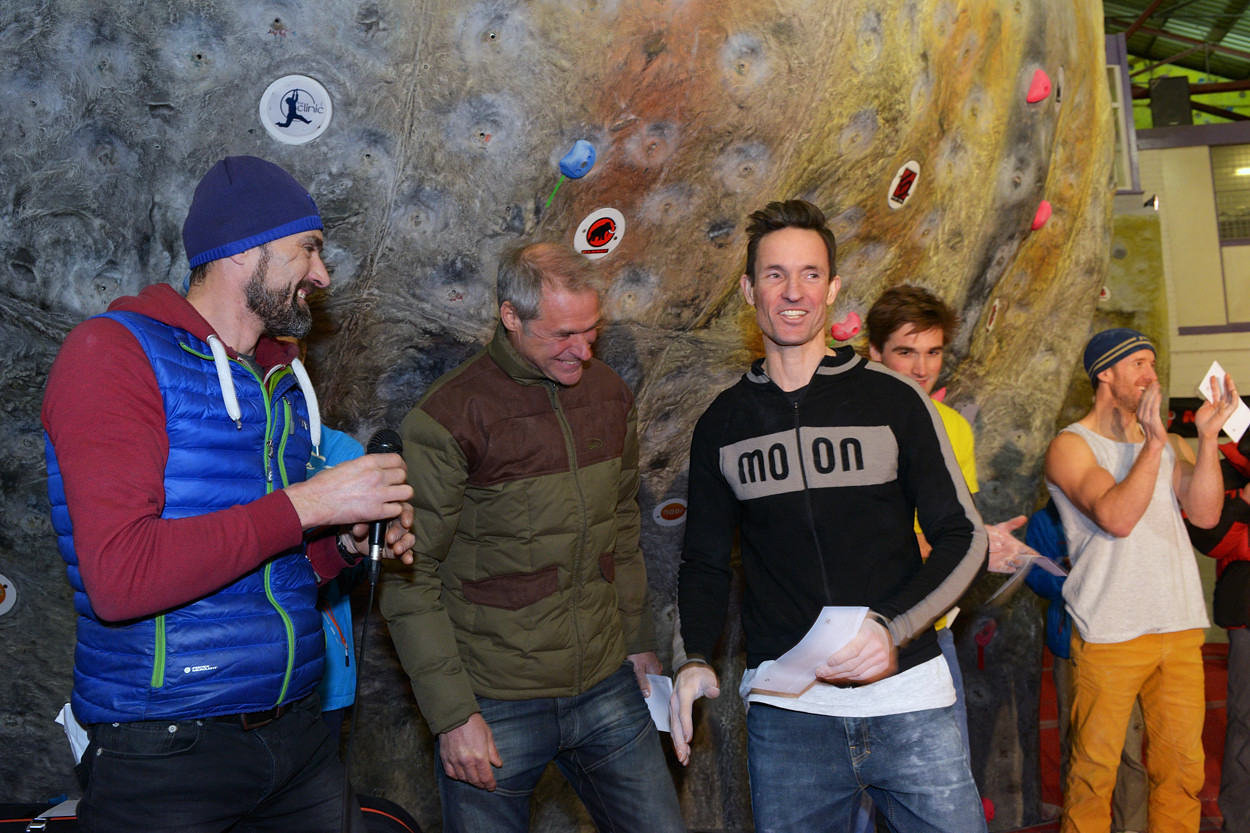 F-BO15 was sponsored by Mammut, Moon Climbing, The Clinic, Steep Edge, CragX, Five Ten, Bleaustone, Axis and Lapis
All photos Keith Sharples. Check out Keith Sharples's blog for more images from the final at F-BO15 here