Font action running white hot
Feb 1st; 2016
The sandstone blocs of Font have been running white hot over the last couple of weeks with a number of 8c and harder blocs going down.
Alban Levier on La Force (Font 8c/+). Photo Gilles Puyfages
First up, and one of the now hardest blocs in the Forest, was La Force by Frenchman, Alban Levier. The 30-move, roof-based traverse is said to be hard Font 8c or route 9a. La Force is a harder and more direct version of a line Levier did before Xmas which was itself rated Font 8c. La Force therefore, is considered to be hard Font 8c. Direct translation into sport climbing grades is always difficult but route 9a or even 9a+ would seem entirely reasonable. It'll be interesting to see what else 2016 brings for Levier, more hard blocs or more World Cup Bouldering wins to add to the WC event he won in 2015 – or perhaps even both!?
Guillaume Glairont Mondet on Le Pied à Coulisse (Font 8c+).
Said to be harder still is Le Pied à Coulisse at Font 8c+ which has just been added by Guillaume Glairont Mondet. 8a.nu reports that he had previously completed five Font 8c in the Forest. Taking more than 25 sessions over a three year period, Le Pied à Coulisse hasn't been a quick project and perfect conditions were needed for the crucial mantle. Mondet has written extensively on his blog about how he first came to try it with his friend, Nico Januel. Located at Rocher Gréau in Memours, it shares the same sit start as Chaos. A series of powerful moves leads to the crucial mantle. Mondet believed that the mantle was the hardest part of the bloc and he has commented that it needed the perfect body position for the low percentage move to go. Having recently returned from Switzerland, Mondet returned to Le Pied à Coulisse falling at the mantle partly, he says, because he was afraid of the 15 metre high finishing slab! Commenting on 8a.nu, Mondet says Le Pied à Coulisse is a Font 8a+ into a Font 8b+.
Alban Levier on l'Alchimiste (Font 8c)
l'Alchimiste (Font 8c) has also been in the news again seeing two repeats - firstly, and the third ascent overall, from Alban Levier and then a subsequent repeat from Charles Albert. Marc Le Menstral's test-piece bloc was originally climbed back in 1996 and given Font 8b. Subsequently, it was vandalised when one of the crucial holds was cropped. Nalle Hukkataival re-climbed the problem last year albeit using a right-hand variation to pass the 'chopped hold section'. The scene was set therefore for Levier who used a similar sequence to Hukkataival. Levier is reported as believing that with the right-hand sequence its worth about Font 8c. He also looked at the original line and believes that might also be possible.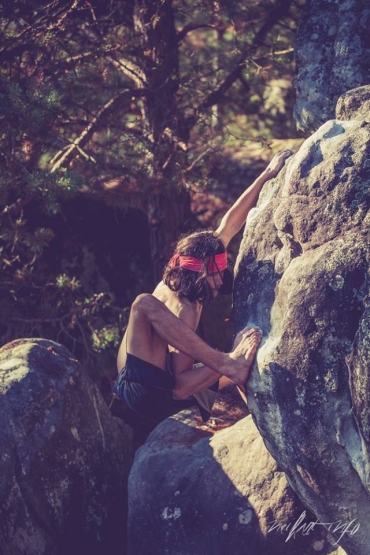 Charles Albert – the barefoot climber. Photo Neil Hart
However, enter Charles Albert onto the scene; the 18 year-old has been making quite a name for himself recently. Firstly, he predominantly climbs outside and seldom trains but more impressively, he climbs barefoot! 8a.nu reports that Albert joined some friends who were trying l'Alchimiste. Amazingly, Albert succeeded in climbing the original sequence - sans the missing hold obviously – in the session. Not only did he climb it barefoot but then he said it felt Font 8b+ to him commenting that it was no harder than Gecko Assis (Font 8b+) which he did barefoot last year. Apparently, Albert is hoping to go back and give the original line complete with a sit start.
Fontainebleau is clearly still at the heart of hard bouldering!