Exclusive interview: Toby Roberts talks about climbing F9a at 15
As previously reported, Toby Roberts made history on December 2nd becoming the first British climber to redpoint F9a aged just 15.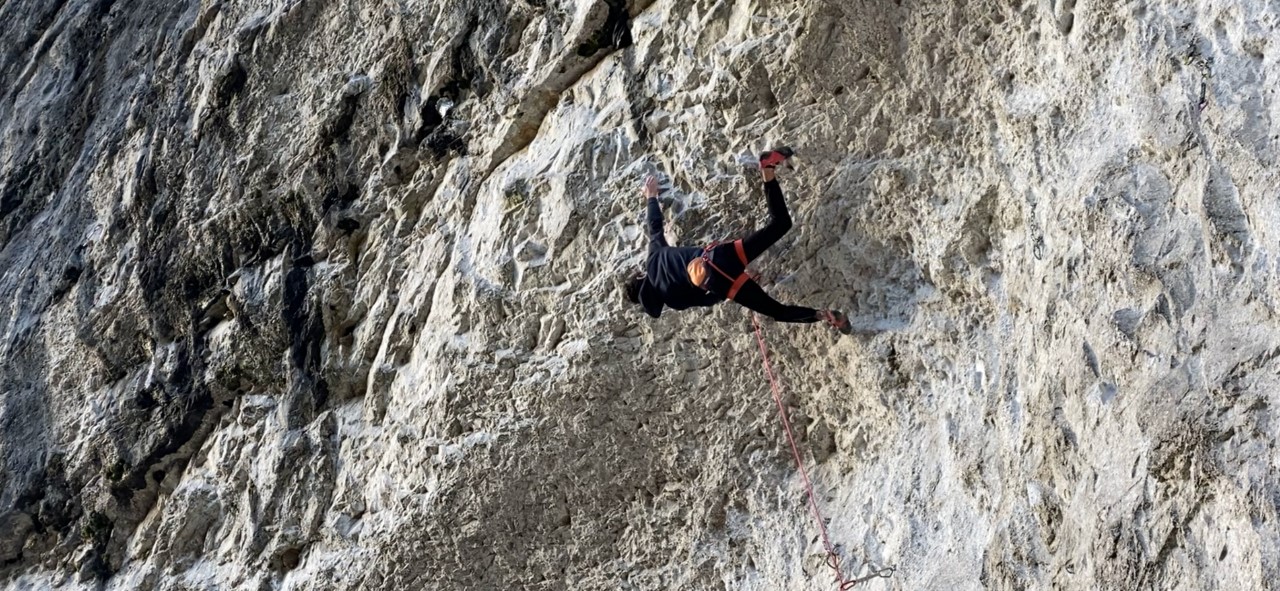 When we think of rock prodigies Adam Ondra typically springs to mind. Ondra started climbing aged just six and by the time he was 13 he'd climbed his first F9a. Ondra, however, isn't the only youth prodigy/outlier. Brooke Raboutou bettered Ondra during her younger years climbing her first F8a aged just nine; a year later, aged just ten, she did her first F8b+. Remarkably she first tried climbing when she was just one year old! Having two former World Cup winners as parents was clearly a major influence on Brooke. Another American, Jonathan Horst, had climbed F8b+ aged ten; his dad, Eric Horst, is a world-renowned climbing coach. Yet another American, Ashima Shiraishi, climbed her first F9a+ aged just 13. These are world-class achievement done by world-class climbers.
Enter Toby Roberts. Toby was just 10 when he redpointed Raindogs, his first F8a, and 11 when he dispatched Revelations, his first F8b. Toby, now aged just 15 and 7 months, has just climbed Rainshadow, his first F9a. In doing so Toby is by far the youngest ever Brit to climb at that standard; previously, Jim Pope – then aged 15 – repeated Mecca F8b+ at Raven Tor whilst Buster Martin did the then youngest ascent of Bat Route (F8c) aged 16.
Toby's achievement redpointing F9a aged just 15 is truly remarkable and puts him squarely into the world-class achievements achieved by the world-class climbers we outlined above.
In this exclusive interview for Climber Toby talks about how his ascent of Rainshadow came about, what it means to him, how he trained for it, how the redpoint went, and where he's heading next.
Congrats on redpointing Rainshadow your first F9a: has it sunk in yet that you've added your name to the list of successful climbers to repeat that route?
No. Walking out of Malham I could not quite believe that I climbed it. As any climber knows you're only ever focusing on the process; the training, conditions, preparation, beta, etc. As you clip the chains, that suddenly all comes to an end. I think I know everyone who has climbed Rainshadow and have found myself smiling in the last few days when I realise my name is now at the end of that list!
Most climbers see Rainshadow as a national treasure. Is that your take and what does it mean to you that this was your first F9a?
Yes – definitely. Out of all the F9a's I know about I have Rainshadow and Hubble in a league of their own – but for different reasons. My first climbs at various grades have all been historic British routes – Raindogs (F8a), Revelations (F8b), Mecca (F8b+), Make It Funky (F8c) and now Rainshadow (F9a).
Raindogs was my first F8a and for 5 years I've wondered about what would be required to continue up the bulge in the roof. It is incredible climbing straight up the middle of Malham Cove. It felt like a special route before and even more so now I've climbed it.
You said that Rainshadow became your 2020 focus when the season's competitions were cancelled. However, with your connection to Raindogs and Malham Rainshadow must always have been on your radar though? Was that a deliberate plan to try that for your first F9a?
I did have a deliberate plan… Rainshadow will always be my favourite line and I have dreamt about it for years. But my 'plan' is only half complete. Hubble has it's own legend too and is a completely different style and test of power. When I climbed Raindogs at 10 I dreamt of climbing Rainshadow. When I climbed Revelations at 11 I dreamt of climbing Hubble.
They are totally different tests of the style of climbing and training and I absolutely want them to be my first two routes at the grade with Rainshadow first and Hubble a not too distant second! So the plan is work in progress!
You've been training with Ollie Torr from Lattice Training for a while now. Can you talk us through your training in general and then outline what your approach for training for your projects like Rainshadow and Hubble is?
I've used a Lattice Plan for several years to provide structure to my training – particularly during 'base' periods to make sure I don't physically have weaknesses that will hold me back in any particular area. I speak to Ollie regularly and train at the 'Lattice Lockup' in Chesterfield when I can. Ollie is unbelievably knowledgeable and it's great to be able to get advice whenever I need it.
For example, I was probably always stronger than I was flexible which Ollie realised and set me challenges to increase my flexibility – it meant at the top of Raindogs I was able to rest in the splits which I found the most effective position to recover before going into the roof!
With Rainshadow I didn't necessarily feel any move was that hard. It took a few sessions to figure out the crux fully – but individually, each move isn't too bad. However, to climb it as one sustained route felt desperate. Once I knew all the moves there was also some bad weather and the crag got soaked. I specifically went training at indoor walls whilst they were still open before the latest lockdown and all I did for about three weeks was repeat the hardest routes I could pull on with no rest – building my power endurance specifically for Rainshadow.
If I was training specifically for Hubble then my base training would be very similar but for in the last three to four weeks, I would work on my strength and power. It's the same for comps – before the European Bouldering Championships last year I travelled around as many boulder walls practising dynamic movement and flashing blocs as possible. The last stage of training is always very specific to the goal.
How many hours a week do you train and how hard is that to slot into the other aspects of your life like school?
This depends on a number of factors – the stage I'm at in my training and whether it's during term time or not. An average term-time week will be about 15 to 20 hours of training – so around 3 hours a day with a rest day when I just stretch. Saturday and Sunday would be longer sessions climbing and we travel to as many walls as possible with weekends being more flexible.
It can be difficult, but I am getting better at listening to how my body feels. I know when I've been growing or have a lot of school work that I feel more tired so I rest more or do less intensive training. When I'm feeling good I push myself as hard as I can.
During school holidays I then climb a lot more. There is often a comp or a training trip and that often determines the schedule. If we can get to Innsbruck for a week then we'll go to the wall almost all day every day to spend as much time on the routes as possible!
Climbing is perhaps unique as a sport in that it involves a massive amount of movement skills as well as physical conditioning requirements and mental pressures. Firstly, how do you keep your climbing/movement skills on point and secondly, roughly what proportion of your total time a week is spent on climbing as opposed to strength and conditioning training – such as fingerboarding, etc.
As a climber, I think the most important thing to do is to climb. Climbing is about a lot more than being strong which can only take you so far. Footwork, hip flexibility, efficiency, reading sequences (particularly for comp climbing), improvising on the wall, making good decisions – everything improves with experience and repeatedly going through the process. For me, climbing has always been the most important part of training.
Strength and conditioning, finger boarding, stretching and yoga are obviously really important – and these can also be done at home easily.
It's a bit of a guess but I would say about 70% of my time is spent climbing – but it varies. In winter it will be more and summer less. It's been months since I've done any specific core exercises as they can be quite draining.
Now I've ticked Rainshadow I'm having a week or so off then I'll go into winter training so probably lots of core work!
As a younger climber whose body is still developing what aspects of training aren't you able to include yet in your training?
I did very little fingerboarding for years and very little board work although that changed this year with lockdown when I only had a board at home! I've gradually had more fingerboarding introduced into my Lattice plan – but for me, I've always focused more on climbing.
Over the years there have been some very strong climbers that have failed to convert their obvious strength into hard redpointing results. Being strong both physically and mentally is crucial for hard projecting; we've talked about your physical training, how do you prepare yourself mentally?
I've only ever loved climbing so I just try and enjoy whichever route or boulder is in front of me. There are a few things you can do before a redpoint or competition – fitness, beta, technique, equipment, sleep, eating well, etc. but less when you start to climb so by the time I'm on the wall all I'm trying to do is relax and do the next move as well as I can.
Competitions generally have more things to think about – time limits, crowds, expectation, one chance – and last year there were cameras, live streams and IFSC commentators for the first time at my first Championship events all which went really well.
There is no point in being physically in shape if mentally you don't allow yourself to climb your best and experience has definitely helped. It is something I've worked really hard on. Sometimes I sing to myself when climbing!
Do you find it difficult to commit to hard projects and does 'failure' worry you?
No. I like hard projects and I'm happy to fail in order to push my limits. Failing is giving up or not trying in the first place.
Let's talk next about how the redpoint went on Rainshadow next. Firstly, doing it on December 2nd; that's taking "end-of-season" hard climbing to new levels?! Getting the weather and conditions for that is incredible!
Yes – but 2020 had become about Rainshadow for me. I didn't want to wait until the spring or accept that my chance had gone. I knew the start holds of Raindogs were always going to be wet – but those were manageable. The pinch at the top of the traverse that can be used for a small rest was soaked and was basically unusable since I started trying it, and a crucial undercut at the end of the top traverse was always a bit damp and on the verge of being wet – which was really annoying!
Everything became about checking conditions, trying to stay in shape and being ready to take my chance if it came. I'd downloaded and was checking every weather app and thought there was a chance it might be climbable on the 2nd December. However, when we walked into the crag there was sideways rain and overcast skies so it wasn't looking great for the day – but the weather came good!
How long has it taken you to do Rainshadow – ie how many days have you been trying it?
In total it took about 20 sessions on the route which included some training sessions when various holds in the crux and traverse were too wet to climb. I made it through to the top section three or four times – but I knew that I could only really do that once a session with it being such a tiring route so many sessions were more just a bit of time at the crag!
How did you keep warm on the actual redpoint and how did the actual ascent go on Wednesday? Can you talk us through it?
I'd experimented with various things to battle the conditions. Holding onto limestone in December was becoming an issue. I'd already fallen off the top section because I couldn't feel my hands.
So I started going bolt to bolt on the route without warming up to clean the holds, etc. at the beginning of the session. Then shortly before climbing, I would climb Consenting Adults (F7a) twice pretty quickly to warm my hands up, then wait a few minutes and then try Rainshadow.
On my first redpoint attempt on the 2nd December about 12.30pm I fell in the crux – I was pretty gutted knowing conditions were ok but that I would probably be too tired for another attempt.
My dad told me that no-one sends a big route before a customary walk to the top of the Cove – Ben Moon on Rainshadow; Steve McClure on Rainman, etc. – so we walked to the top of the Cove with a flask of tea About 2.30pm we walked straight back to the route, tied in and I sent. Everything went smoothly until the end of the top traverse when the pump really started to kick in and I was having to fight to stay on the wall.
Clipping the chains was a combination of excitement and relief that I'd both achieved my goal for the year and freed myself from obsessively checking the weather forecast. I can't explain how happy I am with this route being the first of the grade for me.
I've also really appreciated the constant psych and support from a lot of people – especially Ian Dunn, Steve McClure, Ollie Torr, Ben Moon and also, glad my dad enjoys belaying so much 😊
What is next on your game plan?
In the relatively short-term I'd like to get back on Hubble after some training. I managed the first lower drop-in move and moving up to the right-hand side pull and I've done the rest of the moves individually apart from the last move in the boulder problem. It's also a slightly more accessible crag for us.
Back at Malham, I'd also love to climb Bat Route (F8c), Raining Bats and Dogs (F8c) and one day Batman (F9a) and then Rainman (F9b) – but none of them in December 😊
As well as your success outside, competition climbing is hugely important to you as well. Going forward, do you intend to stay with the competition climbing and what are your goals in that arena?
I love both and my goals are to take both my competition and outdoor climbing as far as I can. The main difference is comp climbing has a schedule which defines the year.
In 2021 I'll be competing from 'Lower A' which physically means giving away a year to some of the best youth climbers in the world – so even though 'Lower B' was a successful year for me it will be a huge challenge after missing 'Upper B' due to Covid.
I would also love to make the transition into the GB Senior team – which is a massive challenge because I know how strong the senior team is. Whether it's Paris 2024 or LA 2028 or both I absolutely want to make it to the Olympics and will be doing everything I can to make that possible.
Climbing is a fundamentally a fun activity – which aspects do you enjoy doing the most why?
I really enjoy all aspects of climbing – whether training on my own or whilst socialising at the wall or crag. I love travelling to compete as well as meeting new people who love climbing. But I would be lying if I didn't say that I enjoy winning competitions… and hard redpoint sends!
Click through here to go to Toby's Instagram page and watch the full 'send' footage of Toby climbing Rainshadow.