Euro Rock Round-up: Part 3 – Spain
For Part 3 of our mini Euro Round-up tour, we head to Spain where the action truly seems never-ending.
Oliana is seeing, as usual, plenty of action although perhaps none as impressive as that from Martina Demmel. The young 19-year old from Germany has recently stamped her name on the crag and the sport's history. Given Demmel only started climbing in 2017 she's literally rocketing up the grades at an incredible rate. Last year she was in the news having climbed over 200 (202 actually…) routes of F8a or harder; 11 being F8c! In late March Demmel really impressed however. Her ascent of the Oliana classic, Fish Eye (F8c), proved to be warm-up for what came next. Pushing her own on-sight grade up even higher Demmel first on-sighted Humildes pa casa – a 40m F8b+. An hour later she then redpointed Joe Blau; that was her second-ever F8c+!
Less than ten women have on-sighted F8b+. After her ascent Demmel posted: "I felt fresh after the rest day and mostly wanted to conquer all these thoughts, the excitement and nervousness😊🙃! Super nervously I put on my kneepad which was the decision for the try and started off the ground with super shaky legs, still a miracle that I wasn't slipping off the first 7c-ish part...😜 as soon as I began pinching and kneebaring my way up on this perfect single tufa, I was in perfect flow🦋😻. It was quite a warm day with a nice little brieze☀️🌬 and I totally enjoyed this calm atmosphere as it weren't that many people at the crag🦅! I managed to regulate the pump quite well with constantly breathing until the last few meters where you're arriving at the end of the tufa. No chalk guiding the way made it extra exciting to get through the last 3m slab before clipping the chains: such a big relief that it luckily worked out on this outstanding 5star line😍😍🔥!"
Understandably, she was equally delighted with her redpoint of Joe Blau (F8c+): "The iconic @joekinder gem "Joe Blau" [8c+] surprisingly went down the same evening as well💎😻💥! Seems like once the sending train is rolling, it's not that easy to stop again😜🤯! This was literally one of the most unexpected sends ever by still being pumped from the onsight an hour before🥵 but therefore I had the right commitment and flow in my movements💃!"
Very impressive stuff from the young German – clearly a name to look out for going forward. Follow her here on Instagram.
Belgian climber Sebastian "Seb" Berthe has been notching up some impressive repeats. In mid-March, he flashed Mind Control (F8c) also at Oliana. That too, it seems, was a warm-up for his 'in-a-day' ascent of Tarrago, a five-pitch, 240m, F8b+ multi-pitch route at Montserrat. Tarrago (F6b, F8b, F8a, F8b+, F8a) was bolted by Tarrago in the early 2000s and later freed by Iker Poo in 2013.
Here's what Seb had to say on Instagram: "Another great and long multi-pitch fighting day, finishing pumped with a headlamp! "Tarrago" is a spectacular overhanging line that consists of 5 hard and sustained pitches graded 6b, 8b, 8a, 8b+, 8a. The route was bolted by Tarrago in early 20′ and freed by Iker Pou in 2013 and then more recently by Edu Marin. Thanks guys for putting up such a climb! The process of discovering and trying to send a hard multi-pitch route in one day always brings a lot of adventurous stories and can be exhausting. And it happened this time again: heartbreaking falls, broken holds…"
He continued, "Despite pretty soft grades in my opinion I had to fight really hard to send the crux pitch, which is long and technical. Gave it few tries and thought it would not go this time, energy-wise. But found my way to anchor battling against the pump." Seb concluded his post by saying "Can't wait to go back for the bigger sister…" – that would be Edu Marin's route, Arco Iris.
Follow Seb Berthe on Instagram here.
Siurana and Margalef are never far from the news so let's swing round there next. We reported earlier about what Buster Martin has been up to in the area. Tom Bolger is also absolutely killing it there as well as the minute having had was can only be described as an amazing winter. So far, he's racked up half a dozen ascents between F9a and F9a+ in one of the most sustained and effective 'in-a-season' campaigned by any British climber ever. Climber are in touch with Tom and hope to bring you a full run-down of what he's been up to in a Q&A so watch this space for that.
Will Bosi has also been active at Margalef over the winter sending, as we reported, First Ley (F9a+) in his sending spree.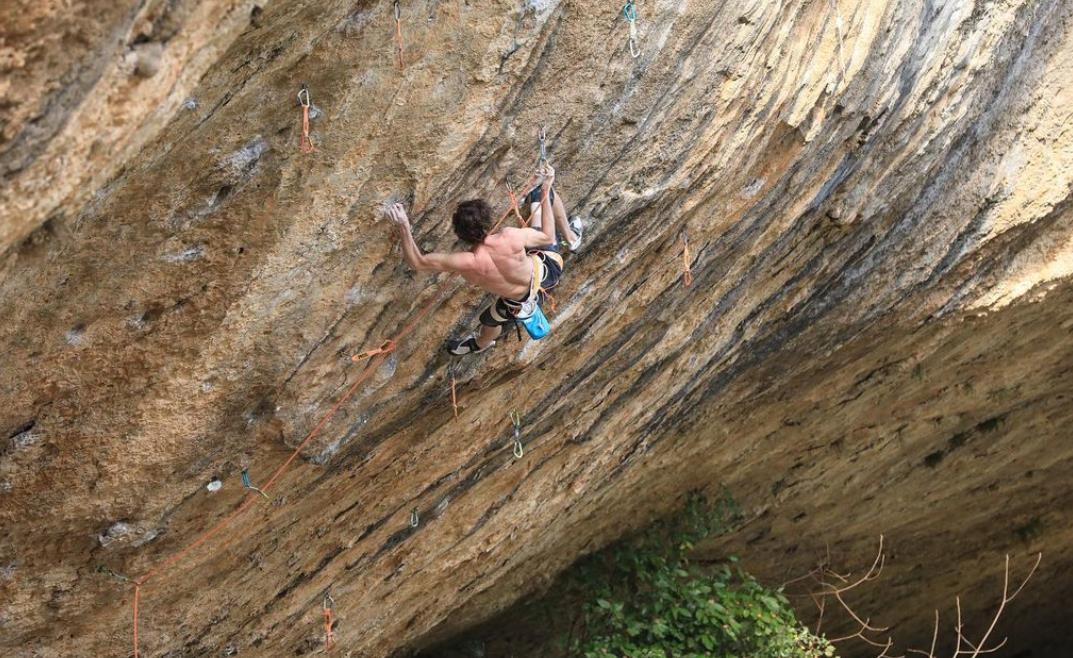 Dave Graham, is now resident in the area and flying the flag for 'older athletes' with an ascent of First Ley. Although a very strong boulderer Dave has been increasing interested in sport climbing of late. By all accounts, he first laid his hands on First Ley a decade ago. Although he readily admits in his Instagram post that it's been a long time coming, he's clearly chuffed to bits with his redpoint of First Ley as he says: "First Ley [9A+] 🔝🔴 So psyched to finally finish this thing off!!!!! Such a good climb from @chris_sharma with amazing moves and holds 🙌🏻 Rocked up to the lab on Saturday and wasn't even sure if I was gonna give it burns, ended up warming up, felt pretty good, then just took it down the first try of the day 😀 After three weeks of foggy humid weather, punting around and changing my beta, I felt super discouraged and confused about what wasn't working 🤯 Then the amazing north and west winds returned, bringing drier conditions, sunshine, and a lot better friction 🤣 In the end I just ended up doing my og method, mixed with some tricky new @jorge.diazrullo beta, and voila, it worked perfectly!! Felt so good to feel the flow again, climb well, clip an anchor, and liberate myself from the easier exit 🙇🏻‍♂️ It's a bit of a shame it took so long to make it happen, but it was amazing training for First Round First Minute 9b."
Now, Graham can turn his attention to his real target at Margalef, Chris Sharma's First Round, First Minute (F9b). Follow Dave's progress on that via his Instagram page here.
Talking of First Round, First Minute (F9b), that has seen a recent ascent by Spanish climber Jorge Diazrullo. We've reported a few times on Diazrullo's recent activities and it's fair to say that the 22-year-old is never far from the news nor hard repeats. Diazrullo has been lusting over and ascent of the Sharma classic ever since he first saw it. He's chuffed to with his ascent too - understandable: "It has not been an easy project, at first I saw it almost impossible, it took a long time to choose my sequence for the final boulder, but after taking the gesture of the @dave_graham_ beta I was able to start to do a good tries 👊 A total of 9 days of work ☑️ to add only a boulder of 2 quickdraws to the hard of "First Ley" 😱📝"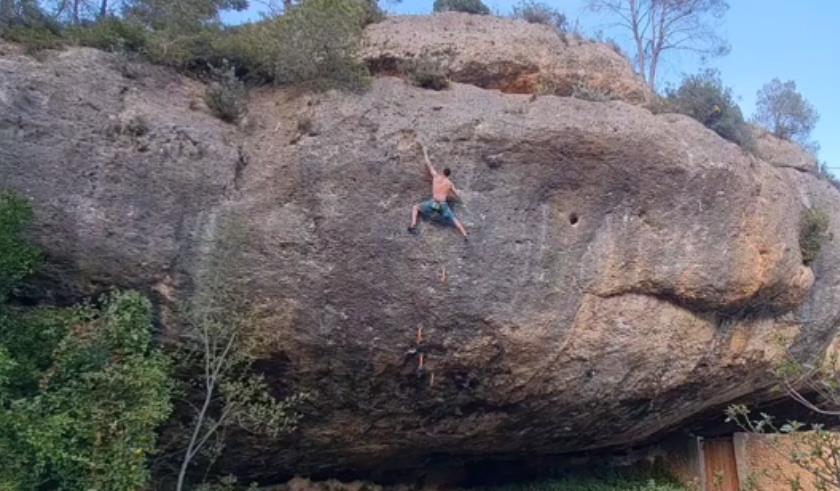 Diazrullo is clearly at home on the pocketed walls at Margalef – just days after sending First Round, First Minute he soloed Darwin Dixit (F8c) farther round in the Laboratory Sector saying: "Since I did it with a rope, I have always had it in my head to climb it without rope, with crashpads, in the Highball style 🙌 I think that in some short routes, currently in some places the plates would not be put, they would look differently and they would be climbed differently 🧐🧗
This route was previously graded as F8b+, which after the breakage of some holds on the start has been graduated from 8c, for my taste even hard 😅 It consists of about 30 moves, from harder to easier, starting with a boulder problem like 7C and ending with some very easy last moves, but you still have to maintain tension and concentration. All spread over a height of 13m + exit from the top 🤯💥" Formerly Dave MacLeod soloed Darwin Dixit in preparation for his ascent of Echo Wall on Ben Nevis.
Follow Jorge Diazrullo via his Instagram page here