Euro Rock Round-up: Part 1 - France
With travel and climbing in Europe being less restricted than in the UK numerous athletes have been hitting the crags hard over the late winter/early spring. As usual, at this time of the year, Spain has seen a fair chunk of the action although there are high-value ticks happening around Europe in places like Italy, Mallorca and France.
To kick-start our mini Euro tour we go first to France where the scene seems particularly strong at the moment as several noteworthy ascents have gone down in the last few weeks. We reported earlier about Alex Megos and his storming visit to St-Leger (click here for that report) but for Part I of our Euro Round-Up we concentrate on French climbers.
Let's start by going 'back to the future' at Orgon where Loïc Zehani has done the first ascent of Les Affranchis (F9a/b) at the Canal Sector. Considered somewhat old skool these days, Orgon Canal became infamous during the late 80s and early 90s as some of France's hardest climbers at the time 'experimented' with glued-on and chipped holds. Loïc Zehani, a young French climber from the south-east of France, dug deep into the gems of Orgon Canal to come away with Les Affranchis – literally "The Freedman". A link-up between Sachidananda (F9a) and The Bronx (F8c), Les Affranchis offers a new section of hard climbing said to be worth Font 8A for the connecting link of three moves in-between the existing routes. Loïc Zehani describes his new offering as comprises a 6 move F8a, then a Font 7C into the Font 8A (previously mentioned) – all of which comes in at F9a/+, before the final 18 move section (F8b) of The Bronx leads to the lower off. Having added Les Affranchis, Zehani says he has no shortage of other projects he wants to try including an F9a project in the Camping Sector at Orgon, a F9a extension to the existing Macumba Club as well as the in-vogue Le Cadafist at St-Leger.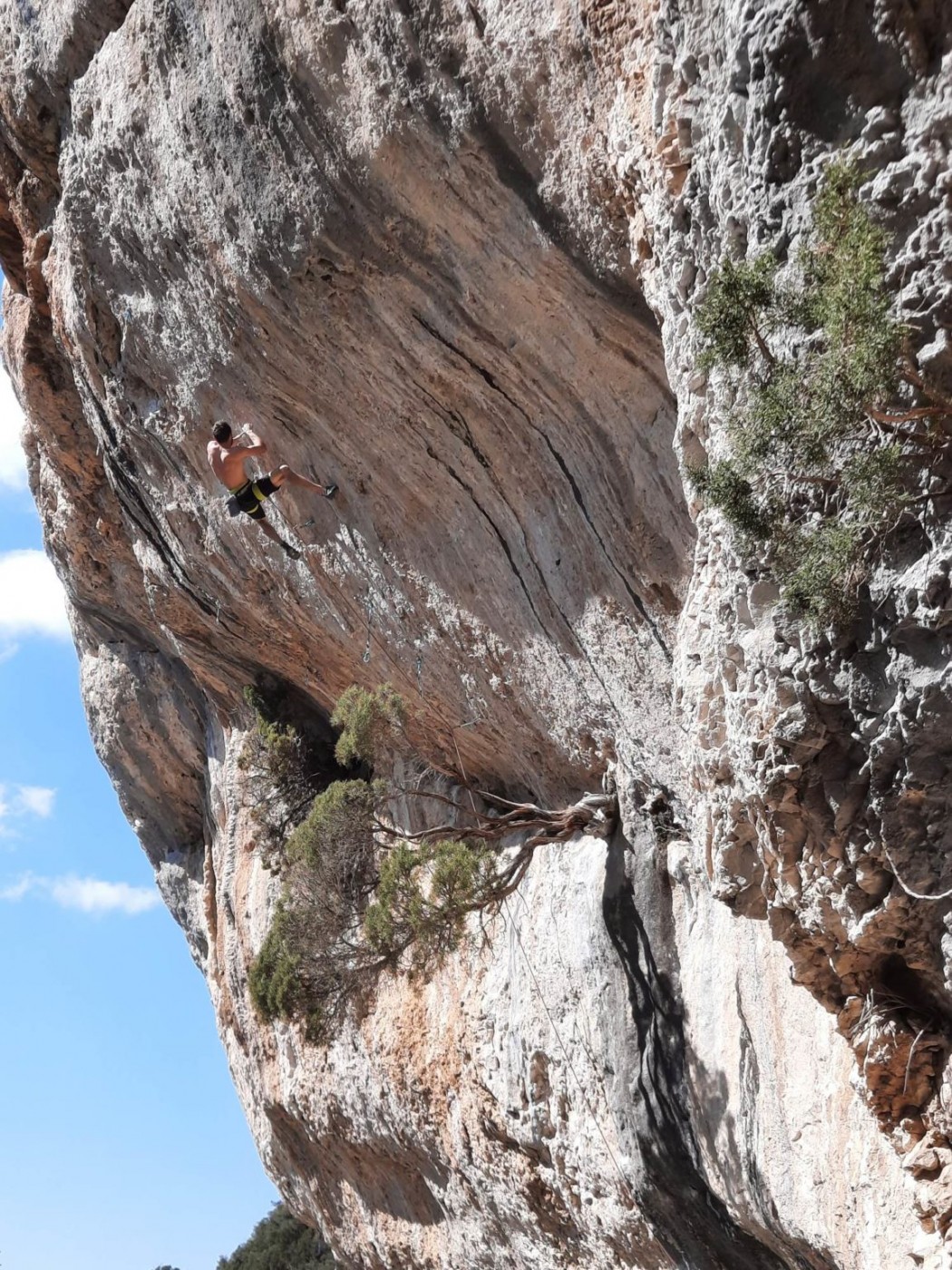 Talking of Le Cadafist, that's just seen its fourth ascent by Mathieu Bouyoud. As we previously reported, Alex Megos dispatched the third ascent of the Adam Ondra route at St-Leger earlier in March - Cédric Lachat having napped the second ascent around Xmas time. Based in Chambéry, Mathieu was in St-Leger for a two-week holiday. He sorted out the initial boulder crux quickly but ran into difficulty with the higher section of the route from which he fell a number of times – twice daily it seems – before completing the route. Unlike Megos, Bouyoud took a rest in the tree before the initial crux.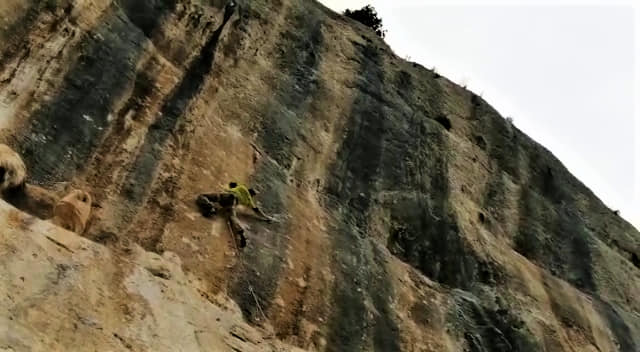 The south-facing 'winter' crag at Seynes has also been attracting attention. Mathieu Bouyoud made the second ascent of Ça Chauffe (F9a). First climbed a year ago by Tanguy Mérard, a young local climber, Ça Chauffe is said to have a super boulder section (Font 7C+) on two very small and sharp crimps with no feet more or less straight after the first easy (F6b+) pitch. After the razor moves some long lock-offs lead to a rest after which a long section of (F8b) resistance climbing leads to the top.
In the autumn of last year, Seb Bouin rummaged through the cobwebs at Les eau Claires and subsequently came away with the first repeat of the old Fred Rouhling route, Akira. This controversial route had laid idle for a couple of decades before Bouin dropped in during his Vintage Rock Tour. Click here for our report to Seb's second ascent and the issues around the old Rouhling route.
Since Bouin's second ascent, Akira has had two further ascents from Lucien Martinez and very recently by Joshua Fourteau. Dismissed at the time, Akira now has a strangely modern feel to it given it's a two-part route: a boulder sequence in a roof (said to be F8b or a long Font 7C+) followed by a short bolt-protected section (itself F8a or long Font 7B+) after the roof.
Seb Bouin has now released 'uncut' video footage of him climbing Akira – watch that below…
As well as making the second ascent of Akira Seb also repeat Rouhling's other infamous route from 1995 De l'autre côté du ciel (F9a) at Les eau Claires. Seb describes the route well: "It's a spectacular roof with big impressive moves. The crux part is a twist on a two-finger pocket on the middle of the roof. I did this route during my Vintage Rock Tour". You'd hardly notice watching the video but Seb reported after his ascent that he actually chipped a rib doing the big cross-over move! Filmed by Julien Nadiras you can watch Seb making his second ascent below.
During his visit to the area, Seb also repeated Rouhling's Hugh (F9a) – considered to be the first French route at the grade. Interestingly, Seb's repeats of the Roughling's Trilogy has somewhat opened the floodgates; the latest news is that Noé Moutault – a youth French climbing team climber – has also repeated Hugh. Moutault's ascent of Hugh – his first F9a – is the fourth repeat of the route in about as many months!
Seb Bouin has also been in action in the somewhat 'off-the-grid' location St Guihlem le Désert, Hérault. Whilst Seb's main focus recently has been training for a trip to try Stoking the Fire in the Santa Linya cave in Spain he slipped outside for long enough to send the first ascents of both Les gardes fous (9a+) and Oppression (F8c+). Seb confirms that Les gardes fous is the first of its grade at St Guilhem le Désert and Oppression is one of the best lines of the area irrespective of the grade.
It's good to see both France and French climbers back in the news – there's a wealth of amazing climbing in France yet it's often overlooked in favour of the newer and perhaps more weather-friendly areas in Spain and Greece.