Emmett talks about Mission to Mars and Helmcken Falls
Earlier this year, Tim Emmett and Klemen 'Klem' Premrl returned once again to the frozen world of Helmcken Falls in British Columbia, Canada, where they both lead Nadurra Durra (WI 12) and Mission to Mars (WI 13).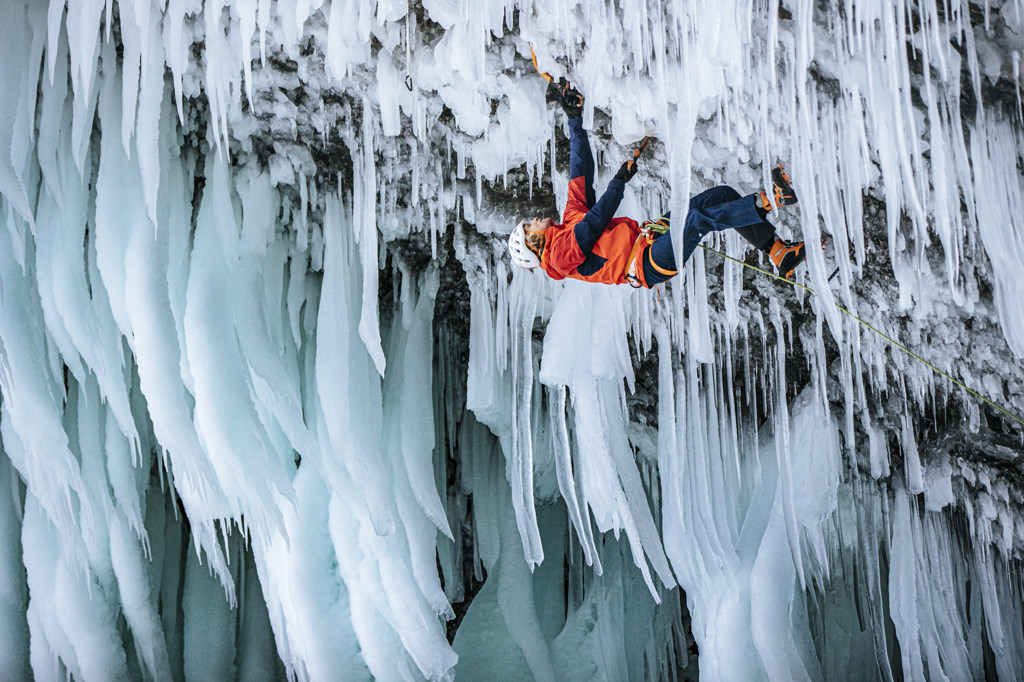 The frozen 'spray-on' ice at the Helmcken Falls is unique and the routes there are massively physical as well as highly specialised. In much the same way that rock climbing in the Hanshallaren cave is uniquely challenging and cutting edge so too is ice climbing at Helmcken Falls. In the ten years that Tim et al have been climbing at Helmcken Falls standards have risen from the already rarefied levels of WI 10 to the unprecedented level of WI 13! If you missed our earlier report into Tim and Klem's first ascent of Mission to Mars click through here.
Training like beasts and using all the latest energy system techniques, Tim and Klem were stronger and fitter than they have ever been for their latest trip; their mission back in February 2020, to go to the next level! In this exclusive interview with Climber Tim reflects back on a decade of ice climbing at Helmcken and how the process has evolved leading to the first ascents of the latest routes; Nadurra Durra and Mission to Mars
Amazing effort on Nadurra Durra and Mission to Mars; both sound err… out of this world?
Thanks! Helmcken really is unique! I think the route names reflect the aura of the climbing in there, it is totally different to anywhere else I've ever been.
Having gone big, well massive really, with Spray On Top and then Interstellar Spice was it a conscious effort to go shorter and harder with these latest projects?
Yes totally! I knew there was a possibility to climb something harder and steeper than what we had already done and both Klem and I were psyched by the challenge. We trained more than any of the other trips. Spray On Top is still the route to do in the cave, it's both Klem and mine most memorable quest so far. It's a proper adventure, I can't wait for someone to repeat it and have a similar experience to ours. It's properly wild, imagine the crux pitches of Caveman at Berry Head but ten times bigger and covered in ice!
Given Mission to Mars is a four-bolt extension to Nadurra Durra and the crux is the last three moves you must have to cruise Nadurra Durra to have enough juice left for the hard finish of Mission to Mars? Did you ever think that you'd be cruising a route as hard as Nadurra Durra when you first started at Helmcken Falls and how much has your training for hard rock routes like Era Vella helped you on these routes this year?
Absolutely not, no! I had no idea climbs like this were possible. When you look at it from the ground the ice looks too thin for it to be climbable, it's only when you get on it and place your tools in very specific places, carefully, and really understanding how to use the ice without breaking it that the moves and route come together. Also because we've been to Helmcken so many times we both know how much training you have to do to succeed on a climb in there. I learnt a lot from training for the last year and a half for Era Vella and this is the first time I have adapted this to training for winter climbing. Klem was for sure in the best shape of his life, he trained a lot with a weight vest. One of the key components for success on a route like these is being able to recover hanging on your tools on a 45 degrees face. If you can do this you're in with a good chance.
Let's go back a decade to when Helmcken Falls was discovered. Will Gadd first became aware of Helmcken Falls in Wells Grey Provincial Park, BC whilst searching the internet for icefalls to climb. Sometime later Will invited you out to Canmore with the intention of checking out Helmcken Falls. Fast forward to when you and Will finally stood on the rim at Helmcken Falls looking into the abyss; what were your first reactions?
Yeah, I remember standing at the lookout and the first thing that came to mind was how incredibly steep it was and huge. Even still, we didn't realize the true scale until you see somebody in the cave or go in there yourself. It's about three times the size of the Grand Grot in Kalymnos!
Access to the bottom of Helmcken Falls wasn't easy however. What did it entail getting down to the bottom and has it changed since?
Getting to the base of Hellman Falls is relatively straightforward in Canadian terms as many other ice climbs often have long approaches. The way we go involves a short walk down a slope then a short abseil to the top of a 50-foot vertical ice line. You rappel down this and then walk across towards the entrance of the cave. From here into the cave and conditions vary every year and sometimes it's easy to walk straight in and other times it can be complicated with glacier travel requiring ropes. The cone can grow up to about 200 feet. As it increases in size it seems to implode and changes shape. This puts stress on the ice connected to the lower slopes and tears it away from the rock creating crevasses. The technicality of the approach depends on the year and the shape and size of the cone.
When you first got to the bottom of Helmcken Falls it must have been incredible - all that hanging ice must have been well-scary?
Yes, totally I was intimidated. To be honest I didn't think we were gonna climb anything at all on the first trip. The hanging daggers transform it into a high-risk environment, especially when it warms up. Being in there when its above freezing is scary, potentially lethal and not recommended!
When you finally managed to get to the 'back wall', and hence a relatively safe position, you found a 45-degree overhanging wall of compact volcanic rock covered with thin ice; somewhat disheartening but amazing at the same time!?
Interestingly the first time when I went into the cave with the least amount of ice we've ever seen in the last decade. There was a thin layer of ice covering the rock going all the way up to the roof.
The rock didn't take natural gear and the ice was too thin to take good screws so you and Will Gadd decided pretty quickly to aid your way up and place bolts to protect the climbing. How did you go about that on such steep terrain and how long did it take?
This was Will's idea. He placed the first bolt, this was the catalyst for climbing at Helmcken Falls, it changed everything. I remember him saying "well that's the first one let's keep doing that and see how far we can get". I think we placed about 10 bolts each one by clipping into our ice axes. It took a couple of sessions to get up to the belay.
Finally, the route was bolted and you were ready to start free-climbing; how did that go?
It was steep! We could climb between two or three bolts and then had to rest because our arms felt like they were going to explode! It was fascinating to learn what placements would hold in the thin ice, and like nothing I had ever climbed before. As we became more familiar with it and learnt how to climb, it opened up our appreciation for how brilliant the climbing itself really was; soft ice, first-time placements and being able to put your feet anywhere. It was awesome!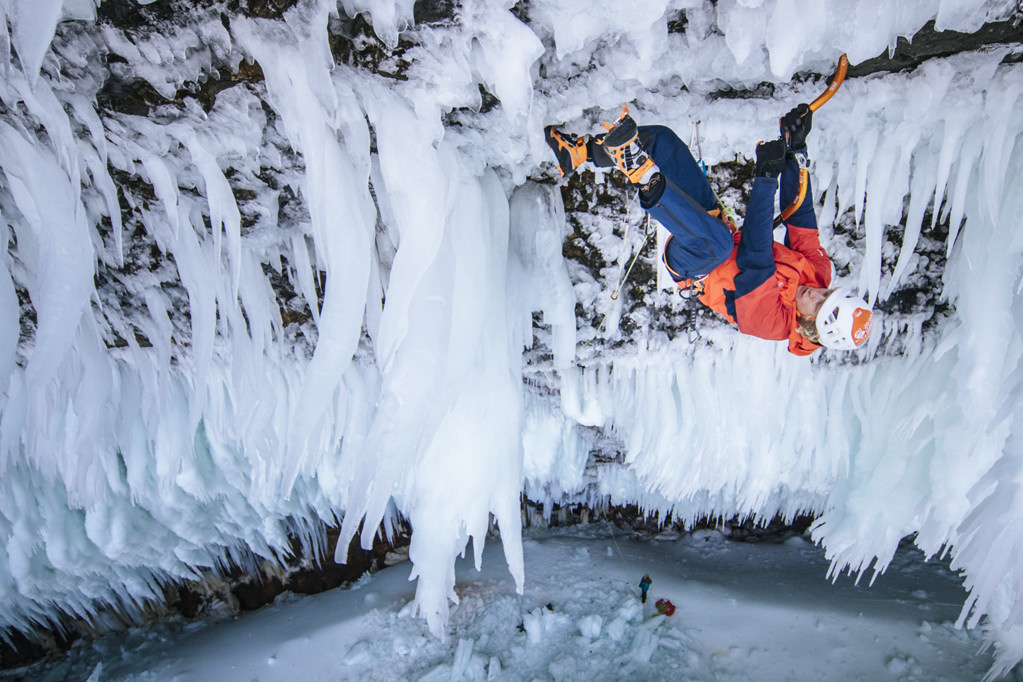 Your first route, Spray On, was about 90 foot long and finished at the end of the then continuous spray ice in an alcove about 40 feet above the base of the Falls. Although relatively short and bolt-protected it must have felt 'next generation'?
We were both very excited, particularly Will. It was a completely new experience for him in his extensive winter climbing career. I have often looked up to Will as a mentor for ice and mixed climbing. He taught me a lot and going into a place like Helmcken Falls where we are both being pushed to the limits, both physically and mentally was very memorable. We felt like true pioneers.
You were obviously hooked (no pun intended…) on Helmcken Falls and have since become a frequent (winter) visitor. Following a trip in 2011 you were back in 2012 with Klemen 'Klem' Premrl, Ralphael Slawinski and Will Gadd. Firstly, you and Klem did a new route, Wolverine, and then you extended Spray On all the way out to the lip of the Falls creating Spray On Top a huge eight-pitch, massively overhanging, ice route! Both were graded WI 11; like Spray On before them, they were the hardest routes ever done on ice at that time?
Spray On Top, is an incredible adventure. I highly recommend it to anyone who is searching for something special. Going back to the first time I walked in to the cave, if someone had said "Do you think anyone will ever climb to the top in one push, I would have replied, "No way, not in their wildest dreams".
There are about 100 bolts from bottom to top with about 800ft of overhanging climbing. Some of the bolts are spaced, and each pitch has its own unique character. One of my favourite pitches is the third one - The Space Invaders. It's about 120ft and the easiest at M6+/7 but totally wild traversing above the lip of the first roof, starting off on ice then going into mixed. I remember bolting this on lead with three ice axes, a hammer drill, 25 bolts and a metal detector hanging off my harness while I climbed up through a roof. This alone was a unique moment in my life! The crux 6th pitch has a couple of really hard moves on it where you have to do a deep lock off so you can place the next tool in an upside-down stein-pull at full stretch. The pocket you are going from is about half the size of my little fingernail on bullet hard rock. There is also another tiny pocket next to it that you can match the other tool with. It's steep here about, 40 degrees, you're 350ft up and directly above the huge cone with the Falls crashing into it. When Klem originally bolted this pitch it took him 2 hours to find a way to get across this 10-foot section of blank rock. We didn't drill any holds anywhere, the route is 100% natural, as are all the other routes Klem and I have put up in Helmcken.
In 2016, you and Klem did Interstellar Spice, a 260 foot, 28-bolt monster route. You climbed this in a single pitch, graded it WI 12 and described it as 'By far the hardest, longest and coolest single pitch ice climb either of us have done before' and then suggested it was 'Possibly, the ultimate winter climbing experience.' It seems every year you were going bigger and harder still?
Totally ;-) Looking back at it now, I think Spray On Top could be the ultimate climbing experience.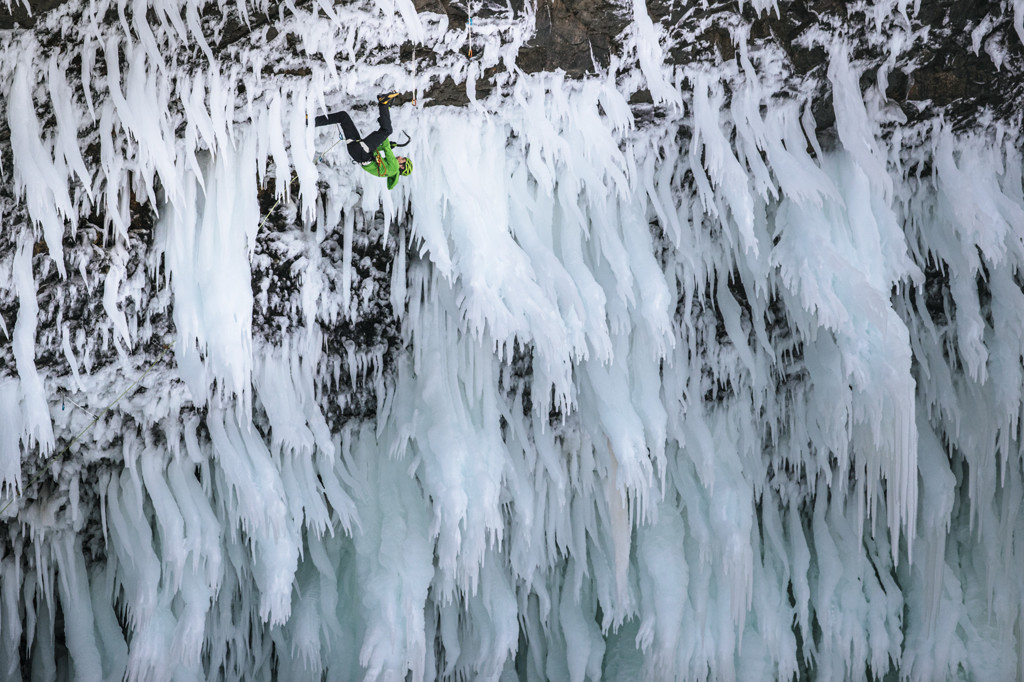 To get right back up-to-date, in early February this year you and Klem were back again and this time did the first ascent of Nadurra Durra (WI 12) which you then extended to give Mission to Mars (WI 13). Having climbed there for a decade now you must have really got the prep for these routes down pat? How have you and Klem trained for these latest routes and how have you equipped them?
We definitely have a system in place now. One of these is that every time we arrive each year, we are intimidated, and think that maybe we can't do anything. Then we realize that it's always like this, and start clearing the ice and making a safe zone. Then when you start climbing or bolting you start making some progress and bit by bit a new experience begins to emerge.
This year Klem and I trained more than ever before. I used a similar training plan to Era Vella, but with tools. This involved establishing a base, followed by strength, then power, then endurance, over 90-100 day period. I did some things I have never done before like one arm max hangs with 22kg, and also one-arm repeaters with less weight.
Klem did a similar thing but also lots of climbing with a weight vest on dry-tooling crags near his home that he had been training on since I met him in 2000. Before he left Slovenia he was doing 2 laps back to back on a M12 with a weight vest. He had never been able to do this before.
As for equipping the routes we have a system where we clip into the tools on extendable cords then drill from here. When you feel like placing a bolt, do a couple more moves then place the bolt!
The quantity and quality of ice has varied over the years you've been going to Helmcken Falls, what was it like this year?
It's always different like any ice climb, and that's why we keep going back. This year the cone was not as high as usual so when we arrived there was lots of spray and some wild ice formations that were growing rapidly. Also, the right side of the cave that we usually climb on was unclimbable unless you had a drysuit and a deathwish. Also, there was lots of ice on the left which was unusual. By the time we left the right side had dried up and was climbable. It's amazing how fast it can change, there's such a high volume of water and spray when it's cold ice forms very fast and keep growing.
What are the hardest and the most satisfying aspects of the routes you've done at Helmcken Falls?
Any climb you do at Helmcken is hard and satisfying! As long as you have put in the time and preparation before you get there. If you're not in shape it's unlikely you'll be able to get to the top of anything there.
Helmcken Falls seems to be the venue that keeps giving; what else do you think can be done there?
It's a bit like when free climbing was discovered in Yosemite, but for ice. There are lots to do for those who have the vision and ability.
Over the last decade climbs at Helmcken Falls have gone from WI 10 to WI 13. Where can they go in the next decade?
Who knows? The season is short and anything harder than this requires time and optimum conditions.
It sounds like the 'Helmcken crew' is pretty restricted and we haven't heard about any women climbing at Helmcken Falls. Given that female rock climbers are very much in evidence/action around the globe – why not at Helmcken do you think?
I can't wait to see the ladies slay at Helmcken. It's waiting for them!
Will Gadd equates Helmcken as the big wave surfing of ice climbing. Also, the climbs are hard! Angelika Rainer repeated Clash of the Titans just after we established it and also Sarah Hueniken has climbed some hard pitches too. Helmcken is quite a unique place and to climbs require a multitude of skills. You need the strength of a sport climber, the head of an alpinist, the tricks of an aid climber and the skills of an ice climber.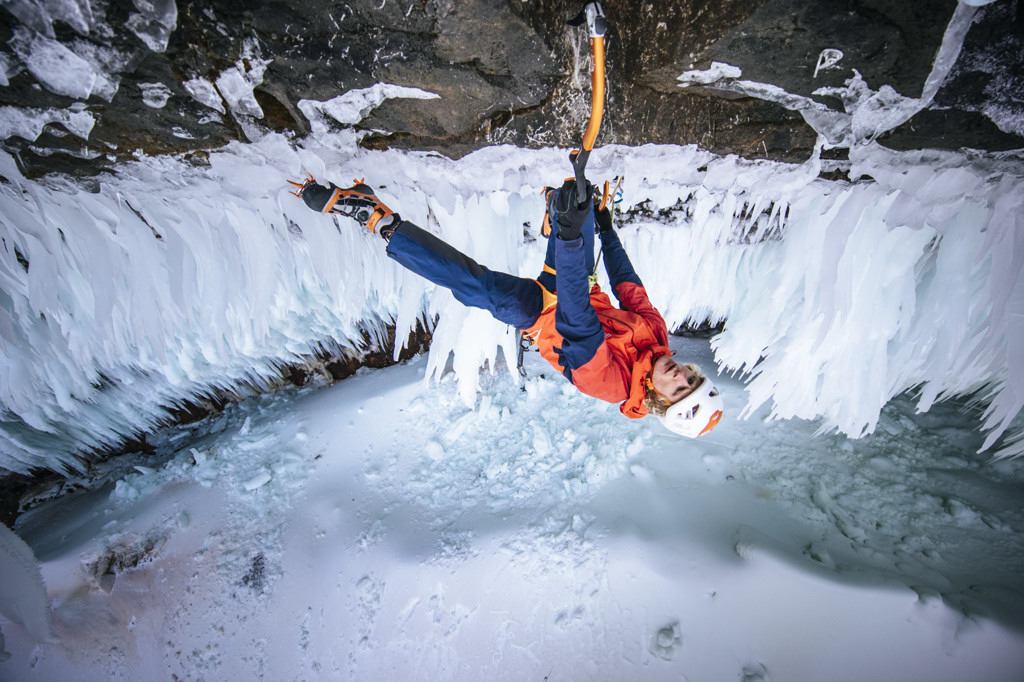 Recently Will Gadd wrote about the difficulty of ice grades made the following comment: 'I can take a solid 5.11+ rock climber and give them a half-day of instruction and they can follow pretty much any ice climb I can lead.' How then out of curiosity, how do you think the likes of Adam Ondra or others from the highest echelons of the rock world would handle the climbing at Helmcken?
I would LOVE to see Adam climb in there. I think with a bit of guidance he could totally smash it!
Finally, let's talk about the grading of the Helmcken Falls routes. Will Gadd blogged about your grading thought process back in 2010 after doing Spray On writing: 'We sat around eating and talking about the grade; it is a whole hell of a lot harder than anything I've ever climbed on ice. The only thing I could compare it too is M10 or harder drytooling, but you have to swing for placements instead of just hook. WI 10 is the lowest grade I can give it with a straight face; many people who can drytool M10 will find the ice climbing a lot harder I think…'
Given that Spray On was a pure ice-climbing route rather than a mixed route you concluded that the M grading system won't be right so that only left the WI system (which was used for water ice routes in Canada) to use for the Helmcken routes – is that right?
Totally. The climbs we have given WI grades are all on ice. There may be a couple of moves on rock and in fact Mission to Mars has the most rock moves than any other ice climb in there. It has three, two of which are reaching the belay where the ice runs out and hence a logical finish.
The Helmcken Falls routes are clearly outrageous physical and demanding so the 'read-across' between the physicality of M-graded routes to the WI-graded Helmcken Falls routes is obvious so Spray On with its M10 physicality became WI 10 - right?
That's true. Mind you it can take a little while to get your head around the ice climbing in there. So if your flashing M10 don't be surprised if it takes a few days to climb one here, even if it is cleaned and ready to go.
Traditionally, however, none bolt-protected WI graded routes top-out roundabout WI 7 whereas the bolt-protected routes at Helmcken Falls start at WI 10 for reasons we just discussed. However, when the Helmcken Falls routes hit the spotlight it seemed, to a number of people at least, that there was a disconnect between the traditional WI-graded routes and those at Helmcken. That disconnect has been confusing if not controversial. How do you see this now? Also has the thinking on this matured over the last decade?
I totally understand if some people are confused by the grades. The climbing at Helmcken is unique and so is the grading. Unless you go there yourself it's hard to gauge what the routes are like, so we used these grades to give people a rough idea of what is required if you wanted to come and climb in there. I think the big wave surfing analogy from Will is the best.
If this is still an issue that, might the use of a B suffix (indicating bolt-protected) – such as WIB – solve this once and for all?
I think that's a great idea! :-)
Follow Tim via his Instagram athlete page here.
Climber would like to thank Jon Glassberg (@jonglassberg) of Louder Than Eleven (www.lt11.com) (@louderthan11) for the photographs. Follow Jon on his Instagram page here.