Emma Twyford talks about The Big Issue and her climbing
Thursday 6th September 2018
Sept 6th; 2018
Emma Twyford's current run of phenomenal form saw her recently repeat the Pembroke classic test-piece, The Big Issue (E9 6c).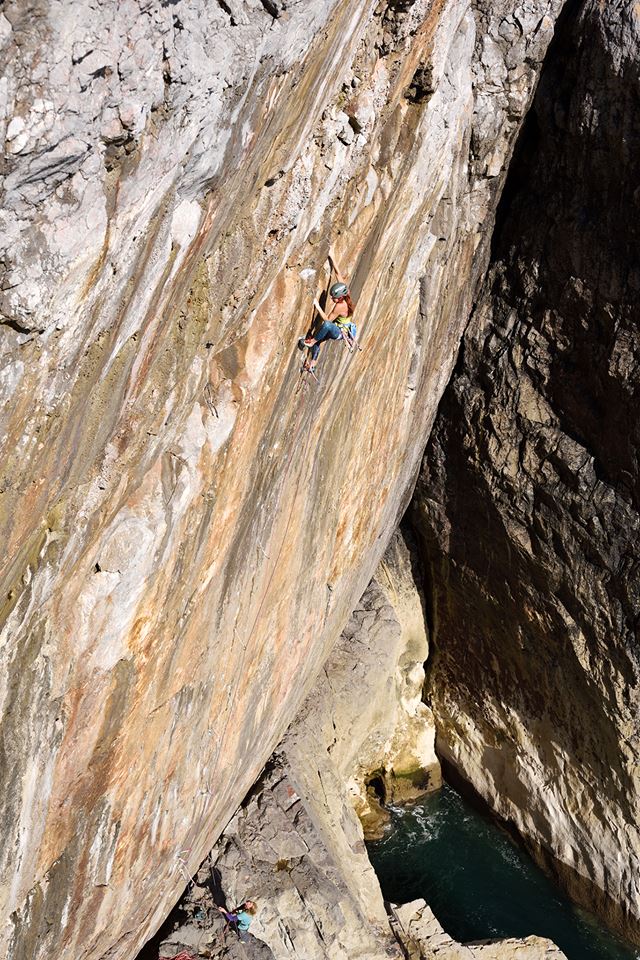 Emma Twyford repeating The Big Issue. Photo Ray Wood.
Emma, one of the group of top female British climbers, continues to push the boundaries in both trad and sport climbing. Back in February of this year, and building on her already impressive tick-list, Emma redpointed Mind Control (F8c) in Oliana. Emma's ascent of that route, the second redpoint by a British female after Hazel Findlay, laid a foundation for her 2018 season as she explained to CLIMBER; "I think this is the first year in a while I've truly had some specific goals in mind but I wanted to do it my way without changing the fundamentals of how I live. After a bad motorway crash nearly 4 years ago where I sustained bad whiplash I found my motivation ebbed and flowed depending on my physical condition. This year I've started to push the boundaries, I've cut out dairy due to Eczema this year but I don't really diet and I route set so I don't do much additional training (only when my body is up to it). I always wanted to use Mind Control as a bit of motivational mark to start the year with a bit of oomph. I thought if I could do that then I knew I was climbing well and could be ready to try hard on my other projects."
Since then Emma has had a tremendous summer of trad - successfully ticking two E8' and two E9's - including The Big Issue. Reflecting on her run of success, Emma told CLIMBER that The Big Issue was her #1 target; "I'm proud of all the achievements I have had this year. They have pushed me mentally but they are all exceptionally inspiring lines. Out of all the trad routes I climbed this year The Big Issue was the one I had my heart set on as the climbing is absolutely phenomenal."
Emma mixes her hard trad and sport climbing whilst holding down a route setting job as well as coaching! We asked her where she thought her climbing was at the moment; "Well I'm older and perhaps a little wiser. I feel like my depth of knowledge about climbing and my body's limits has expanded. I feel like I have more to come and it's only getting better at the moment. I've always been fairly sensible and calculated with risk and the realities of how far I can push it on trad but I'm in tune with my head and I only push it when I'm comfortable, now I'm climbing for me because it makes me happy. Not for anyone else."
CLIMBER also asked Emma to reflect on her ongoing sport climbing project – specifically, was her year going to end with a big bang? "Ha ha - well I don't want to tempt fate!" she told CLIMBER. She added; "I hope I can end on such a spectacular finale for 2018. I know I'm getting tantalisingly close despite the conditions. I'm back to work soon but I will give it everything I have, if not then it will be there next year and in hope I will enjoy trying it just as much as I have this year".
Emma's ascent of The Big Issue, the first by a British women and the second ever by a women after Baraba Zangellia's ascent last year, underlines that British women's climbing continues to develop. A full account of Emma's ascent of The Big Issue, including the ups and down she faced during her ascent, will be published in the next issue of CLIMBER. Emma's account will appear alongside an in-depth look at the whole issue surrounding first female and significant ascents with the help of a group of top and/or emerging female climbers.