Emma Twyford sending again with her first V10 and a F8b
Wednesday 15th April 2015
April 15th, 2015
Emma Twyford, one of the UK's top women climbers is on-track and sending again having just repeated The Lotus (Font 7c+/V10) in Llanberis Pass before heading out to Kalymnos where she has just redpointed Gaia F8b.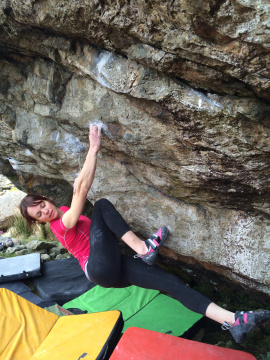 Emma Twyford on The Lotus, Alex Haslehurst
Emma reports that she had first tried The Lotus last year doing most of the moves. She returned just before she left for Kalymnos and with some new beta she was soon topping out on her first Font 7c+/V10.
She commented on her blog, "Last year I had a quick look at an amazing V10 in Llanberis Pass called the Lotus. I had figured out most of the moves but thought it would take a bit of work to do the problem with it being quite burly. Yesterday was my second session – Cailean, Alex and Ben had unlocked some new good beta but I wasn't sure I'd be able to do it their way as it looked quite stretched out. In the end I felt like my way had a low success rate so I started giving their way a go. It went from feeling desperate to being possible, there was one move I hadn't quite done but I decided trying it from the start would be good as I knew if I stuck this one move I could do the rest. It paid off and I was topping out my first V10 in the sunshine with a massive grin."
Next up was Emma's trip to Kalymnos where she's been for the last couple of weeks. Emma's hardest repoint so far on the trip is Gaia F8b, a super endurance route.
Stay up to speed with Emma via her blog here…
Watch CLIMBER columnist, Gaz Parry, climbing Gaia here…