Emma Twyford climbs Unjustified (F8c) at Malham
Emma Twyford has finally succeeded on climbing Unjustified at Malham Cove in Yorkshire and in doing so becomes the first female to climb a F8c in the UK.
She tweeted, 'I don't normally do this but yyfy!!!! :)' Emma commented to Climber the same evening, "I don't think it's fully sunk in yet. Happy and relieved to have done it. I was scared it would be wet driving up but once on it the crux felt easy, though I still had to fight hard as the sun chose to pop out at the wrong time. Had a nice celebratory drink in the Listers with my parents and haven't stopped grinning since."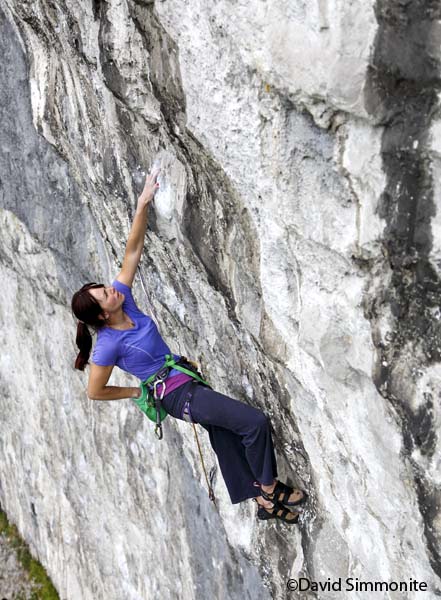 Hazel Findlay became the first British female to climb F8c with a red point of Fish Eye at Oliana in Spain earlier this year but this is the first time this grade's been ticked by any female in this country.
Emma is no stranger to hard climbing: She climbed her first E7 with an ascent of Monopoly at Millstone Edge in 2008 before pushing the limits of female sport climbing with a brilliant flash ascent of the problematic Statement of Youth (F8a) on Pen Trwyn, ticking her first F8b, Predator, at Malham and last year ticked off Rare Lichen, the bold E9 6c in Ogwen in North Wales. More recently she's flashed Yukan II (E6/7 6b) at Nesscliffe and last week flashed Bucket Dynasty, E7 6b, at Dove Crag in the Lake District.
We have an extensive interview with Emma in the September issue of Climber due out on Thursday August 14th and in it we asked her:
If you could pick up a route and take it with you wherever you are what would it be and why?
'I think that could be fairly changeable, at the moment it would be Unjustified (F8c at Malham) so I can get it finished. Once I've done it that would probably change. I guess it would be Right Wall because I'd never get tired of climbing those moves.'
So time for a change and well done on getting it finished.
Emma Twyford during an earlier attempt on Unjustified.
Photo: © David Simmonite - not to be reproduced without permission
Emma Twyford is sponsored by 5.10, Rab and DMM