Eliot Stephens breaks into Font 8b+ in Rocklands
July 8th; 2017
Eliot Stephens has just broken into the Font 8b+ grade for the first time with Golden Shadow; one of the older Fred Nicole blocs at Rocklands.
Eliot on Golden Shadow (Font 8b+).
Eliot, on an extended trip to Rocklands, has been bagging classics since he arrived just over three weeks ago. Eliot explained his trip strategy to CLIMBER: "I've mostly been getting stuck into the classic lines that have appealed to me. There isn't a shortage of them, but I've been generally trying ones 7C and up."
And he's clearly psyched by the place as he explained: "I've done about a dozen 8A's, a few 8A+ and a couple of 8B's so far." Amongst Eliot's haul bag is Ampithreatre (Font 8a) which is his 100th bloc of that grade as well as Tea with Elmarie (Font 8a) his first grade eight flash!
We asked him specifically about Golden Shadow and how it went; "It climbs out of a 45 degree wall on good crimps with awkward positions and movements between them. Most people get a big heel toe cam early on in the problem and then do several moves off it, before cutting their feet and foot clamping to reach jugs at the top. The main difficulty for me was that I was too short to reach any of the left hand holds with my heel-toe cam in. This resulted in me having to bring my feet out earlier, and stab from a golf ball shaped hold dynamically to a small sidepull. This move meant being accurate and hitting the side pull in the right place, but also moving my feet in a particular way to avoid dabbing the rock quite close behind you. I spent a few short sessions just trying to reach holds off the heel toe cam, but eventually just realised that I'd have to do my own thing. It then took another two sessions to link."
Eliot is the latest to add Font 8b+ to his CV. "In terms of difficulty, it's certainly one of the harder things I've done. It certainly isn't the best line in Rocklands, but it has a flat landing that only requires two pads, and has some classic uncle Fred history. The movement and holds are also very nice."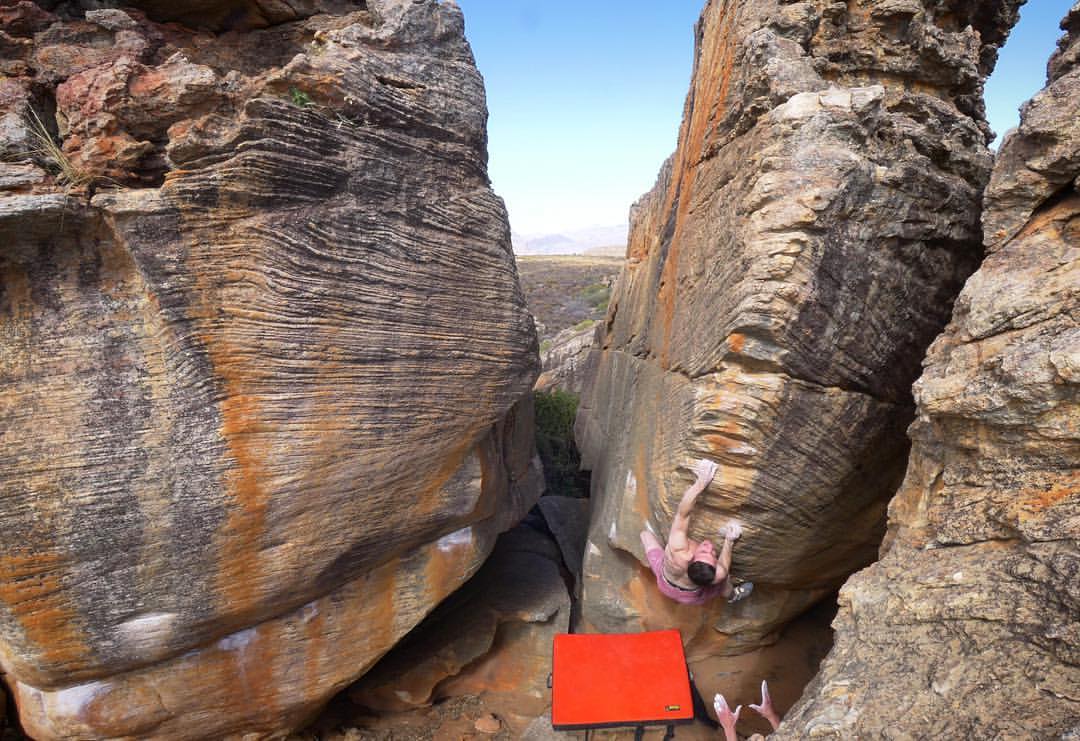 Eliot on Barracuda (Font 8a).
Finally, Eliot laid out his plans for the remaining week; "We've got just over a week left, and if it cools down a bit I'd like to try Amandla (8B+) and a few other things in the 8A-8B region. I certainly feel like this is a place I'll come back to every year as long as I can."
Follow Eliot via his FB page here…