El Nino repeat for Robbie Phillips and Jacob Cook
May 18th; 2016
Robbie Phillips and Jacob Cook have just returned to a successful trip to Yosemite where they topped-out on an all-free, six day ascent of El Nino (5.13c/F8a+) on El Capitan.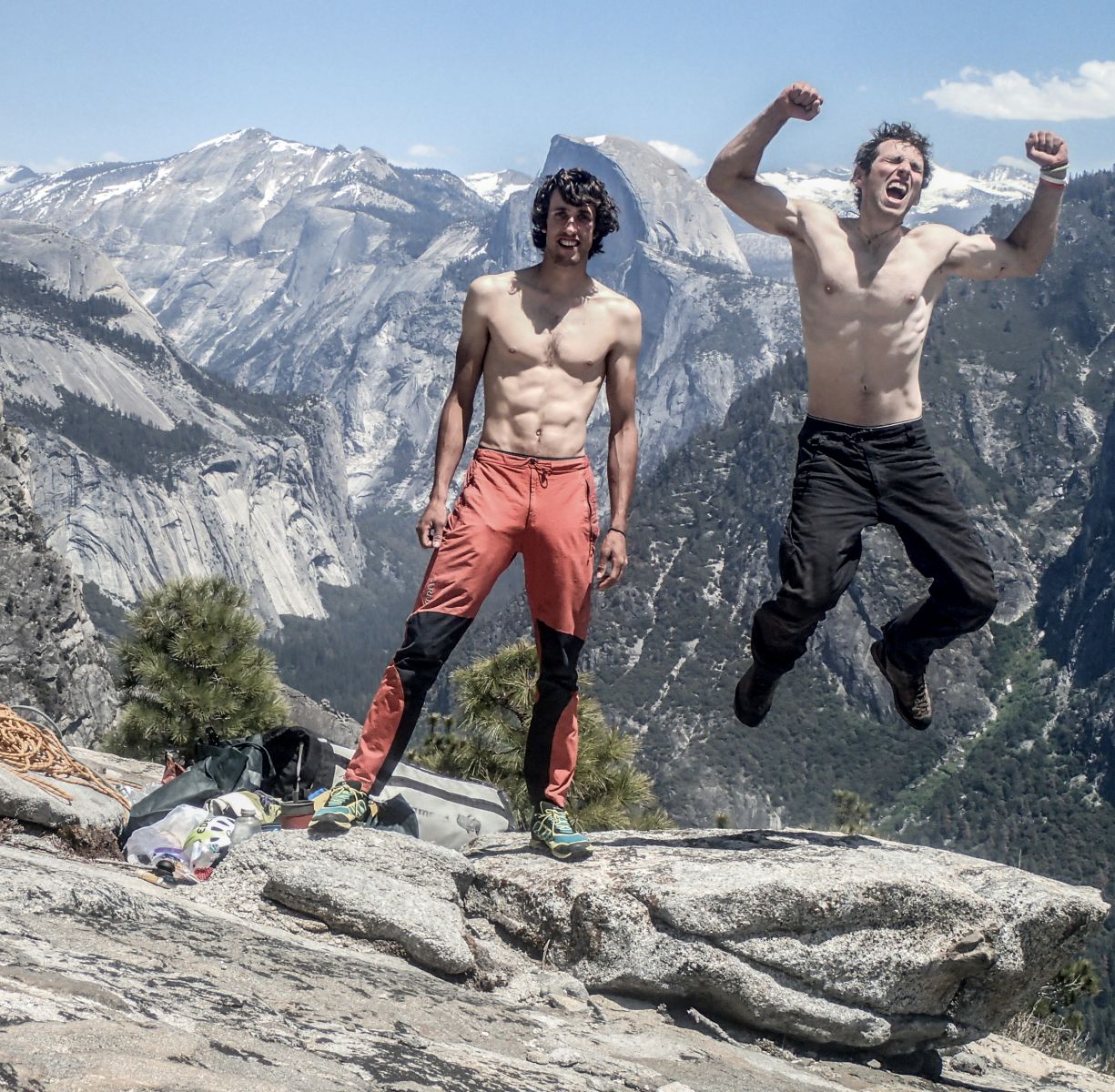 Robbie Phillips and Jacob Cook basking in success on top of El Nino
El Nino was first climbed by the Huber Brothers in 1998. Almost immediately, Leo Houlding – then aged just 18 - climbing with Patch Hammond, brought El Nino into the spotlight in the UK when they made the second ascent hot-foot on the back of the Hubers. Since then, El Nino has become something of a 'must-do' route and – seemingly, it's rarely out of the news. James 'Caff' McHaffie and Dan McManus topped out in 2014 and last November Jacope Larcher and Barbara Zangerl got the tick in too.
Both Robbie and Jacob had a great year last year; Robbie nailing three of the biggest alpine walls and Jacob taking his summer in the Arctic Circle. CLIMBER have been in touch with Robbie Phillips and Jacob Cook for their thoughts on their latest adventure.
Robbie Phillips grinding it out on El Nino. Photo Jacob Cook
CLIMBER: Great result guys – sounds like you both had quite an adventure and made a good team?
Robbie: Thanks! We're both on a high right now after getting down. On my part it's certainly the hardest I've ever had to continually "TRY HARD" for on a climb!
Jacob: It was an adventure for sure! Much more runout and scary than other climbs I've done in Yosemite. Runout and more fiddly gear, more like a lot of UK trad routes.
Robbie: Jacob and I have been friends for a long time, but we've never taken on a project like this together before. It was uncertain if we'd work well together on a big wall and if we'd have what it takes to actually free something like "El Nino".
We had our first attempt at the beginning of the trip. It was really evident that my lack of experience of true Big Wall Tactics slowed us right down not to mention completely rubbish granite climbing technique. I was definitely a Yosemite punter! The weather window we had just wasn't long enough to get to the top without getting wet… so we bailed!
Jacob: I think Robbie and I made an excellent team! It was obvious from the start that I had a lot more experience of big wall climbing techniques, Yosemite climbing and trad climbing in general. I also think I fared a bit better with mental side of the route, runouts etc. But the thing about Robbie is he is so talented and so damn strong! This meant he could figure out beta and lead some of the hardest pitches on the route, which I would have really struggled on otherwise. Basically I don't think either of us could have made it up the climb without the other, which is really cool.
CLIMBER: The weather sounded pretty rubbish out in Yosemite Robbie; did you take the bad weather with you like last year?
Robbie: It does seem like bad weather follows me doesn't it! Must be a Scottish thing?
Robbie Phillips seconding on El Nino. Photo Jacob Cook.
CLIMBER: So guys, what was the hardest part of El Nino for you – the scary runouts on the lower pitches maybe?
Robbie: For me the hardest part of El Niño was the 5.12 pitches (7a+ to 7c). These were a mish mash of cracky corners, chimneys and bold slab climbing. I'm just not that good at it… It's been a big eye opener! Honestly, climbing 5.13 (7c+ to 8a+) is easier on these walls than climbing some 5.12 pitches for me!
CLIMBER: How did El Nino compare to the big stuff you did last year in the Alps and in the Artic?
Robbie: Compared with the climbing I did in the Alps last year, Yosemite was so different! The huge choss pile walls of the Tre Cime might be terrifying, but I know how to climb them. The run-out slabs of the Ratikon might be hard, but I've been climbing on Limestone for years, I get it! And the Eiger; well looking back on it, a summer of Alpine training helped a lot… plus I think I was just really lucky I didn't fall of in certain places!
Yosemite is like the ultimate training ground for the Big Wall enthusiast. You won't find a more easily accessible wall in the world to train for the real badass big walls of Baffin, Karikorum and Patagonia! The granite on El Cap is clean glacier polished and technical beyond belief. You have to be a good climber; strength doesn't support you when you can't use your feet. You give yourself to the wall and let confident movement dictate whether you get up it or not… if you don't then there is no second chance, you will fall!
Jacob: I've really caught the Yosemite bug, so much so that I've made 4 trips here in the past 2 years! It's difficult for me to sum up exactly what's so great about Yosemite. The climbing requires a huge number of different skills, it's not enough to just be strong, skilled, bold or tough you have to have some of everything. Also there is this endless scope for improvement here, every wall or route I do seems to open the door to ten new climbs in a whole load of different styles. But it's more than just that, the climbing community out here is really special. Everyone is hyper-enthusiastic, to the point where at first I wondered if they were joking, but it's actually really nice to be around. It certainly allows me to push myself much more than I might otherwise.
CLIMBER: What's next on the game plan for you guys?
Robbie: I'm home for a part of the summer and will be out tradding in Scotland, England, Ireland and Wales a ton! I'm particularly looking forward to the Fairhead meet and climbing on the islands of the west coast of Scotland (Arran, Harris, Lewis, Mull, Skye).
I have so much to learn from Yosemite, not just the climbing, but also honing the pure Big Wall tactics such as better planning and efficient rope. My plan now is to return to Yosemite in the autumn to attempt the slightly harder El Cap free route known as the "Pre Muir Wall" (5.13d or 8b). I'm also keen for other free climbing objectives such as "Goldengate" (5.13b) and "Freerider" (5.13a). In the near future I'm looking at going to Baffin and Chile for some First Ascent Big Walling!
As I've said in other interviews, I have some pretty big objectives in the realms of Big Walling and Alpinism and I think Yosemite is going to feature as a large part in my development towards them…
Jacob: I'll also be coming back to Yosemite in the fall where I'd like to push myself on some "in-a-push" objectives. Climbing big wall style with a portaledge is really fun but sometimes it feels like you're moving at a snail's pace. It'll be fun to move quickly over the granite here!
I'm also off to put my big wall skills to good use in the Cirque of the Unclimbables in northern Canada this summer. We're white water canoeing in and out of the cirque too, which will be a new adventure for sure!
----------------
CLIMBER would like to thanks Robbie and Jacob for their time and wish them all the best with their adventures for the rest of the year.