El Caminito del Rey set to re-open before Easter
Wednesday 11th March 2015
March 11th, 2015
The walkway through the El Chorro gorge is set to re-open on March 29th, 2015 after a c. €2.5m refurbishment programme.
A visit to the newly refurbished walkway. Photo Caminito del Rey website
The El Caminito del Rey – literally The Kings' little pathway – was originally constructed to allow workers access between the two hydroelectic plants at Chorro and Gaitanejo Falls. The original construction which started in 1901 took four years to complete. It didn't accure it's nickname however until some time later (1921) when the then King Alfonso XIII walked the length of the Caminito for the inauguration of the dams at the site. Rather conveniently for climbers, it facilitated climbing in El Chorro gorge although sadly it was closed at the turn of the Millennium following fatal acccidents in 1999 and 2000. Since then it's been falling further into disrepair until the recent refurbishment programme was finally agreed and the restoration work started. The c. €2.5m refurbishment work started a year ago in March 2014. Using helicopters to ferry materials in and out of the gorge the work has progressed and the plan is to open the walkway again before Easter.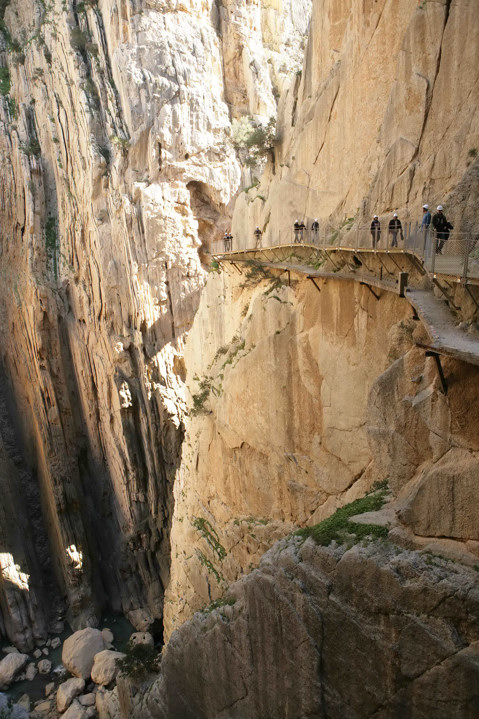 Walking on the refurbished walkway 'inside' the gorge. Photo Caminito del Rey website
According to the official website the plan is that entrance to the walkway will be free albeit that visitors will need to 'register' on-line in advance. In addition, it's planned that visitors will need to "wear a helmet in order to avoid possible landslide that might be produced by animals." In total, the full length of the trail is some six kms and of the 4,350m between the access cabins comprise 1,600m of walkway whilst the remaining 2750m is over stabilised ground. In places the walkway is some 100m above the bed of the gorge. Some sections of the hanging part of the trail will have glass floor so that visitors can see the gorge and the old walkway which has been left in-situ as a architectural heritage. In addition to the work on the walkway, considered additional funds have been invested in both the infrastructure of the surrounding areas as well as other sustainable tourist initiatives.
At this stage it isn't known what, if any, implications/restrictions the re-opening of the walkway will have on the climbing in the gorge itself.
To visit the official website click through here…