Edu Marin gets second ascent of Valhalla at Hanshallaren
Friday 21st September 2018
Sept 21st; 2018
Yesterday Edu Marin made the second ascent of Valhalla (F9a/+) in the Hanshallaren Cave, Norway.
Edu on the crucial section of Odin's Eye. Photo Keith Sharples
Valhalla, one of the king-lines at Hanshallaren, starts by climbing the whole of Odin's Eye, itself F8c+. From the end of Odin's Eye, Valhalla continues along a massively overhanging crack/ramp line linking it all the way into the finishing rail of Thor's Hammer/Nordic Plumber. The second section is another F8c+. Valhalla was graded F9a/+ by Adam Ondra when he did the first ascent back in 2016.
Edu, having arrived in Flatanger over a month ago, has been working on repeating Valhalla prior to a trip to China. Two weeks ago, and having already redpointed Odin's Eye, Edu took a 4m ground fall when he slipped off some of the initial moves in poor conditions. Edu hit the ground with an almighty bang, an impact that could well have broken a lessor climber. Despite landing flat on his back in amongst a pile of boulders and rocks Edu escaped serious injury. Both his back and his left heel were damaged in the fall however and it was a week or so before Edu could pull a climbing shoe on again. During his rehab he climbed on the bouldering wall in the barn wearing only one shoe as well as working hard on this flexibility and conditioning.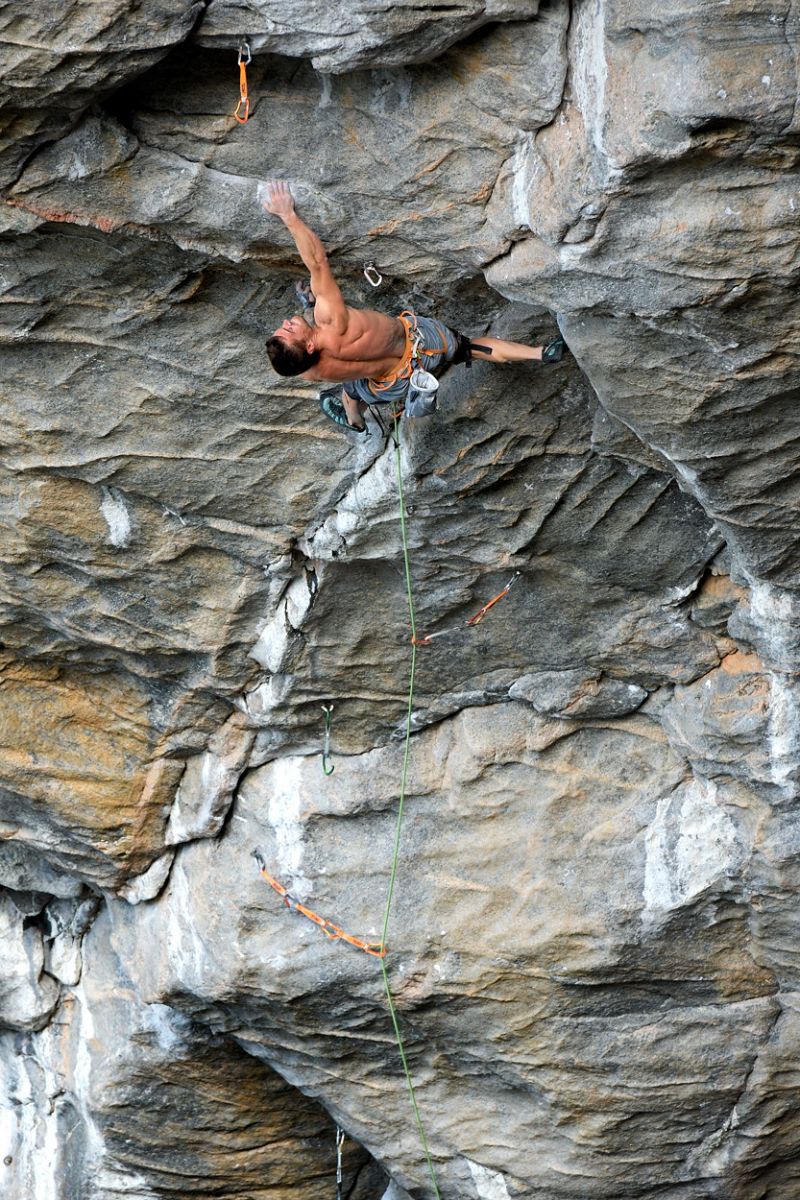 Edu on the upper section of Valhalla. Photo Keith Sharples
A week ago Edu returned to redpointing. His trip to Hanshallaren was coming to a close plus a period of (typically) very wet weather hit Flatanger. On Tuesday and Wednesday of this week the cave was virtually unclimbable when the temperature suddenly rose, the wind dropped and the humidity when sky high! Yesterday was yet another day of heavy rain, fortunately however, the westerly wind returned and blew into the back of the Hanshallaren Cave giving good climbing conditions despite being very cold. Keeping his psyche high, Edu tied-in and made the second ascent of Valhalla.
Edu confirmed that Valhalla was "a good 9a/9a+". Edu's next trip is to China where he's returning to do what he calls "The real Valhalla". Edu was in Flatanger with is photographer friend Esteban Lahoz.
Follow Edu (here) and Esteban (here) on their Instagram pages.