Ed Drummond passes away
May 1st; 2019
The sad news emerging from the USA is that Ed Drummond has passed away.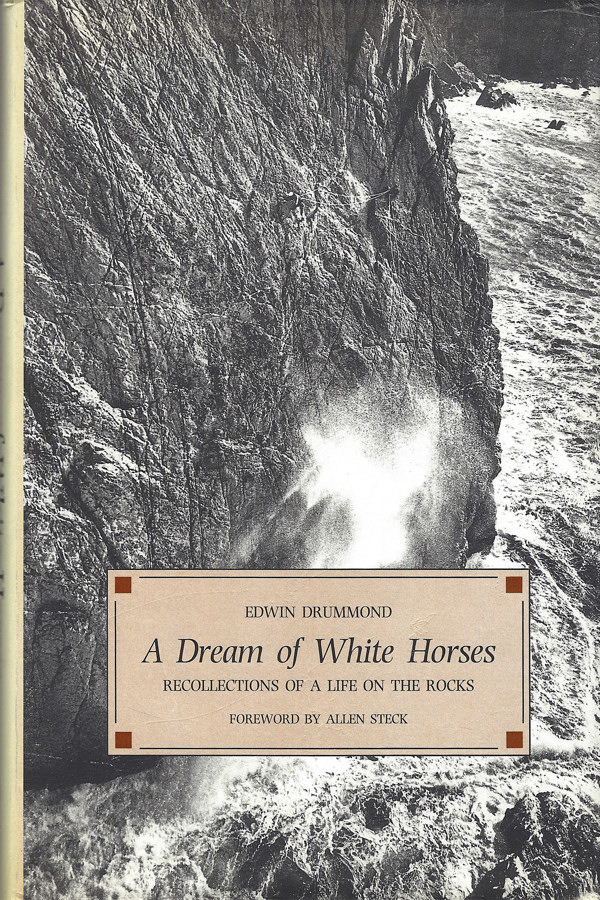 The front cover of A Dream of White Horses
'One wonders if Drummond is a poet who climbs, or whether he is a climber who writes poetry' wrote Allen Steck to open the Foreword in Ed Drummond's 1987 autobiographical work, A Dream of White Horses. It was a poignant manner in which to open the seminal work and a point which could be debated at some length. Whichever might be the erudite conclusion however, the fact is that Drummond was masterful at both these art forms.
Born in Wolverhampton in 1945, Edwin Drummond, was the oldest son of a builder. By 1967 he had graduated from Bristol University with a Philosophy and English degree. Following further studies at University College, Bangor he washed-up in Sheffield were he spend three years teaching English in a comprehensive school.
Ed Drummond on Great Wall, Cloggy. Photo Ken Wilson - with permission from Chris Harle (Reproduced from A Dream of White Horse)
At each of these three locations he left a raft of new and visionary routes which are now firmly embedded within British climbing folklore. Of the numerous routes Drummond did in the Avon Gorge, Bristol some employed the odd point or two of aid and others had challenging run-outs. Many, however, have become local classics; Floeg's Folly, Last Gasp, The Mal, Krapps Last Tape, Earl of Perth, and Hell's Gates. Drummond's time in North Wales was even more productive. Attacking Gogarth full-on, Drummond produced a string of treasures; The Strand, The Moon, A Dream of White Horses and Tyrannosauras Rex . Elsewhere he did Midsummer Night's Dream (Pitch 1), The Maze and Great Arete. Perhaps even more impressive was Drummond's 1967 early repeat of Great Wall on Cloggy; amazingly done after he'd only been climbing a short while as he recounted in an interview with the BMC much later; 'I'd only been climbing for a year, I had no right to climb this route. I should have been out of my depth.' It was however, typical of Drummond.
Drummond's Peak sojourn was equally productive; his routes Wuthering, The Asp and Archangel are amongst the best on Stanage. Whilst his Higgar Tor offering, Flute of Hope, used a couple of aid points it was a remarkable attempt to navigate the massively overhanging front face of Higgar with what was then relatively rudimentary gear. Drummond also turned his attention to limestone deploying, somewhat controversially - and not on the only occasion in the Peak either, skyhooks for aid! In the autumn of 1969 – and using 'several' skyhooks - he offered Hook Crook Wall at High Tor to the world. Ultimately, this became the modern classic, Flaky Wall. Drummond's visionary approach to High Tor also reduced the aid to a single point on Darius although he called it Burning Icicle at the time. Two further Drummond Peak offerings are worthy of mention; Banana Finger at Burbage North and Linden at Curbar. Both are insightful albeit for different reasons. Less than 20 foot tall, Banana Finger was certainly diminutive but his 1971 offering became one of the first modern 'boulder problems'. Drummond turned to Curbar in 1973 to record Linden. Using two skyhooks taped to his wrist, Drummond's approach to solve the visionary line was typically unconventional!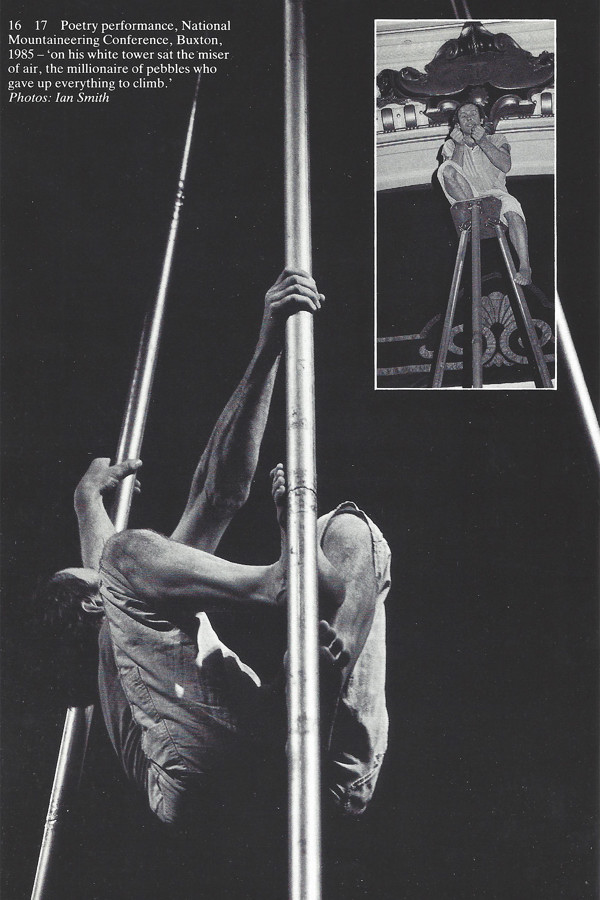 Ed Drummond climbing his infamous scaffold tripod. Photo Ian Smith (Reproduced from A Dream of White Horse)
His activities farther afield – typically on the biggest walls around - were no less noteworthy. Venturing to Scotland he was instrumental in the first ascent of Long Hope Route on St John's Head in 1970. By 1972 he went east to Norway where he did the first ascent of Arch Wall in the Romsdal, Norway. Out west, in the USA, he went solo for an ascent of The Nose on El Cap in 1973. Over a decade later he returned for a solo mission on North America Wall. He nearly succeeded too but was rescued close to death suffering from hyperthermia when a storm caught him just three pitches below the summit. Others caught in that same storm froze to death!
Drummond also undertook a number of protest climbs; Nelson's Column in 1978 as part of a protest against Apartheid, the Statue of Liberty in 1980 in support of a civil rights activist and the Embarcadero Building in 1982 for the Nuclear Freeze Movement.
His written work won him three prestigious awards; Keats Prize for Poetry in 1973 and 1974 and a National Poetry Prize in 1979. Against stepping out from the crowd, Drummond entertained the 1985 National Mountaineering Conference with both poetry and an acrobatic performance which involved climbing a scaffold tripod! His autobiographic collection of stories and poetry, A Dream of White Horses, was published by Diadem in 1987.
Married on no less than three occasions, Drummond moved to live in the USA in 1992. During his later years he suffered from Parkinson's Disease but, typical of the man, he had an unconventional view on that too: 'I see Parkinson's Disease as a beginning, not the end. I have always valued my health, but having done so much, I didn't feel aggrieved when it was diagnosed. I was a tree. I grew, and I cast my shadow. And now it's time to wind down, and that in itself brings a whole new set of challenges and interests. It has made me focus on getting things right. You don't get to repeat any day. It's like making a will. I want to be as open and as authentic as I can about it with anyone who will listen. I want to engage with it, to touch it and feel it with accuracy.'
Click through here to read an interview with Ed Drummond from 2014 posted on the BMC website.
Notice of Ed Drummond's passing on Tuesday April 23rd, was posted on the American website Supertopo by his family yesterday. Click through here to read the tributes being posted on Supertopo.