Dreamcatcher repeats by Paige Claassen and Micheala Kirsch
Wednesday 8th September 2021
American climbers Paige Claassen and Michaela Kirsch have both redpointed Dreamcatcher (5.14d/F9a), Chris Sharma's uber classic testpiece at Squamish, Canada.
Paige Claassen's ascent, the first by a female climber, came after a concerted effort having first tried the route seven years ago. It's Claassen's fourth F9a having previous repeated Algorithm, Kryptonite and Shadowboxing.
Posting on her Instagram page she outlined her ascent: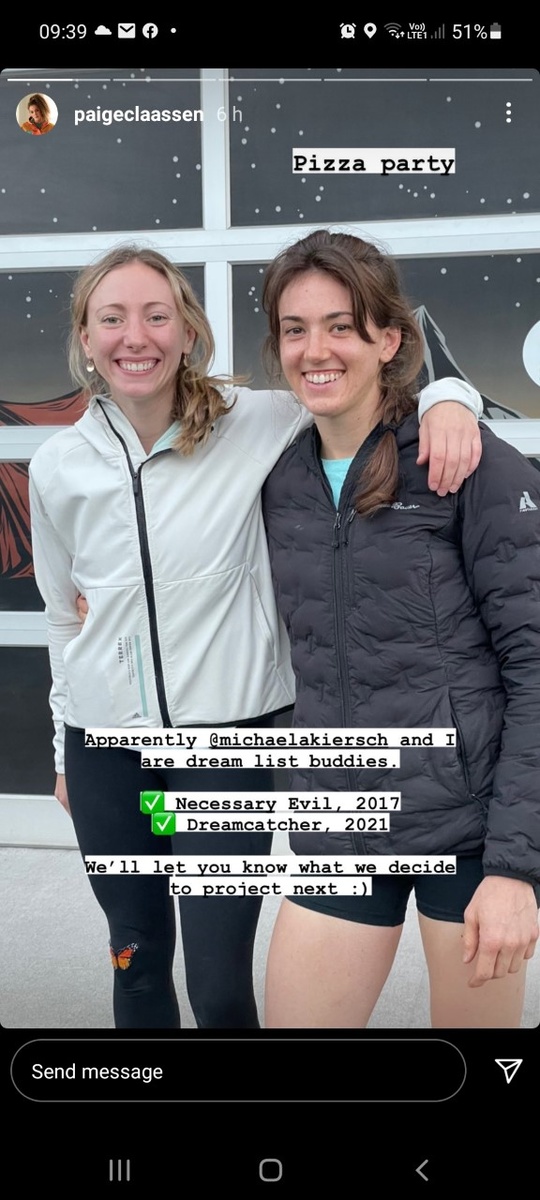 "I first tried this line 7 years ago. By the end of a month-long trip, I could barely do each individual move, and could link only 2-3 moves together at most. I've spent the last 7 years becoming a different climber - trying to climb faster, more explosively, and with more confidence. I lifted weights and set sideways sloper campus simulators and rehearsed left heel hooks until I strained my hamstring. I came here not knowing what to expect. I wanted to do this route more than any route I've done, but also knew I'd be ok if I didn't. After six sessions of progression, I walked up to the route on Thursday feeling distant from climbing in mind and body, but felt like rehearsing some new beta I'd found. As I left the ground, a group of people unexpectedly popped out of a hole in the ground just beneath the route. My mind was everywhere and nowhere. I climbed well to the final rest, stuck my highpoint, and then made a conscious decision to not let go. I think I tried the hardest I've ever tried in my life."
Following Claassen's ascent, Michaela Kiersch has also managed to redpoint Dreamcatcher. Kiersch was recently in the news for doing the first female ascent of Boone Speed's Super Tweak (5.14b/F8c); the first route of that grade in America. Kiersch is no stranger to doing hard repeats; her CV including a number of super impressive ascents in the Red River Gorge such as Golden Ticket (5.14c/F8c+) at the Chocolate Factory and Lucifer (5.14c/F8c+) at Purgatory both of which she did in 2016 as well as Necessary Evil (5.14c/F8c+) in the Virgin River Gorge which she did in 2017.