Deep Water Soloing event returns to Exeter later this year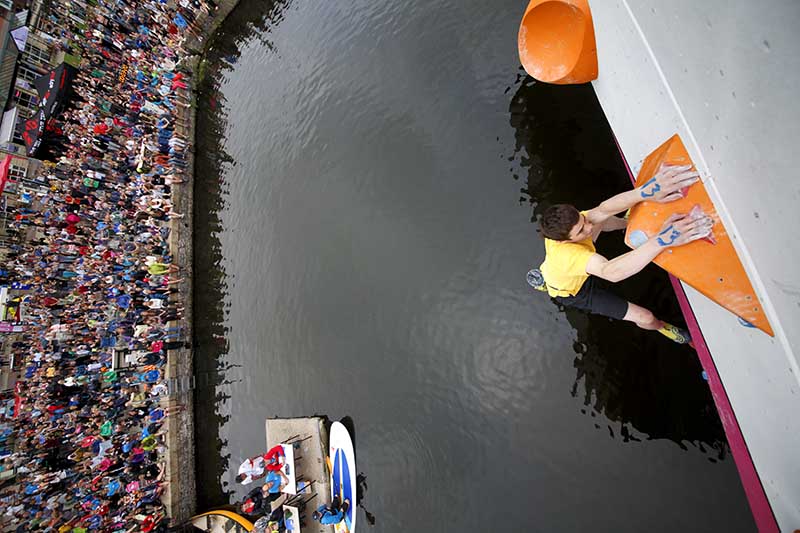 Jim Pope at last years event. Photo: David Simmonite
The UK's most unique climbing competition is back this August Bank Holiday weekend (28th – 31st August 2015). Exeter's Quayside will once again showcase the best of the UK climbing scene competing on the UK's only floating climbing wall.
The wall, designed by Entre-Prises UK, will once again stand at 7 metres tall and 12 metres wide but this year will feature an extended overhang to allow for longer climbing routes and harder challenges for the elite categories. This year's event will be larger than the debut 2014 DWS Exeter – running over 3 days with extended competition entry places and an open day on Bank Holiday Monday to allow everyone to have some fun on the wall.
The team behind Blokfest will be returning to set the event routes. Gaz Parry and Mike Langley, together with UK Boulder team member Ben West and well know local setter Gav Symonds, are promising challenging routes ranging from V1 to V14 – top outs may be possible but at some point all competitors will fall into the water with a splash mimicking the experience of deep water soloing on real rock and making for a great spectator experience! Once again three competitors will climb simultaneously on the wall – enhancing the visual spectacle for those watching on the piazza.
There will be over 200 competition places this year. The event will kick off on Friday 28th August with a late afternoon youth qualifier round to open the event followed by evening talks. Saturday 29th will see the Open Male and Female Qualifiers, with the Semi Finals and Final running on Sunday 30th. Talks by athletes and evening events will take place on Saturday night. Once again there will be great food available on the Quayside and from the climbing centre itself, with evening feasts in the Workshop Cafe and a hog roast on the quay – all making for a great festival atmosphere. On Monday 31st the wall will be opened for anyone to have a go in what we expect to be a great Bank Holiday fun day for Exeter's Quayside celebrating all the great outdoor and adventure activities on offer in the area.
Last year's event proved to be the biggest spectacle Exeter's Quayside has seen since the arrival of the Olympic Torch, with over a thousand spectators watching the amazing spectacle provided by some of the UK's top climbers. It attracted over 200 competitors including members of the GB Climbing/Bouldering Teams and well known US climber, Sierra Blair Coyle, who will be returning to the UK again this summer for the event. Ed Hamer, GB team climber and 2014 finalist, said: "I'm super excited about DWS 2015. DWS 2014 was one of the best competitions I have ever participated in – perfect setting, great ambience, superb organisation and great fun for everyone!"
You can read the report from last years event here
For more information email: info@deepwatersolo.co.uk