Dave MacLeod scores another first ascent on The Ben with High Pressure Crack (VIII, 9)
March 7th, 2015
In what may prove to be one of the last major new routes climbed this winter in Scotland, David MacLeod, climbing with Masa Sakano, took advantage of the ridge of high pressure crossing the country on Wednesday last to climb High Pressure Crack (VIII, 9) on The Ben.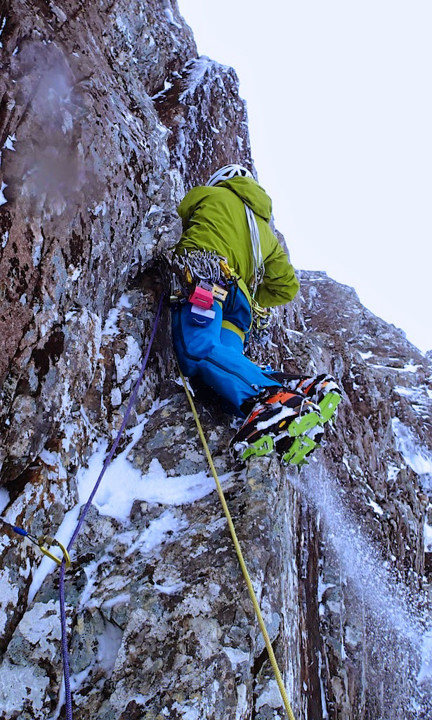 Dave MacLeod starting out on the crucial third pitch of High Pressure Crack. Photo Masa Sakano
We reported earlier in the week that Dave MacLeod has been increasingly more active now that his book Make or Break has been published. He'd previously done Red Dragon (VIII, 9) – click through here to see that report.
Masa Sakano leading the chimney on Gutless. Photo Dave MacLeod
The near constant westerly storms have been blasting snow into the Highlands for some time so under the threat of avalanche conditions Dave and Masa opted for an unclimbed line on Douglas Boulder at the bottom of Tower Ridge. Back in 2011, Nick Bullock and Matt Heiliker had put up a clutch of new technical routes on Douglas Boulder – Rutless (VII, 8) included. Having repeated that route with Helen Rennard and Harry Holmes in 2014 Dave figured that the overhanging crack high on the route would make a great challenge for the day.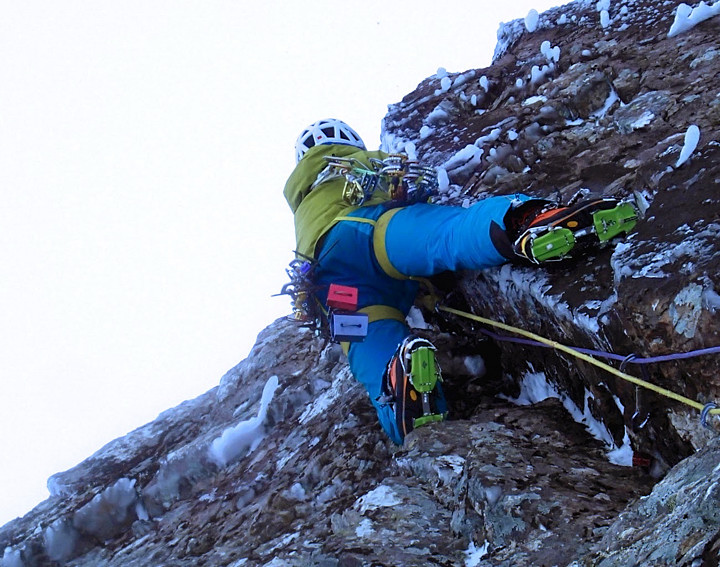 Dave MacLeod on the crux third pitch of High Pressure Crack. Photo Masa Sakano
Taking the icy chimney of Gutless Masa and Dave were deposited below the crucial crack on pitch three. Dave takes up the story; "I launched up the overhanging wall without any hesitation so as not to get worried. Although the crack was too icy to take more than a couple of cams, good wires spurred on my progress and I pressed on, getting gradually more pumped. Above the lip of the overhang I made a couple of committing pulls to a rest. I was struggling a bit to get gear. Everything was choked in ice. I dug out a big hex placement behind a couple of loose blocks. It was wobbly, so I packed the loose blocks back on top of it with lots of snow to keep it where it was."
Masa Sakona leading the long final pitch. Photo Dave MacLeod
So with the crux in the bag, Masa led a long final pitch to the top. As they left, black clouds and rain had pulled in signalling the deterioration in the weather as warm and wet westerlies took over. At the time of writing, these are continuing and seem set for the next few days so the current winter operations are on halt.
Thanks to Masa and Dave for the use of their images. Finally, click through here to read Dave's account in full…