CWIF 2018
March 12th: 2018
Alma Bestvater (GER) and Kokoro Fujii (JPN) took the top podium positions in the 2018 CWIF over the weekend.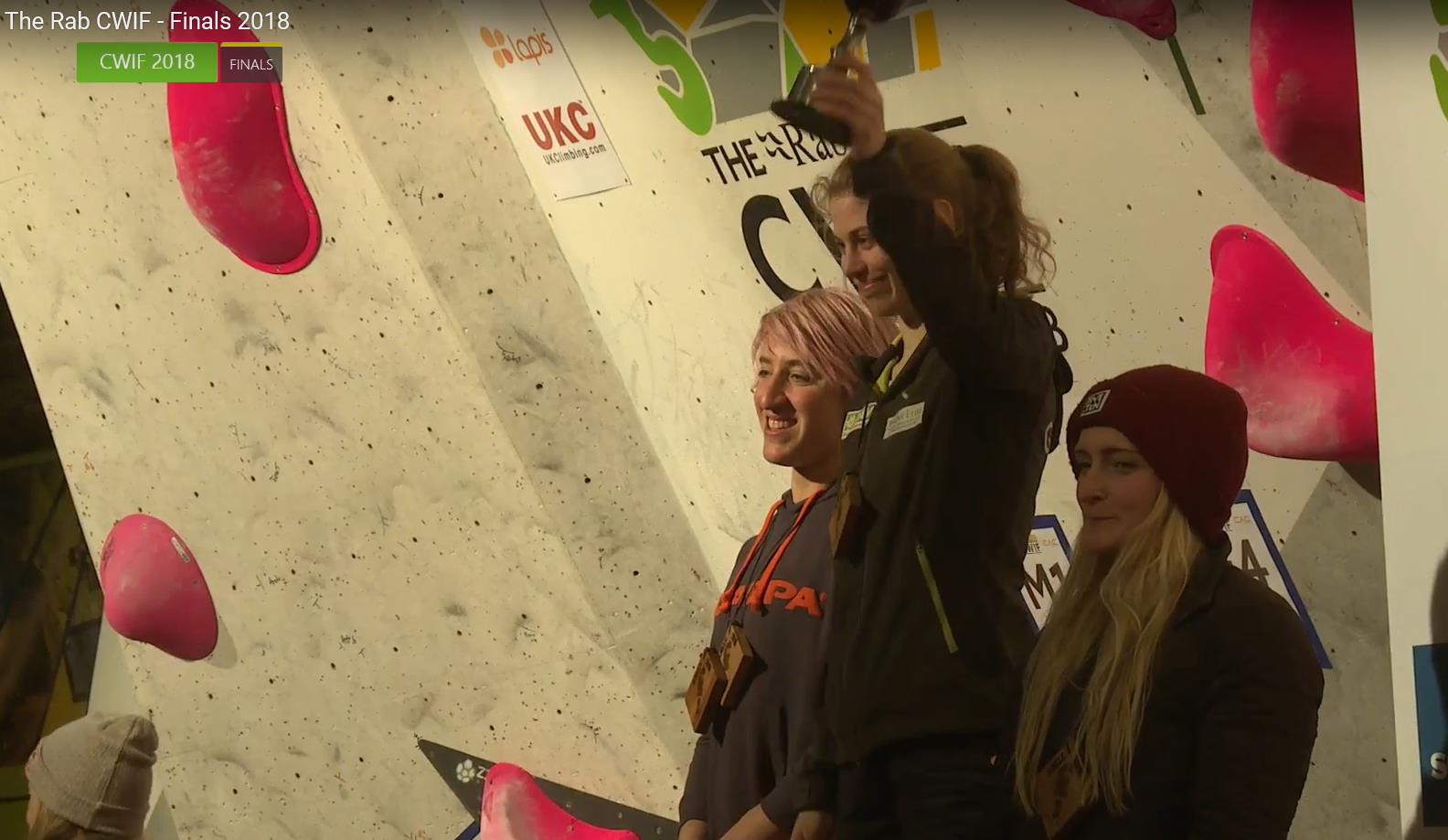 Women's podium for CWIF 2018 with Alma Bestvater leading Michaela Tracy and Leah Crane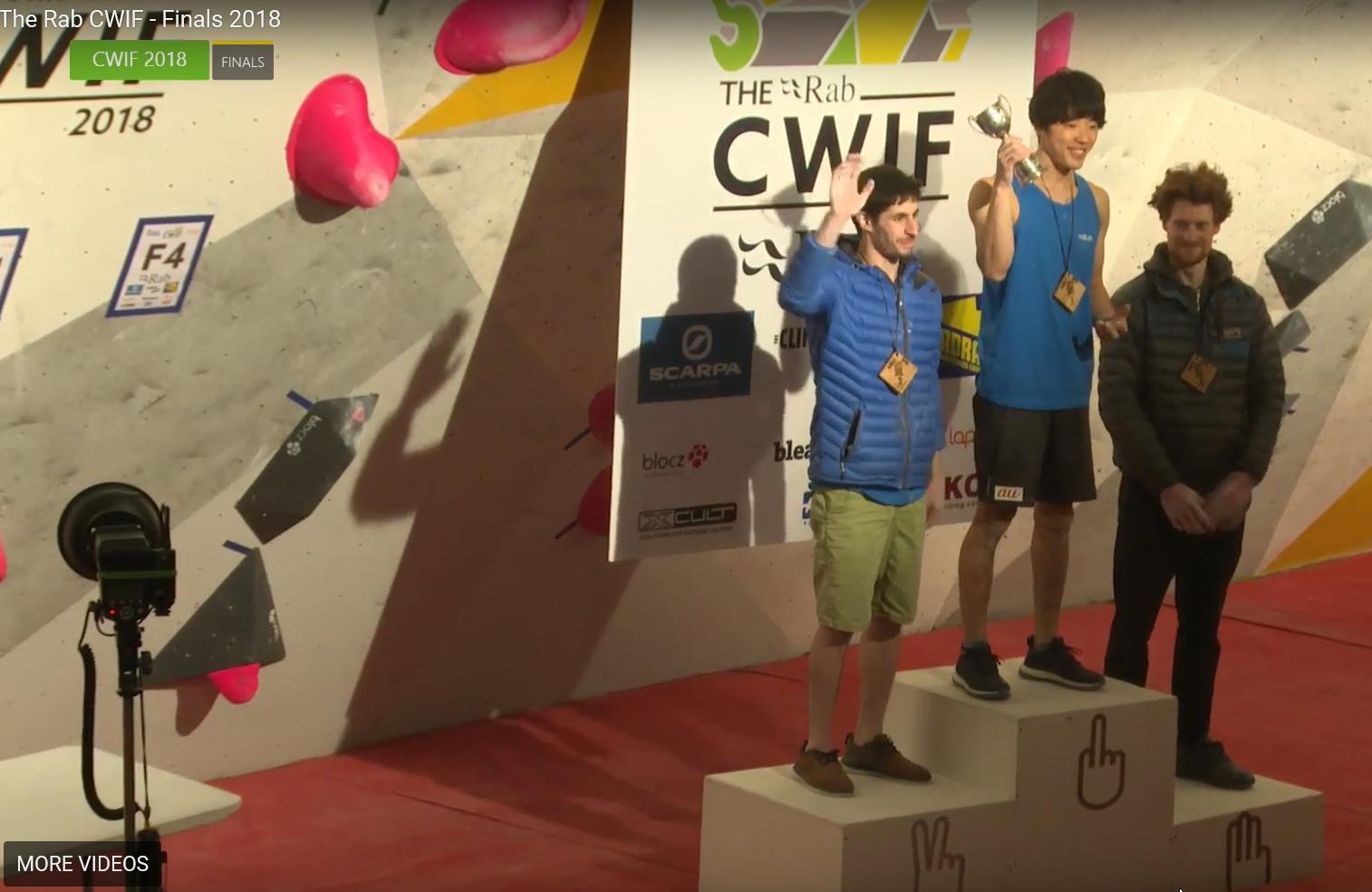 Men's podium for CWIF 2018 with Kokoro Fujii finishing ahead of Alex Khazanov (ISR) and Tim Reuser (NED)
The CWIF (Climbing Works International Festival) not only signals the start proper of the international bouldering comp season but gives the opportunity for all-comers to compete alongside the top climbers in the world. Top stars Kokoro Fujii and Stasa Gejo were the big-name stars flown in for the CWIF but numerous others were also involved including many national champions.
Competitors faced thirty problems in the qualification round on Saturday followed by just four in the semi's on Sunday morning and then another four Sunday evening for the actual final. Past champs Shauna Coxsey (winner in 2016 and 2015) and Alex Megos (winner in 2017 and 2015) were in attendance but neither were on the starting line. After qualification rounds Stasa Gejo lead Michaela Tracey and Emily Phillips with Leah Crane in 5th place. Fourteen year old Emily Phillips looked poised to cause a major upset! Over in the men's comp ex-british champion Matt Cousins led Jan Hojer and Nathan Phillips with Aidan Roberts in 4th. Interestingly, bouldering ace Kokoro Fujii was back in 14th place – 3 places behind Will Bosi; as usual, the CWIF was dishing out its own brand of punishment!
Come Sunday evening and the finals the Climbing Works was duly rammed with spectators; those not lucky enough to get in were fortunately able to watch via the live stream.
Kim Marschner put an early marker down by flashing M1 although Kokoro Fujii wasn't letting him get away and promptly also flashed M1. Tim Reuser, having done M1 on his second go, pulled ahead with a flash of M2 – Kokoro somewhat uncharacteristically making an unforced error which meant he took two goes to top M2. Mid-way through the men's comp it was looking like the number of flashes would be critical. Over in the women's comp, no competitors topped the first two blocs despite considerable effort and a very close flash go on W1 by Jora Spate.
M3 – aka the Cake – saw some mixed fortunes; some competitors (Fujii, Reuser, Khazonov and Cousins) all flashed it whilst the rest struggled. W3 however saw the first tops from Alma Bestvater, Michaela Tracy and Leah Crane – Leah just getting the job done with 4 secs to spare!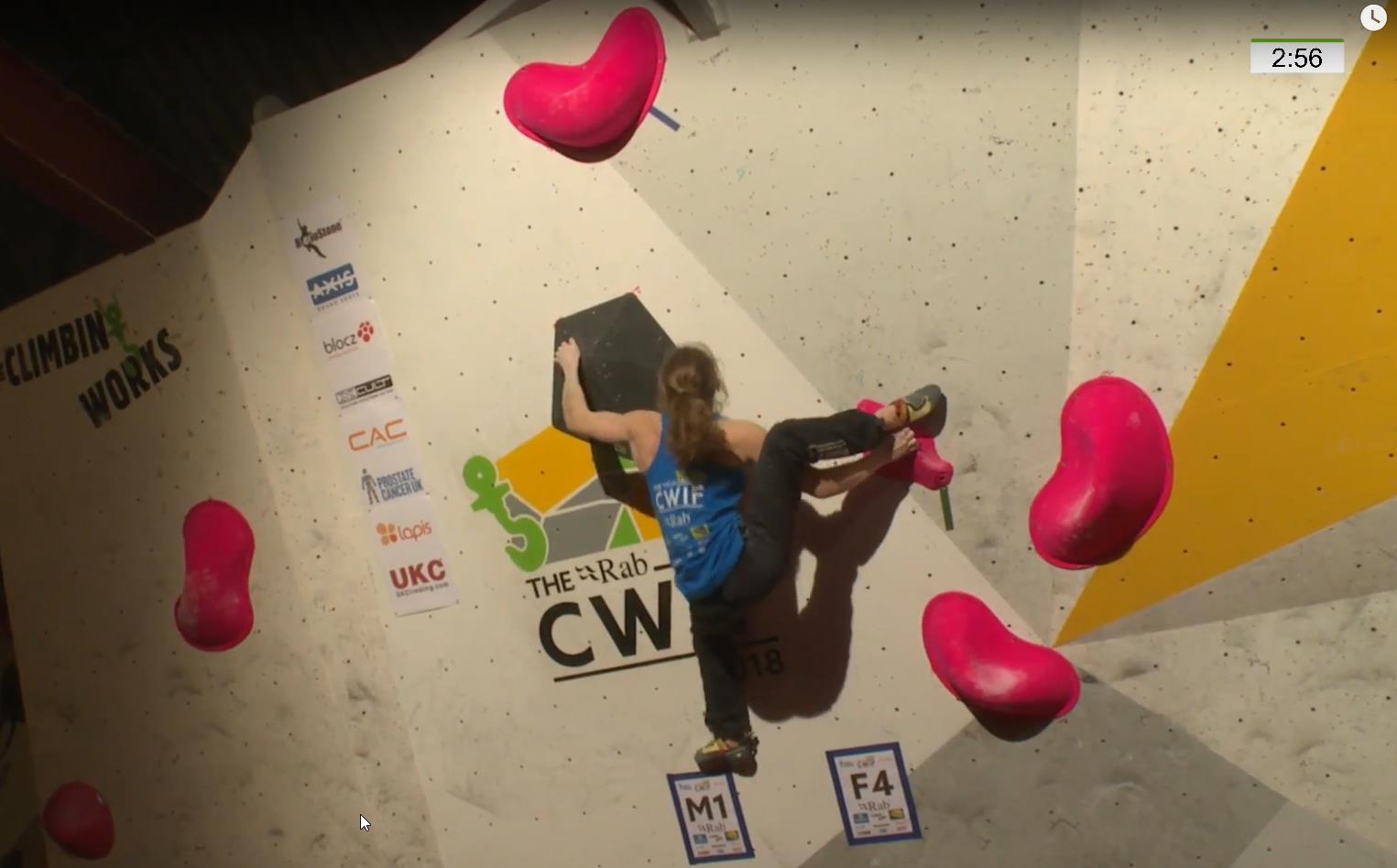 Alma Bestvater flashing W4 for the 2018 CWIF title
Kokoro Fujii finishing off M4 on his second attempt to take the title
Going into the final bloc it was all still to play for in both men's and women's comp. Alma Bestvater duly flashed W4 and Kokoro Fujii did M4 on his second go; both taking the respective CWIF 2018 titles as a result. Michaela Tracy and Leah Crane finished second and third respectively in the women's comp edging out Stasa Gejo into fourth. Alex Khazanov (ISR) and Tim Reuser (NED) finished second and third in the men's with Matt Cousins and Aidan Roberts finishing in 4th and 5th respectively.
Watch the live stream below: