Crowdfunding campaign now running for Fort William Climbing Wall
Friday 13th February 2015
Feb 13th, 2015
Funds to plug the final funding gap to build a climbing wall in the centre of Fort William are now being sought via crowdfunding by Three Wise Monkeys Climbing, the promoting company.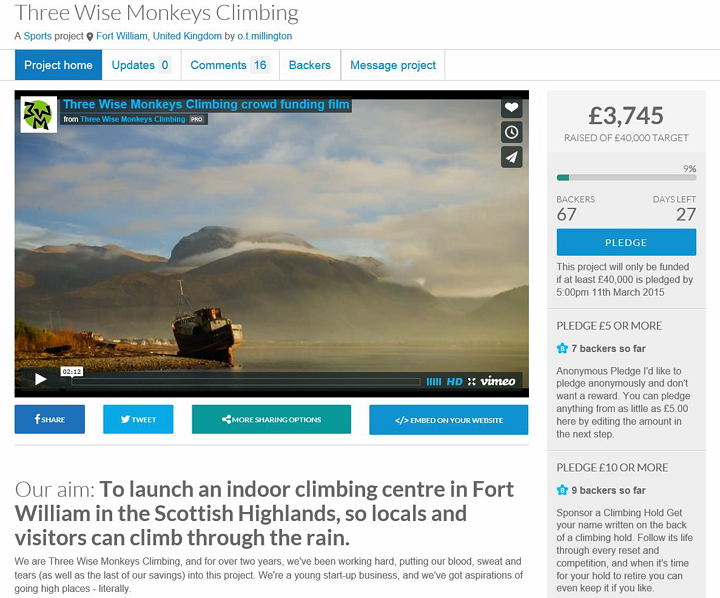 The Wise Monkeys Climbing Crowdfunder web page
Plans to convert the MacIntosh Memorial Church in Fassifern Road, Fort William were unveiled last summer. The project is the brain-child of Oliver Millington and his partner Naomi Hatto. Along with Naomi Hatto's parents, they have formed Three Wise Monkeys Climbing. The church itself was bought last year and work on the grade 3 listed building has been given the official go ahead. However, a funding gap exists and a crowdfunding campaign has been launched to raise a vital £40,000 of funds.
The plan is to include a leading wall as well as two bouldering rooms, a café and a sports massage facility at the site. If the crowdfunding campaign is successful and the £40,000 is raised then works on phase 1, a bouldering room/wall can start straight away. The rest of the development will follow.
The Crowdfunding project is open for 28 days and will close on March 11th. A range of 'rewards' are available for those pledging money. A pledge of £30 will get you a special T-Shirt (organic of course), £65 will get you a two-hour masterclass with Dave MacLoed or £350 gets you an annual membership. Alternatively, a £10,000 pledge gets you unlimited family life membership – but best hurry, there's only one of those for grabs!
In its first day the crowdfunder campaign has attracted 67 backers who collectively have pledged a total £3,745. To see more about the plans, or make a pledge visit the Crowdfunder website here…