Coxsey and Fujii win at 2017 IFSC Bouldering World Cup in Meiringen
April 10th; 2017
Amidst the pay-to-view controversy which exploded ahead of the opening round of the IFSC Bouldering World Cup at Meiringen, Shauna Coxsey and Kokoro Fujii took gold over the weekend.
Shauna Coxsey, star of the show – again! Photo: IFSC / Eddie Fowke
The opening round at Meiringen for the 2017 World Cup series threatened to be an enthralling event – at least on the women's side given Shauna Coxsey was recovering from shoulder surgery. Alongside that, Anna Stohr had hit fantastic form outside sending two major blocs (a Font 8b+ and 8b) just prior to the comp. Meanwhile, Mellissa Le Neve had stepped aside from competing. Change seemed inevitable.
Over in the men's event, surely Jongwon Chon – silver medallist in the recent CWIF comp – would be going all guns blazing to keep old rivals like Aleksei Rubtsov, Sean McColl, Rustam Gelmanov, Jorg Verhoeven, Tomoa Narasaki and strong-man Jan Hojer at bay? Further uncertainty came from the likes of Daniel Woods and British Champ Matt Cousins – would they unset the apple cart?
Amazingly the storm over the pay-to-view issue abated somewhat when a last-minute deal was struck and the free-view live-stream on YouTube was reinstated ahead of the comp.
It became clear almost immediately that Shauna Coxsey was firing on all cyclinders given her strong showing in the qualification and semi rounds. However, she cranked the handle good style for the finals topping all four blocs – a convincing victory over Katharina Saurwein and Miho Nonaka who finished second and third with two and a single top each respectively. Petra Klinger and Janja Garbrett placed 5th and 6th whilst Michaela Tracy got within an ace of the top flight with a very credible 7th – a fantastic result. Anna Stohr, despite her recent outdoor form finished in 43rd. Leah Crane and Tara Hayes finished in 27th and 71st respectively.
The men's event started off with 10+ climbers topping five blocs in the qualification round. Tops however became increasingly scare in the semis with only Aleksei Rubtsov and Rei Sugimoto gaining three tops whilst the other climbers got either a single top or none! The setters clearly had made the finals super difficult; all three podium positions getting a single top each. First, second and third places went to Kokora Fujii, Aleksei Rubtsov and Keita Watabe respectively although remarkably they were separated by the slenderest of margins with Fujii getting his top in a single attempt, Rubtsov taking two goes and Watabe three goes! With Rei Sugimoto taking fourth place that meant a total of three of the four top places went to Japanese climbers - an extremely impressive result. The list of top climbers excluded from the top flight was quite astonishing with the likes of Jongwon Chon (12th), Jan Hojer (13th), Sean McColl (37th), Rustam Gelmanov (57th) and Jorg Vehoeven (61st) all having to settle for places seemingly far beneath their usual standings. Team GB climbers were topped by Nathan Phillips (30th) followed by Billy Ridal (35th), Matt Cousins (57th), Orrin Coley (65th) and Dave Barrans (102nd).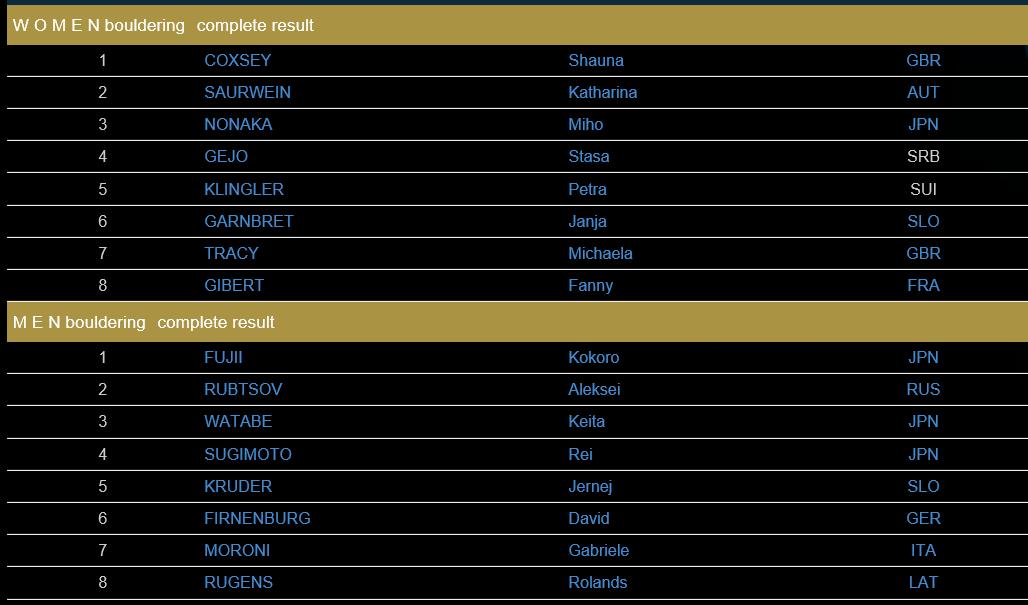 Final standings after the first round in Meiringen.
The next round of the WC will be in Chongqing, China on April 22nd – 23th. With the position with respect to FloSports and the live-streaming is yet to be resolved, it's been a rocky start to the comp year! Watch this space…