Covid-19 – "It's a pandemic not a holiday!"
As the UK continues down the inextricable pathway towards possible total lock-down, travellers and visitors who are flocking to the UK's mountain and remote area face a growing backlash from local communities and emergency services.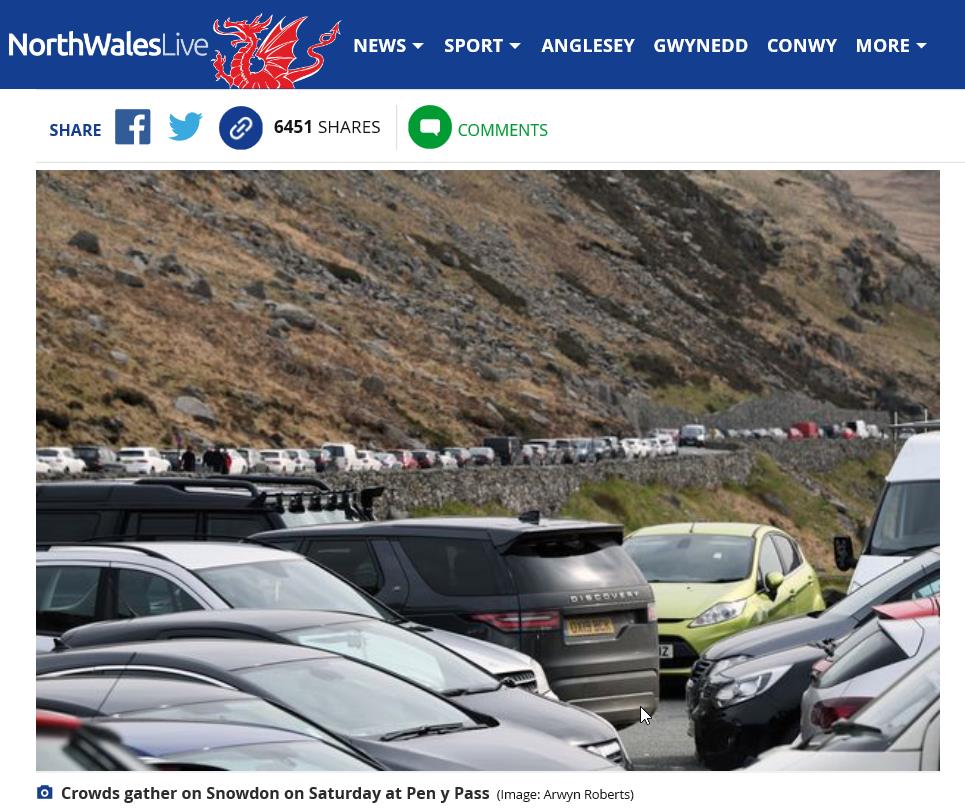 "It's a pandemic not a holiday" said one man in an online video he shared from the Glencoe Ski Centre car-park first thing this morning. However, both Glencoe and Nevis Range ski centres have now closed. Farther south in North Wales, the situation appears much worse. Earlier this week reports in the local press said that people are arriving in significant numbers to their 'holiday homes' on the Llyn Peninsula. Today however, the Daily Post (click here) are reporting on-line that hundreds have travelled to the area to walk up Snowdon and the paper is showing images of Llanberis Pass flooded with parked cars. Angry at the influx of visitors, locals are saying on social media that the Llanberis Pass and Anglesey were busier yesterday that on a normal bank holiday weekend and that the Government needs to crack down to protect the rural areas!
The UK Government yesterday ordered the closure of all pubs, restaurants, cinemas, theatres, gyms and leisure facilities in the latest push to try to enforce social distancing to reduce the spread of Covid-19. The advice however for outdoor activities remains less prescriptive; our earlier report summarised that however so click here to read that.
In case anyone is thinking about walking or climbing in Snowdonia a Gwynedd-based doctor - a Mountain Rescue medic and climber – shared some chilling thoughts with Climber earlier today: "Mountain Rescue is now significantly limited. Doctors and other medics are being pulled off the call-out lists so they can prioritise their efforts as part of essential services in local hospitals". He also confirmed that ambulance services are likely to have a delayed response if any: "Even if the MR can get you off the hill, the ambulance services are concentrating on essential trips so won't be prioritising their responses to incidents."
As with the situation in many remote rural communities, there are now reported coronavirus cases in Gwynedd as well as all areas in Wales. A report on the Daily Post (click here ) said that the number of Covid-19 cases in Wales has dramatically increased overnight.
Dr Chris Williams, Incident Director for the Novel Coronavirus (COVID-19) outbreak response at Public Health Wales, said: "89 new cases have tested positive for Novel Coronavirus (COVID-19) in Wales, bringing the total number of confirmed cases to 280, although the true number of cases is likely to be higher. Novel Coronavirus (COVID-19) is now circulating in every part of Wales. "Three people in Wales who tested positive for Novel Coronavirus (COVID-19) have now died."
As with all rural communities, if areas like Snowdonia continue to be flooded with visitors who might be asymptomatic carriers of Covid-19 the situation will only get worse. Anyone visiting such areas won't be registered with a local GP and won't have the support network to assist them if they test positive to the virus whilst away from home and need to self-isolate for 14 days. Furthermore, demand on the local health service – provision for which is designed to meet the needs of the normal residents in the area only – will be inundated and hence compromised!
Despite on-line comments and reports that holiday parks and caravan sites have been closed in Wales in response to the Covid-19 virus some remain open and are said to be full with visitors. Campaigners in Wales are now actively working to have these sites closed as they are in Scotland.
If any climbers who live in the cities and urban areas are thinking of visiting Snowdonia the North Wales doctor had the following final thoughts; "In the current circumstances let's keep it sensible" he said, "reducing travel will also reduce possible contamination risks and help reduce the burden on rural health services so stay local to where you live and if you decide to climb outside stick to doing easy simple stuff that is low-risk as rescue services and medical services are going to be limited."
Likewise, a Facebook page for Welsh Mountain Medicine had the same message: 'This is a time for isolation, not going on a jolly to North Wales. This could result in you being injured, that would put more strain on Mountain Rescue and Local NHS resources. We are lucky in Gwynedd and Anglesey we currently have low levels of virus circulating, however, tourists coming to the region potentially bring that with them putting others' lives at risk.'
They finished with these words:
'Enjoy the outdoors, but do it at home, sensibly and with social distancing!'