Colin Haley and Andy Wyatt blast Fitz Roy in sub 24-hour ascent
Jan 8th; 2016
American's Colin Haley and Andy Wyatt, have just blasted off a sub 24-hour 'car to car' ascent of Fit Roy.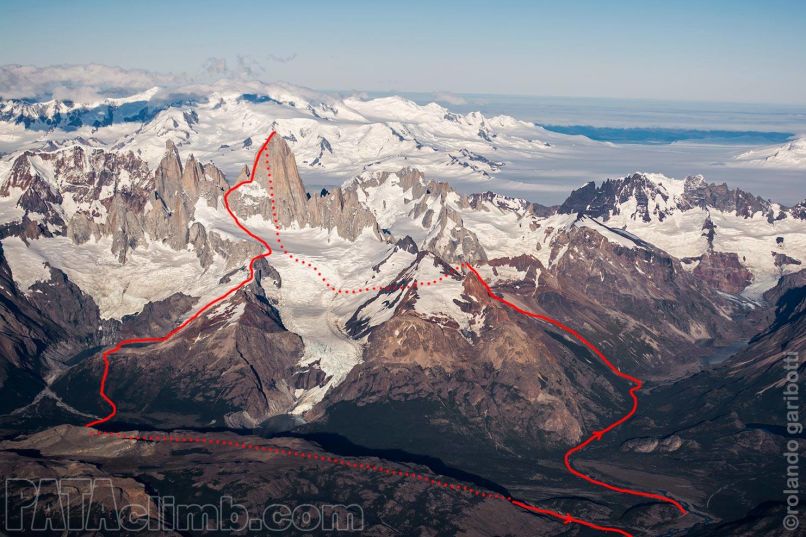 Haley and Wyatt's ascent line up Supercanaleta, Fitz Roy, Patagonia. Photo © Rolando Garibotti/Pataclimb.com
As the 2015-16 season hots up down in Patagonia, it is believed that Haley and Wyatt's ascent is the fastest yet of the Patagonian king-mountain. The pair are understood to have left nearby El Chaltern and driven to the Rio Electrico bridge from where they began their epoch ascent. According to a report on Climbing.com, their approach took c. 5.5hours and the climb up the Supercanaleta took 7:34 hours. Having topped out at 11:14 am they were back at their car by 7:23pm taking just 21 hours and 8 minutes from car-to-car. According to Rolando Garbotti, the local guru and driving force behind Pataclimb.com, the previous best time for this trip was 31.5 hours.
Haley setting out on the climb. Photo Andy Wyatt
Colin Haley is a Patagonian regular, having first climbed Fitz Roy back in 2005. His ascent on this occasion, his 10th overall, is his second this season. The Fitz Roy climb however was Andy Wyatt's hardest climb. However, being a keen trail runner Wyatt's fitness assisted on the approach and exit.