Coleman and Puccio take USA National Bouldering Champion titles
Feb 5th; 2018
Nathaniel Coleman and Alex Puccio took the top spots in the USA National Bouldering Championship over the weekend in Salt Lake City.
In something of a nail-biter of a final – all be it for different reasons – the defending champions retained their crowns from the previous year.
Nathaniel Coleman flashing M4 to win
In Nathaniel's case it was his 3rd straight win at the USA Nationals, although perhaps more impressive was that he flashed all the final blocs once again. Amazingly, he's not fallen off a final bloc since 2016! Sean Bailey and Drew Ruana also topped all four final blocs albeit taking some falls along the way.
Alex Puccio using 'static' beta on W4 despite which she failing to top and hence left the door open for Ashima…
Likewise, Alex Puccio returned to the top spot – her second in a row since major surgery – making it her 11th win of the championships since 2006. She succeeded against an ever strengthening field which contained Ashima Shiraishi and Brooke Raboutou who placed second and third respectively.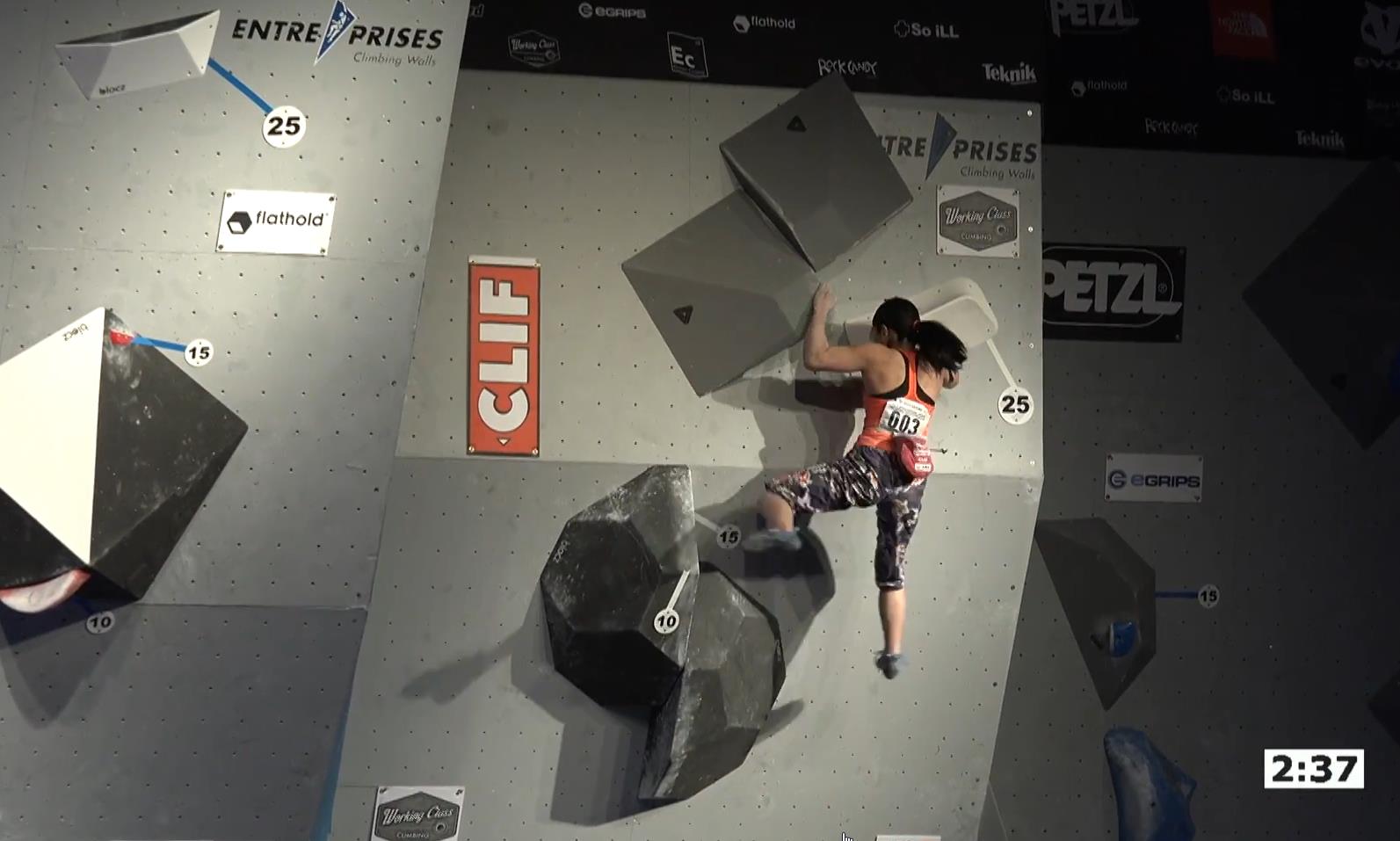 Ashima Shiraishi flashing W3
Interestingly Ashima flashed both W2 and W3 blocs – the only female finalist to flash any of the final blocs – but Puccio's higher score on blocs W3 and W4 together with her tops (non-flashed) on W1 and W2 were sufficient for her to finish nearly ten points ahead of Ashima in the end.
Mago Hayes putting in a very determined effort on W4 – and although she didn't flash/top-out she did the best of all the competitors on the long powerful bloc
Margo Hayes, came in fifth – surely an indication of the difficulty of the women's final blocs.
Speaking after the finals, both Coleman and Puccio confirmed that they intend to compete in the ISFC World Cup bouldering events in 2018; Coleman is aiming to compete in all whilst Puccio is planning to attend the earlier and later rounds only to allow her time to focus on some sport routes.
Watch the live stream from the Final round below...