Climbing Wall re-opens at Glenmore Lodge
May 27th, 2015
The climbing wall at Glenmore Lodge has now reopened after a year-long refurbishment project.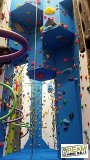 The new facility features 23 rope points, an overhanging lead wall as well as slabs of various angles, full size belay ledge, layback and jamming crack, stepped roofs, overhanging aretes. When the wall re-opened there were 64 set routes and 24 boulder problems, of which 17 were set by renowned climber, Dave MacLeod.
The wall will primarily be used as a coaching and instructional facility focussing on delivering the coaching of movement skills in bouldering and wall climbing for Glenmore Lodge students, which differs to the offering of a commercial climbing wall. Lead and boulder routes have been set with a coaching ethos in mind.
Permitting up to ten climbers at one time the wall will be open to the public from 9 am till 10 pm where it is not being used for Glenmore Lodge courses or instruction. Those wishing to use the facility must call reception on 01479 861 256 in advance of arrival to confirm availability and book a session. Upon arrival, users will be requested to check in and complete a sign in sheet. The maximum session time will be restricted to 2 hours.
All harnesses, helmets, belay plates, lead climbing ropes and rock shoes are not supplied by Glenmore Lodge (bottom ropes are in place) and must be brought independently. A basic level of competency is required and all users must ensure they can confidently belay. All climbing and bouldering at the wall is unsupervised unless the user is on an instructed session or supervised by a responsible adult. Membership is not currently available but a pay as you go system has been set up:
| | |
| --- | --- |
| Adult | 4.00 - up to 2 hours |
| Concession | 2.50 - up to 2 hours |
| Under 18's (permitted with the consent of an adult) | 2.50 - up to 2 hours |
Head of Mountaineering at Glenmore Lodge, Jon Jones says: "This is a special one of a kind wall and we are really looking forward to incorporating it into our courses. We believe it will become a coaching asset and are delighted with the final result, we are hopeful that all users will enjoy the many benefits which it is set to bring".
The wall was designed and created by Aviemore-based Dream Climbing Walls.
Click through here for the full terms and conditions relating to the use of the Glenmore Lodge indoor climbing wall.
To see the full range of climbing courses on offer at Glenmore Lodge click through here
For additional information please contact Glenmore Lodge Marketing and PR Manager, Lisa Anderson on 01479 861 256 or email Lisa.Anderson@glenmorelodge.org.uk