Chris Sharma catches Big Fish on Mallorca
Wednesday 13th September 2017
Sept 13th; 2017
Chris Sharma reports on-line that he's smashed out yet another world-class DWS on Mallorca with Big Fish (F8c+/9a).
Chris Sharma's Instagram feed
"Yesterday I was able to complete a new #psicobloc line in Mallorca that I've been eying for many years. It's one of the most aesthetic, biggest and hardest deep water solos I've ever done. So grateful for experiences like this!"
Shockingly, the crux is at 20+ metres and Chris has suggested that Big Fish weighs-in 'somewhere around 8c+/9a'.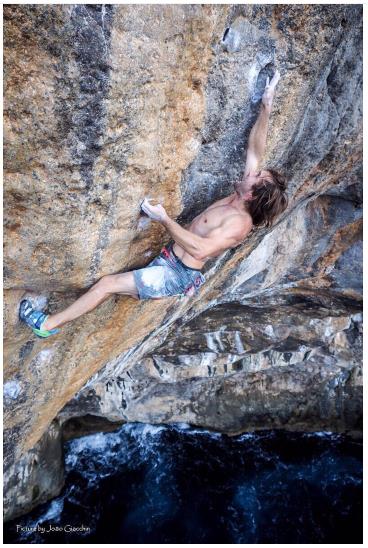 Chris in the midst of the crux sequence of Big Fish. Photo @joaogiacchin
Chris is no stranger to the DWS game. Earlier this year he did the first ascent of the famous Pont d'Arc in the Ardèche. Although that wasn't super hard – Chris estimated it was F8b+ - it did involve some very high falls into the river.
Chris's biggest DWS effort however dates back to 2006 and Es Pontas – a stunning arch off the coast of Mallorca. In 2005 Chris did Pontax (F8c) – a line which exiting the arch on the seaward side. A year later Chris surpassed that effort by making the first ascent of Es Pontas – a line which took the landward side of the arch. Although Chris didn't grade Es Pontas it was considered to be F9a+. Es Pontas was finally repeated by Jernej Kruder in the autumn of 2016.
Also in the autumn of 2016 Chris completed another monster DWS project on Mallorca to give Alasha – another route which Chris said was a similar difficulty to Es Pontas with falls from over 18m mark. Click through here to read our report into that route.
Finally, stay tuned into Chris's activities via his Instagram page here…