Chris Bonington – Life and Times lecture report
Thursday 24th November 2016
Report and photographs by Noel Dawson
24th Nov 2016
Kendal Mountain Festival 2016 hosted a sold out lecture by Sir Chris Bonington telling the amazing story of his life in the mountains. Chris described being brought up in Hampstead and enjoying his first climbing experience at Harrison's Rocks. He talked of attending Sandhurst and joining the Royal Tank Regiment. The first vehicle he ever drove was a tank which, Chris explained, is never a surprise to his friends who often comment that he still drives his car as if it were a tank!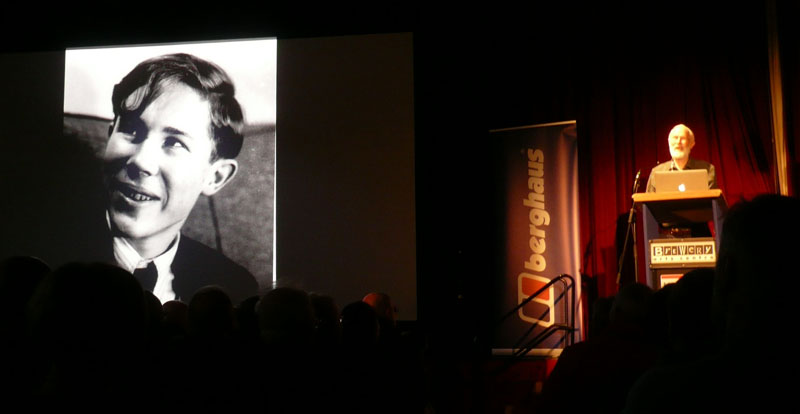 Chris was invited to climb the North Face of the Eiger with Hamish MacInnes in 1957. He remembered the 'total stark terror' he felt when he realised what he had let himself in for. He was saved by bad weather and thankfully retreated.
Chris talked of climbing Annapurna II in 1960 and Nuptse in 1961. He climbed with his heroes, characters like Don Whillans and Joe Brown who led a revolution in standards in British climbing at that time. He returned to the Eiger in 1962 to complete a first British ascent with Ian Clough and then travelled to the Central Tower of Paine in Patagonia.
In 1966 Chris made the first ascent of The Old Man of Hoy and in 1970 he led a Himalayan expedition to the South Face of Annapurna. He described how Don Whillans and Dougal Haston completed the first ascent of the brutal face but the success was not without an awful cost. Chris's good friend Ian Clough was killed during the last day of the retreat from the mountain. Chris commented that this was only the '… beginning of a painful, worrying time of loss'.
Chris showed wonderful photographs of expeditions to Everest in 1972, Changabang 1974, Everest 1975, the Ogre 1977 and K2 in 1978. He talked of the greatest experiences with the finest climbers and friends but the loss continued with the deaths of Mick Burke in 1975 and Nick Estcourt in 1978. Chris explained to the audience that he wondered whether he wanted to carry on climbing in such unforgiving places.
Chris shared the poignant story of his expedition to the North East Ridge of Everest in 1982. He was in such a beautiful place. The team was made up of Joe Tasker, Peter Boardman, Dick Renshaw, Charlie Clarke and Adrian Gordon. It was a happy expedition and the team celebrated the birthday of Joe Tasker. Peter and Joe set off towards the summit and were never seen again.
During 1985 Chris joined a Norwegian expedition to Everest and climbed to the roof of the world. He explained that this was a particularly significant year in Everest history because it was the last year that Everest was a quiet mountain, the last time that only one team was allowed on the mountain during a climbing season. Chris spoke of the mixed emotions that he felt on reaching the summit. It was the end of the longest journey which had ultimately seen the loss of three great friends. Chris paused and you sensed that completing Everest had in many ways lifted a great weight from his shoulders.
Chris described a wonderful trip to Greenland with Robin Knox Johnston when due to a 'slight navigational error' they ended up climbing the wrong mountain! He showed photographs of a treasured trip to Kilimanjaro with his two boys Joe (Daniel) and Rupert and of posing with the Olympic torch on the top of Snowdon in 2012.
Of course behind every great man there is almost always a greater woman. Often when men dream women offer a support without which many dreams would come to nothing and would mean so little. Chris wept a few more tears as he spoke of Wendy who he lost to Motor Neurone Disease during 2014. She fought great battles in her life and climbed mountains far higher than Chris has ever climbed.
Chris spoke finally of returning to The Old Man of Hoy with his good friend Leo Houlding. At first he thought he would not join Leo but when has Chris Bonington ever turned down a challenge? 'I creaked up it,' Chris told us all.
Chris received a standing ovation. We had marvelled, laughed and cried at the stories he had told. You just felt as you left Kendal Town Hall that you had shared the greatest stories of British mountaineering history and that you had listened to a great man whose love for the mountains and friendship and life was a fine reminder to us all.