Caroline Ciavaldini repeats Voie Petit on Grand Capucin
July 10th; 2016
Caroline Ciavaldini has just succeeded on her long-term plan to climb Arnaud Petit's Alpine show-piece, the Voie Petit on the Grand Capucin.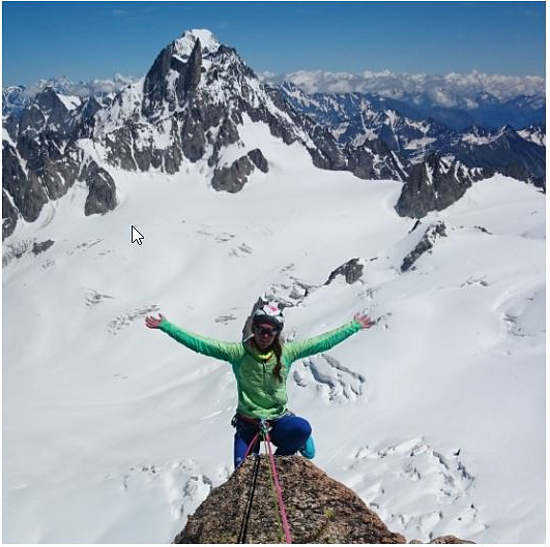 Caroline Ciavaldini
Originally a sport/competition climber, Caroline has been climbing trad for some time – albeit never in an alpine environment. She set herself the target of climbing the 450 m long Voie Petit on the Grand Capucin a year ago. Arnauld Petit's route is one of the toughest routes in the Alps. It has pitches up to F8b and finishes on the summit at 3500m. Since then, Caroline has been on mission to prepare for the ascent training both physically, mentally and learning new skills. Her journey took her into the alpine environment where she wore crampons and crossed a glacier for the first time. Over that intervening 12 months Caroline has been on the Voie Petit on a three occasions. As well as learning new alpine skills she familiarised herself with the route. Caroline's fourth session on the Voie Petit was last week – when she succeeded.
Caroline on the 7b+ pitch last year. Photo Francisco Taranto
Climbing with James Pearson, her husband and long-term climbing partner, Marion Poitevin - a young guide – Caroline did all the lead climbing; James and Marion concentrated on the belaying and sack hauling.
The crux F8b pitches was exhausting as Caroline reports; "I reached the crux pitch, the F8b, and focused simply on "just try". It was an exhausting battle on that pitch, I nearly blacked out on reaching the belay, a combination of effort and altitude, but I had done it. I had succeeded on the hardest pitch, I had a chance."
After that pitch Caroline had a total of 8 pitches left on the route but only 2 pitches (a F7c+ and an F7b+) to reach a bivi ledge. Caroline had never bivi'd before either but her thoughts were clearly on the final remaining hard pitches; "To say that I slept wonderfully would be exaggerated, but I made the most of my night to visualise the second part, trying to imagine struggling on the 8a pitch, the hardest of the top part." And of that pitch Caroline said; "I was patient, found the keys on each movements, then lowered to the bottom of the pitch, and climbed it. I was focused, and mistakes didn't matter, because there was this enormous bubble of motivation behind me."
Caroline on the crux of the top section; the F8a pitch
The final F7b+ didn't give up without a fight: "But I focused on every proposition one after the other, had to redo the 7b+ twice to succeed it, and reached the summit. That was it, It was done, officially. My big one year dream had become a reality."
Route Beta:
450m, F8b max. Grand Capucin. Materiel: bolts and trad gear.
Opened in 1997 by Arnaud petit, Stéphanie Bodet, Pascal Gaudin and Jean Pierre petit
First free ascent by Alex Huber in 2005; repeated by David Lama, Arnaud Petit, Edu Marin…
Voie Petit Topo
To read Caroline's full account of her ascent click through here to go to her and James's website - Once Apone a Climb...