Caro Ciavaldini talks about The Quarryman
April 16th; 2018
As we reported earlier, Caro Ciavaldini repeated The Quarryman, the infamous Johnny Dawes slate testpiece, over the weekend.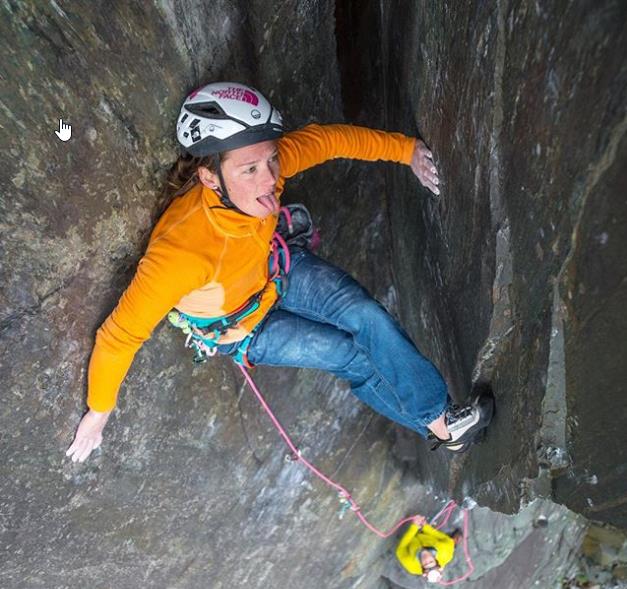 Caro battling that groove – aka Pitch Three, The Quarryman
CLIMBER have been in touch with Caro about her repeat. Talking exclusively to CLIMBER, Caro has explained her motivations for returning to do the whole route and her views on why a route first done over thirty years ago in 1986 is still important…
Why did you want to come back to climb all the pitches after having already done the famous groove?
James and I went in the quarryman two years ago because I wanted to test my courage on it as a preparation for the Voie Petit. The route scared me and attracted me at the same time, I was curious to see what I would be worth on the groove.
I did the groove pitch, but with a lot of fighting, and a lot of fear. It is such a weird style (for me) that on every movement, you want to stop, you are afraid of slipping.

I remember that Nicholas Hobley, the web master of PlanetMountain (he is British and Italian) told me that I had to do the full route for it to count. I remember reading that message, and first being a little bit annoyed. But I have a lot of esteem for Nicholas, he definitely knows next to all there is to know about British climbing history, and is the kind of very calm person that can convince you with a simple sentence.
I can see now that behind the annoyance, his message got me thinking: could I do it?
And at the time, the answer was no or at least, not fast. I had seconded James in pitch 1 and 4, and there were several movements that shut me down on pitch one, while the crux of pitch four seems desperate. I had done the movement after a lot of tries, but to do it at the end of the day seemed like a recipe to failing the last pitch. I had actually said at the time that I didn't want to go back.
I was afraid of the route, and that is the very reason why I came back.
Your ascent is getting a lot of attention in the media, for a route was first climbed over 30 years ago. If we compare this to sport climbs that were first established at a similar time, why is The Quarryman still an important route. Have trad climbing standards moved on so little?
I think it has only had a handful of full ascents since Johnny Dawes. Why? Because it is so unusual, because you can never guaranty that you will do it… because the weather demands patience as well.. And because pitches one and four are quite difficult too, but each in a very different way. The Quarryman isn't easy (not for me at least). I don't know if it will ever be.
And maybe you could look at it in a different way: in the world of slabs, Chris Sharma doing Magie Blanche (8b+) in Mouries was still a worthy news one year ago, while the first ascent was in 1989 by Dider Raboutou. And the hardest slab in the world is most likely The Meltdown at "only" F9a… when the grades are up to F9c! So, yes, I think it's quite clear, in the world of slabs, we have not improved so much. In fact, I have still not seen any climber as at ease in the groove as Johnny Dawes was. Have you?:)