Caff nails another Pass test-piece
May 16th; 2016
Just days after doing the House of Talons (E9 6c) on the Cromlech, James 'Caff' McHaffie has been back in action and created another outstanding pitch in The Pass.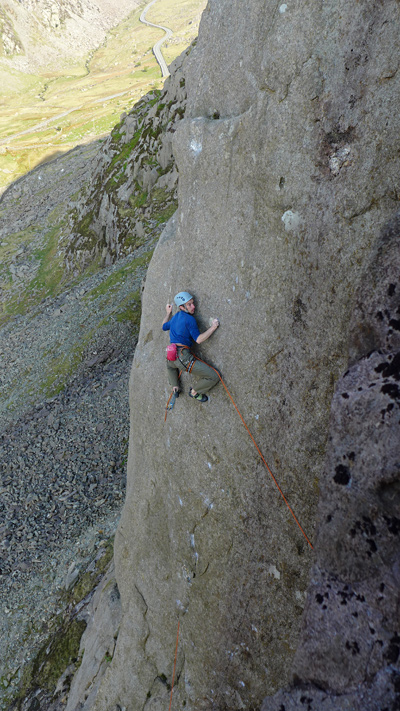 James McHaffie on his latest new line in The Pass. Photo Tim Neill
Ignoring any possible superstition Caff lead the route on Friday the 13th. The line takes the slabby face between the top pitch of the Direct Route and Crosstie on the The Nose of Dinas Mot. By all accounts it's a line that has been on the radar for some time.
According to the report on DMM website, Caff says the line is technically a lot harder than House of Talons. Caff said; "It's intimidating climbing. I wasn't sure where I'd end up if you fell off and had considered throwing off a rucsac to test the fall. It has an amazing, quite long, nose grinding crux sequence, involving pebble hopping with your feet and a crucial two finger drag in a pocket." Caff has been reluctant to offer a grade but gave the following break-down; "E8 would be mean, and it's probably English 7a, so around E9 7a. The moves felt sketchy even though it was my style of climbing".
As yet, Caff hasn't offered a name for his latest line which is now one of the hardest routes in The Pass and North Wales.
Keep in touch with Caff's exploits by following the report on DMM website here.