Buster Martin smashes 10th ascent of Hubble
Wednesday 14th October 2020
Buster Martin recently smashed-out the 10th ascent of Hubble in double-quick time.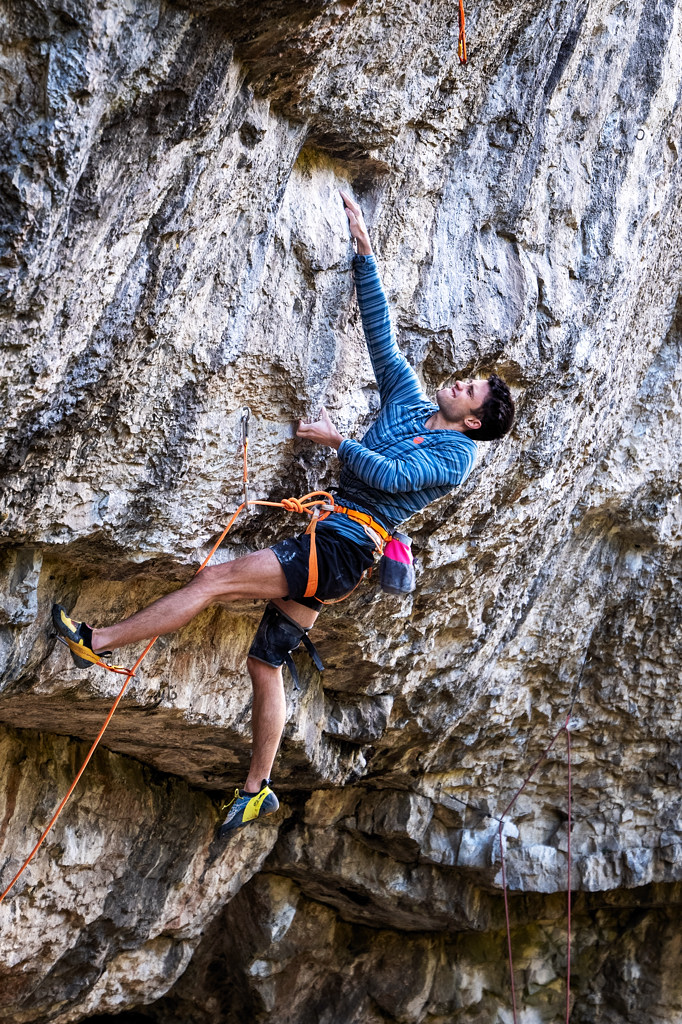 "Great to climb this piece of history today, a childhood dream realised. " Buster wrote on his Instagram page having made the 10th ascent – the second of the year – of the Ben Moon Raven Tor testpiece over the weekend. Buster's ascent comes just days after Mat Wright also repeated the historic route; both climbers used new beta which involved using a knee pad on their right knee in a "knee scum".
As we commented in our write-up of Mat Wright's ascent – click here for that report – a repeat of Hubble is big news. Hitherto, Hubble has averaged just three repeats per decade since Ben Moon originally climbed it back in 1990. Comprising Font 8b+ bouldering, Ben's first ascent was remarkable; a point not lost on Buster; "First climbed by @moonclimbing 30 years ago, it was the hardest in the world at the time. A culmination of the sport climbing revolution in the 80s and Sheffield training scenes, and a huge move from Ben and his efforts in pushing the sport forward. Truly ahead of its time, the fact that it's had just 10 ascents over 30 years is testament to that."
Buster, like all the climbers who have repeated Hubble before him, is no stranger to hard moves and hard routes. Aged just 16, Buster repeated Bat Route (F8c) at Malham in July 2013; he was the youngest Brit to climb that grade. Since then, Buster has gone on to repeat numerous harder routes including Rainshadow (F9a) at Malham (June 2018) as well as First Ley (F9a+) at Margalef (November 2019). As anyone that follows Buster on his Instagram page will know, Buster trains hard, thinks about his climbing and is more than capable of bearing down on hard moves /blocs.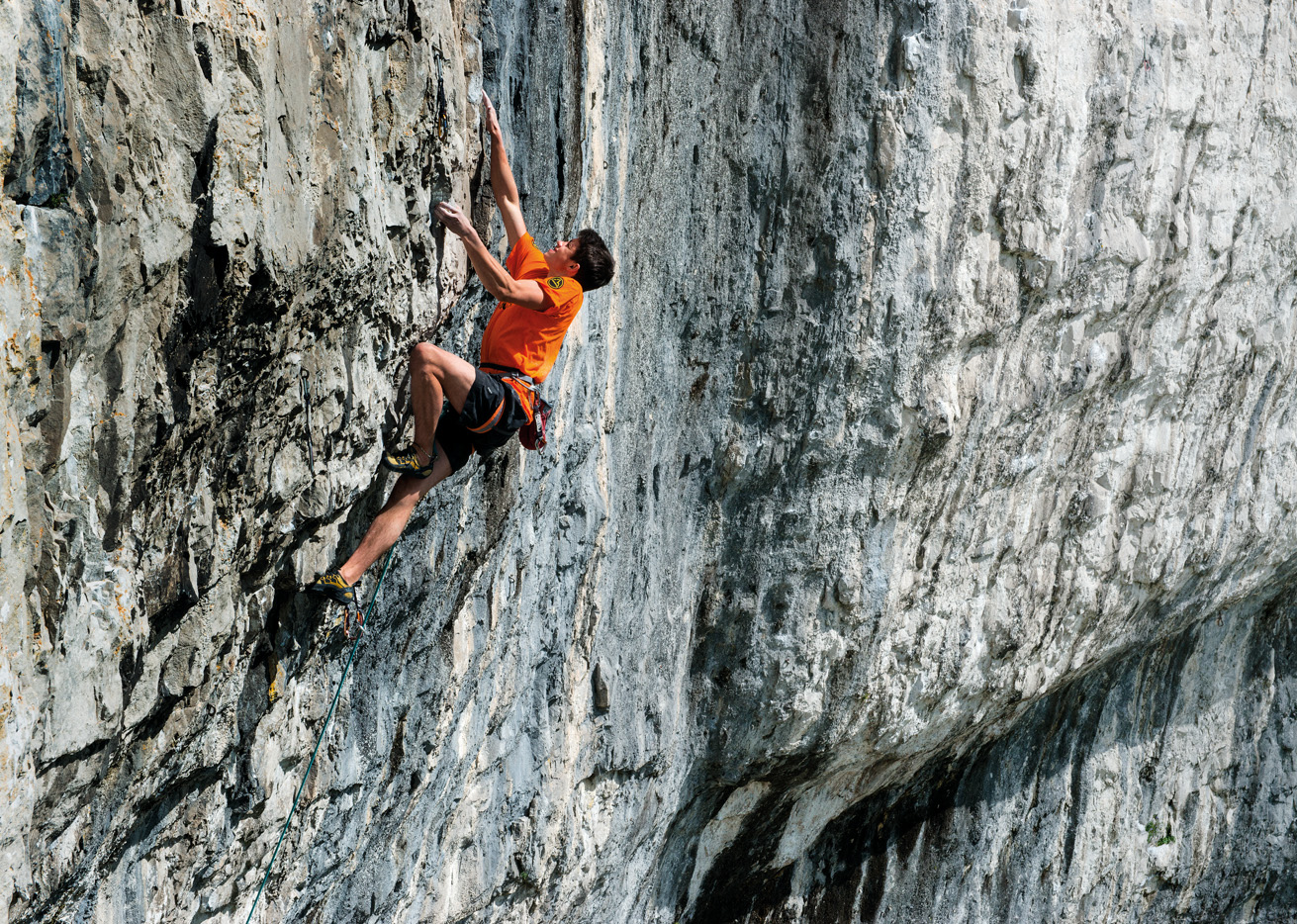 In an extended interview for Climber we talk to Buster about his ascent of Hubble, the importance of climbing history to him and hell yeah, that knee bar! We make no apologies for what is a very deep dive into what some have called climbing minutia but these things are important and Buster is very keen to take the floor and lay-out his thoughts.
Buckle-up folks, it's gonna be a long ride!
When did open your Hubble account?
I first tried Hubble last May. I had a couple of sessions, it went well. I'd just come back from trying a project in Spain, in which I'd been getting to the last move on but didn't get up. So I needed a bit of a break from trying hard routes. So left it there.
How long has it taken you in total?
I got back on it around 10 days ago and had a few more sessions. Changing my beta slightly, with the use of a knee bar. Probably six sessions in total. But years and years of dreaming, training and climbing on the Peak and Yorkshire limestone crags.
So then… let's talk about the knee pad! Has that been the game-changer that you speculated, what difference does it actually make and what's your thoughts on their use generally and on Hubble specifically?
Haha, the knee bar…. This seems to be a bit controversial, much like anything new and different in climbing. Although knee bars are hardly new and accepted on pretty much everything else, anywhere else in the world.
But I get it, I was unsure about it myself. I swore to myself I'd never use a knee bar on Hubble, thinking that it may not do the route justice and wouldn't be the climb that had inspired me and made history all those years ago.
I'd felt like this before, about knee bars in general (bit of a British thing maybe, keen to preserve our history and maintain this tough image and pride), but I have slowly started to use them more and more. Honestly I think I was pretty bad at them before, but probably wouldn't have got up First Ley last year without one. This was sort of a turning point and now I've sacked off the bias and seen the light. Even Ben uses knee pads at the Tor now...
But still even so I was unsure about it on Hubble, but this quickly changed when I saw Mat climb it a couple of weeks ago. It looked like good beta, very technical and maintained the nature of the route. Hard to ignore.
I gave it ago, it went well. Felt good, but that night I was kicking myself, almost wishing I never tried. I knew there was no going back, but didn't want it to ruin the route or my experience on it. Would I have a nagging desire to go back and do it without?
Next session, on redpoint I realised the reality. The knee bar was very different when placing it from the ground, it was still hard. Only a fraction easier, but easier nonetheless. I then felt comfortable and sure of myself about the whole thing. It was very much still Hubble. As you may see when the video comes out, the knee bar gives me an extra split second. I could actually do the drop-in move more consistently without the knee, as it was more strength based. But decided to stick at the knee, because when it worked it was easier and would leave me with more in the tank for those final moves. Making it more likely I'd get up it.
The knee bar clearly makes things easier than the way it was originally climbed but this is always going to happen, new beta, new equipment. It would have been a shame if it made it a lot easier, but it doesn't. More of a shame to have made it an eliminate or a climb with rules.
The knee bar is hardly new, people have been trying for a decade. Dan Varian, Dave Graham, Sean Mcdoll, Stu Littlefair. It's clearly still tricky and I don't think this has 'broken the beta' and won't lead to loads more ascents. Hubble is a lot more technical and less power based than people think, there's, probably a thousand climbers in the UK strong enough, but it's about getting on it and working out the positions and not letting the reputation get to you. Although maybe the idea of new beta and a couple of ascent will help with the later.
It would seem logical for a route that was borderline F9a or F8c+ to get a downgrade with some new beta but I dont think it changes it by a whole grade and maybe doesn't change the grade at all.
Only time will tell, I'm sure there will be some people who can't make the knee work at all and others it may fit perfectly and feel easier, but much like when someone tall can reach past a crux. It doesn't mean it gets the downgrade, it's the consensus that matters.
Anyway, enough about that. It's HUBBLE! The grade or beta doesn't matter, the route remains iconic and was a huge part of sport climbing history which I'm psyched to have got up.
How does Hubble feel compared to other routes you've done/tried recently?
Compared to Make it Funky and a couple of bouldery F8c's I've done in Spain it's really another level, it feels F9a relative to these. Still need to get myself up an F8c+, I've never done one.
You say you've been mainly bouldering and concentrating on power in your recent training so this must have played well for you on Hubble?
Yes, I've pretty much just been bouldering since the lockdown in March. I moved back home and built a board. Set a few replicas of Hubble, rather than setting one specific hard one. I'd just play around on similar moves of different levels and slightly different styles. Creating an accurate replica is pretty unrealistic and probably won't provide that much long term benefit, so I focused on just becoming stronger on undercuts and similar style moves.
The strength and conditioning part of my training was also important, building up strength in the biceps, back and core was very important. The barbell and pull up bar was vital in this.
I'd planned to train really hard and smash it out as soon as lockdown was eased. But after about a month or 6 weeks I lost motivation and ended up not climbing much for 3 months or so. Focusing on finishing uni and getting my new coaching business 'Kaizen climbing' set up.
I got back into the climbing when I came back to Sheffield at the start of September, regained the psyche and started climbing outside a lot. When I got back on it I felt a lot more confidence from doing similar moves, even if it was months ago now.
The history of Hubble clearly means a lot to you. Having trained extensively at The School Room, Ben's wall in Sheffield, does repeating Hubble feel like the closure of a chapter in your climbing?
Maybe not a closure but a nice experience along the way, there's loads more historic routes of Ben and Jerrys I'd like to do like Agincourt, Liquid Ambar and the classic boulders.
Although there is an element of a marker of progress, before taking a break from climbing and then moving to Sheffield I was very much an endurance climber, preferring the euro style. However, after moving to Sheffield and spending a lot of time climbing on the board and working my weaknesses I've managed to make a lot of progress and turn these aspects of climbing into my strengths. Hubble is a great marker of that, a very savage style.
Repeating a hard route is often a learning experience and you say that it's the most technical piece of climbing you've done and less a test of power and learning the subtleties. Did you consciously work on the minutia or was it more just giving yourself to the route and feeling it flow?
I think it was more applying things I'd learnt from other projects, training and just climbing on the lime that I applied to this. I spent years working on this type of steep technical movement with my coach Rob Russell, working on ironing out the inefficiencies. It's safe to say I never really felt the flow, I really had to focus and try very hard on the redpoint.
You clearly think a lot about your climbing and training. After your dalliance with Fixation at Malham you wrote about what you saw as your lack of endurance, efficiency and flow saying "I think what's going to get me up the route is actually by getting on some other easier routes, building the fitness, efficiency and flow for the UK limestone." So, was Hubble what you had in mind?!
Ha ha… Hubble is probably the last thing that's going to help me with Fixation. I had planned to try them both this season, I realised after all the bouldering Hubble was way more likely. But now it's time to focus on the fitness and work on my movement! Sort the footwork and over gripping out.
Malham has been soaked recently so presumably that has prevented you from getting back on Fixation so you'll have to differ that a little longer?
Yeah, It's looking like next season now. Probably better to spend a bit of time getting the fitness back up anyway. Scouted out another couple of lines in the roof as well…..
The Petzl_Offical team has really been smashing it out recently with Neil's ascent of Final Score, Steve's ascent of Fixation and now you doing Hubble. How much energy do you personally derive from being part of a team like that?
It's been very inspiring being part of the Petzl team, Gresh and Steve are two absolute heroes who are still out there smashing it out. It's really cool to be trying things together, working on our own projects and feeding of the psyche.
Click through here to follow Buster in Instagram and here go to check out the @kaizenclimbing training page.