Buster Martin redpoints Rainshadow
June 19th; 2018
Buster Martin has just scooped the ninth ascent of Rainshadow at Malham.
Buster climbing the crux bulge of Rainshadow. Photo Alex Hartley
Notching up the third ascent of Rainshadow this year – after Ryan Pasquill and Pete Dawson - Buster Martin has added his name to the list of climbers to repeat Steve McClure's benchmark Malham testpiece.
If our math is correct that now makes 12 Brits to have climbed routes of 9a (or harder) here in the UK; said list including Neil Carson, Steve McClure, John Gaskins, Malcom Smith, Jordan Buys, Ben Moon, Stuart Littlefair, James McHaffie, Will Bosi, Ryan Pasquill, Pete Dawson and now Buster Martin. Further afield, Tom Bolger, Steve Haston, Dave MacLeod, Alex Barrows and Will Smith have also climbed routes graded at that level (or harder) overseas. Apologies if we've forgotten anyone BTW!!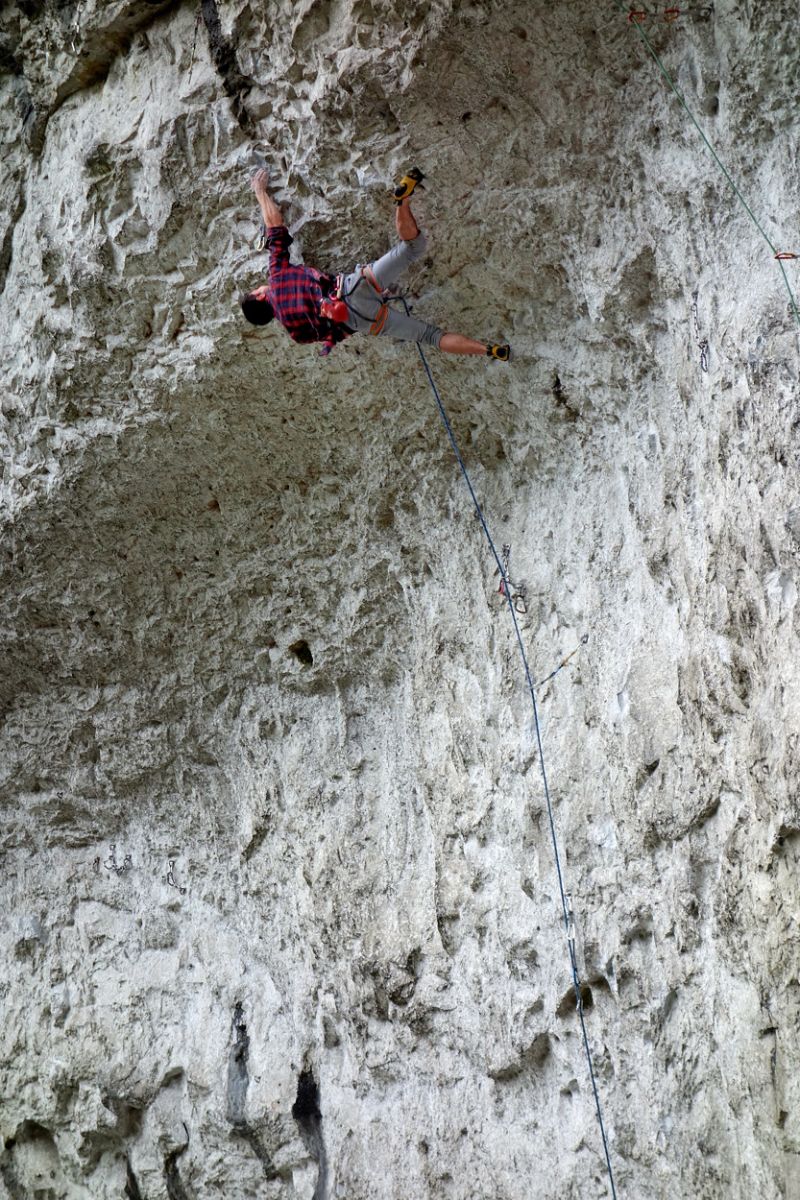 Buster styling his way thru an earlier working session on Rainshadow. Photo Keith Sharples
There's no doubting that Buster has been 'putting in the hours' for Rainshadow – both on and off the crag. Buster is reasonably familiar with Malham having climbed Bat Route when he was just 16 a few years back. Following a break away from climbing after Bat Route Buster has been a regular in the training emporium's in Sheffield this winter. It looked perhaps like he might send Rainshadow earlier in the spring when he started linking crux to top in an almost nonchalant manner but, as is often the case, it's taken a considerable dose of effort and tenacity to get the job done. CLIMBER have been in touch with Buster to get his thoughts now that he's tucked the route away…
Those who have seen you sessioning Rainshadow thought you've looked pretty close for some time now. Is that how it's seemed to you?
I felt good on it from start, doing it in two halves in a few sessions. I thought it was going to be a relatively quick one, but was promptly humbled when I started trying it from the ground. I've mostly done a lot of bouldering since returning from a break from climbing so I felt great on the moves linking parts of the route together but I was missing that crucial aerobic fitness to get to the top of Raindogs completely fresh, the real hard bit is doing the crux after that. That, and probably a lack of experience slowed me down.

You spent a full session on Raindogs racking up no less than 13 ascents in the day! That must have helped getting super slick on Raindogs as well as giving you the crucial aero cap top-up that you needed. Do you think that you were able to get Raindogs aerobically after that?
Yes after slacking off on the aerobic training over the winter this is what made it possible. It was Ben Moon who suggested I try this. It's been great learning from and getting advice some of the best climbers in the country and Malham devotees, Mina in particular.

You've had to dig deep on Rainshadow. What's the main take home points that you've picked-up on this route?
Patience and perseverance are what got me up it, that and a lot of motivation. It's also reinforced my passion for British climbing, Malham is truly a world class crag.

You've been rocking-up for Rainshadow sessions wearing some pretty snazzy shirts – maybe starting a trend for smart casual ascents?!
Haha, well "it's not what you do but how good you look doing it", right?


You skipped a planned trip to Ceuse to stay at home and zero-in on Rainshadow. No regrets we presume – but what's your plan now for the rest of the summer?
I'd love to get out to Ceuse if I can and there's a few boulders in Switzerland I've got my eye on. I'm more psyched than ever and am looking forward to getting out with my friends and just going climbing.
Follow Buster via in Inatagram page here. Buster is sponsored by La Sportiva and Petzl