Bullock & Sim make 2nd ascent of House/Anderson on Mt Alberta
Saturday 4th October 2014
The Canadian Rockies not only look big but they are big – and bold – according to Nick Bullock and Will Sim and they should know after their audacious second ascent last week of the House/Anderson route on the North Face of Mt Alberta; one of the big routes on the big alpine faces.
Steve House and Vince Anderson were drawn to the big stage of the impressive north face of Mount Alberta and they went on to do the first ascent of their route under full winter conditions. Steve House recognised that their ascent as a big deal: "Vince Anderson and I managed to pull off one such prize by making the first ascent of the North Face of Mount Alberta in full winter conditions. (We were outside of calendar winter by less than 10 days.) And we did it by a new route, following features that made sense from the perspective of a winter climb, such as daggers of ice and crack systems that are too small to climb as finger-cracks in summer, but work perfectly as dry-tooling cracks. The route went entirely free and had lots of difficult climbing in the M7 range and one run-out and difficult pitch in the M8 range.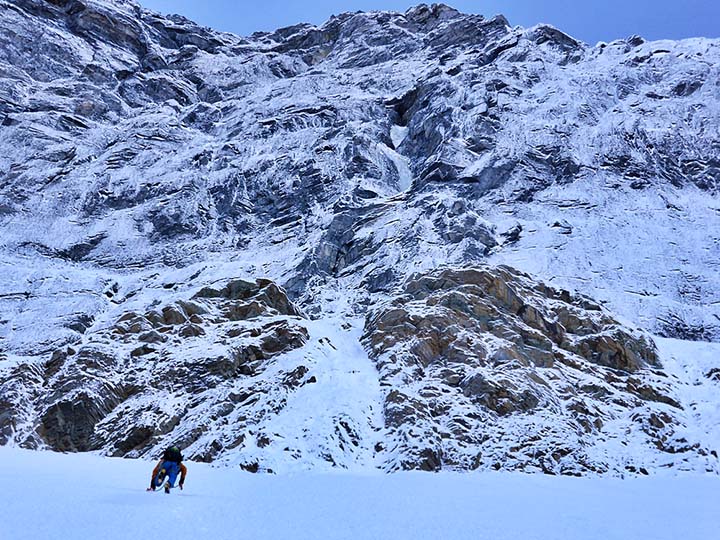 Will Sim approaching the headwall. Photo: Nick Bullock
The entire north face of Mt Alberta has only four routes on it which have had only a handful of ascents between them. Bullock and Sim have clearly pulled off a significant and bold undertaking with their second ascent. Nick Bullock lays bare his feelings for the route in his blog entry; "climbing the second ascent of The House/Anderson on the North Face of Alberta [Jason Kruk and Joshua Lavigne climbed the first half of the route until going direct from the cave on day two] for me was as committing, possibly more so, than climbing The Slovak Direct on Denali where at least the rangers knew where we were and they had a chopper at hand or, also with Andy Houseman, on Chang Himal North Face in Nepal where we had Bhuddie our cook keeping an eye with a finger on the sat phone. But on saying this, people in the know and who have been involved in Canadian Alpine climbing have been sticking there necks out for years and this in my mind is outrageous and inspirational. At least Will Sim and I had a reliable weather forecast, modern clothing, modern climbing gear and the experience of others who had gone before."
Will Sim was equally impressed with their repeat of the House/Anderson headlining his own blog entry; "Somehow we pulled it off, the plan A, the big one, shit, I didn't think that ever happened. The North Face of Alberta is what I'd call a mythical face. In form, its pyramidal spike of a gable-end is so pleasingly intimidating; it must be one of the most spectacular faces I know of".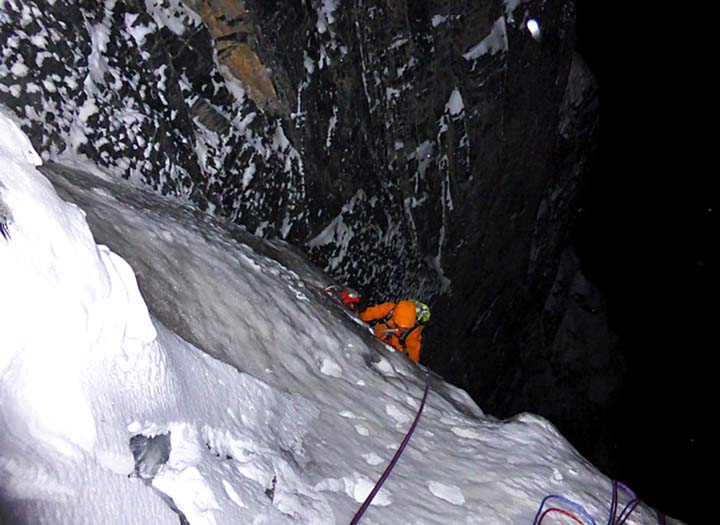 Will seconding the really scary ice pitch having escaped from the cave through the window. Photo: Nick Bullock
Nick Bullock and Will Sim took two and a half days to climb the route which they finished in deteriorating weather. The route starts with a series of abseils down a rock face to gain the glacier below the north face itself and the line itself has thin, hard and committing mixed climbing throughout – the only saving grace being a large cave which is used as a bivi for the first night. You can read more about the ascent on Nick's blog here and Will's here
Nick Bullock is sponsored by Boreal, DMM and Mountain Equipment
Will Sim is sponsored by Grivel, Outdoor Research and Scarpa