Brit Rock Tour is back
Aug 2nd; 2018
The Brit Rock Film Tour has all the best new climbing films from the UK's top adventure filmmakers, featuring some of the country's most popular climbers. The 2018 tour will commence from late October.
Matt Heason, from Heason Events, has given CLIMBER the run-down on the films included. Further details will be posted when specific dates are announced…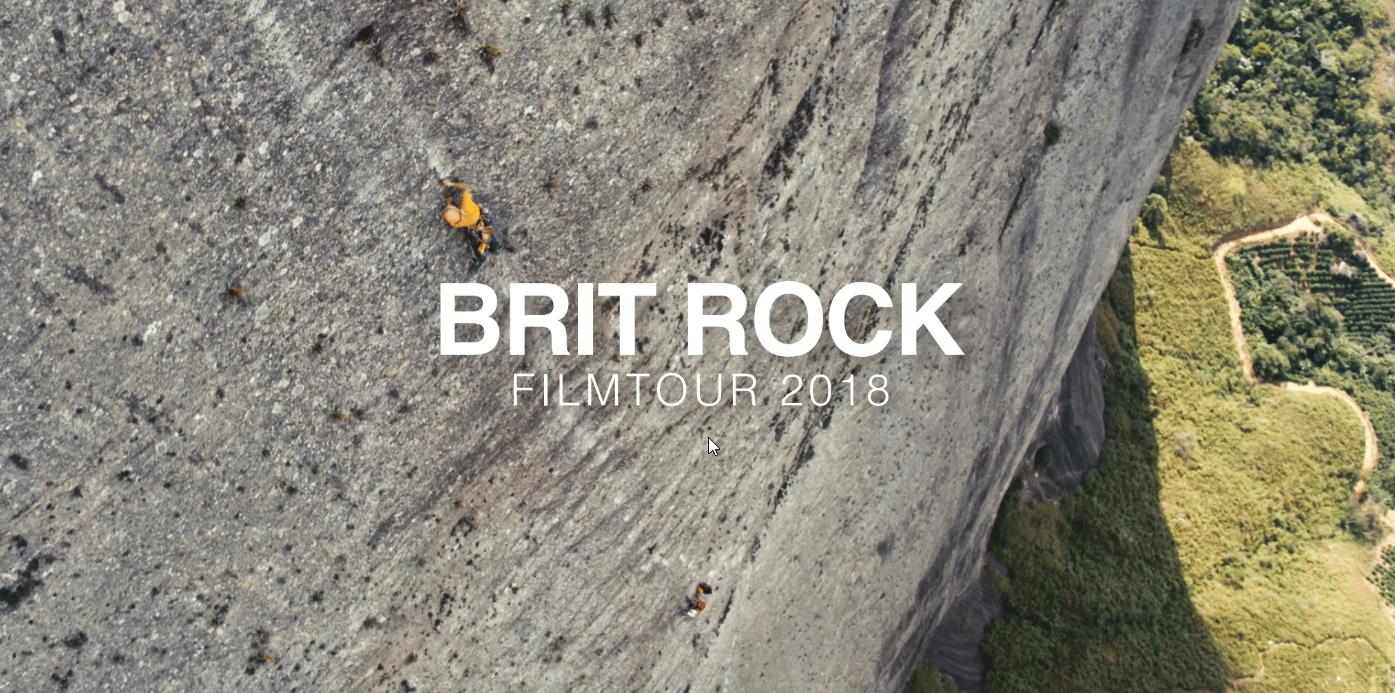 Brazilian – 20 mins, Dir Rob Johnson/Alastair Lee
A maverick bunch of Brits go big wall hunting in Brazil. Lead by pioneering legend Mike 'Twid' Turner with Steve Long and some youth in the form of the super-strong James Taylor and Angus Kille (just climbed Indian Face!), the team head for the giant monolith of 'Pedra Baiana' dreaming of a new line on perfect rock. From the outset the plan begins to unravel with fuel blockages, wasp attacks, a shortage of equipment and time all pinning back progress in this spectacular and charming film.
Just Anna – 15mins, Dir Alastair Lee
In an era where searching out and developing new routes seems uncomfortably out of vogue: all is not lost as we meet Anna Taylor. This remarkable Lakes-based 20 year old is bucking all the tends with stunning new sport routes and bold traditional lines. Including a nervy introduction to Deep Water Soloing by climbing partner Neil Gresham, we face all the challenges and difficulties along with Anna on her journey to one of the great unclimbed lines.
North Base – 5mins, Dir Alastair Lee
The ultra pragmatic Tim Howell is a specialist in climbing cliffs and jumping from the top of them, commonly known as 'climb to base'. This short film introduces us to Tim's way of life and his long-term goal of being the first to climb and jump all six of the classic alpine north faces. This epic concept will surely test even Tim's steely nerves and seemingly inexhaustible energy.
Whiz Kid: Rainshadow – 20 min, Dir Paul Diffley
In 2016 at the age of just 17, William Bosi became the youngest Brit to climb the ultimate magic grade: 9a. Whiz Kid: follows William's journey to climb Steve McClure's Malham test piece, Rainshadow. Documented in an observational style the film gently reveals what it takes to climb at this level.
Free Flow – 7 mins, Dir Paul Diffley
Hazel Findlay enjoys an epic day of mountain running and solo climbing in the Welsh mountains of Snowdonia. Stunning shots combine with a considered soundtrack underpinned by a subtle environmental message.
Danger Money – 20mins, Dir Alastair Lee
A wild and entertaining journey through the modern tapestry of what it takes to make a living as a professional climber in today's world. 30 years ago all you needed was the dole and a carefree attitude, now you need an Instagram account with 10K followers and entry level film making skills. Our lead role is filled by the brash and bold Robbie Philips. 28yr old Robbie has managed to carve a life from what he loves most of all; climbing rocks. With a personal insight into the reality of Robbie's 'awesome' lifestyle, the film focuses on a trip to the mind-blowing big walls of Madagascar where he and his jovial team attempt an adventurous new line.
Undiscovered – 10min, Dir Chris Prescott
Dave MacLeod has spent the past 25 years putting up cutting edge routes all over the world but most frequently on his native Scottish rock. 'Undiscovered' explores the passion for pioneering first ascents and examines the effort that goes into developing new routes as Dave unearths more jewels on the crags that seemingly just keep on giving.