Bringing up the next generation of Young Alpinists
Thursday 15th August 2019
August 15th, 2019
This year Rab embarked on a landmark new project aimed at inspiring the next generation of young Alpine climbers. Together with IFMGA Mountain Guide Ric Potter, the brand funded a project in which nine 16-year-old novice Alpinists, from schools in North Wales, ventured into the mountains of Arolla, Switzerland. The project seeks to offer access to those who usually would not have the opportunity to participate in this activity and thereby improving diversity in the Alpine Climbing community.
Rab has a long history of supporting climbers around the world in some of the most challenging environments. The brand believed that while there are systems in place to develop the skills of budding young alpinists (eg Conville Courses) initial access to the sport of alpinism is still very difficult unless there is a direct friend or family connection to the activity.
Steve Hazlehurst, Head of Marketing at Rab, commented; "When Ric first approached us with the idea for the Rab Young Alpinist project, we saw an opportunity to provide access to Alpinism to those who would not otherwise be able to access the activity. We hope that this programme will help to increase the diversity of young people looking to both make a living from the mountains and simply enjoy them for pleasure."
Initially dreamed up by Ric, the Rab Young Alpinist project aims to 'open the door' to Alpinism and alpine environments, which would then lead them to develop their skills using the previously mentioned courses. The project seeks to offer access to those who usually would not have it and thereby improving diversity in the Alpine Climbing community.
Ric had this to say; "I was introduced to Alpine climbing by two enthusiastic teachers who ran a shoestring trip for a bunch of teenagers, and took on the responsibility of being amateur volunteer 'mountain guides', tour leaders and temporary parents all rolled into one. That experience was pretty 'old school' and we had a few scrapes, but it was life-changing, and paved the way for further adventures and travels, and formed the starting point of what I now have in a career as a Mountain Guide."
He continued; "The idea of running a Young Alpinists course had therefore been on my mind for a long time; probably since qualifying as a Guide nearly 20 years ago, but it's taken until now to bring it into fruition. I was keen that such a course should be open to those who would be able to enjoy it to the maximum from a physical and mental point of view, but also to those who otherwise may not have the opportunity for various reasons, either financial or simply not knowing anyone who could take them. A strong part of the course ethos is that it is about the whole experience; from travelling out to the Alps, to camping in the valley, and cooking the food, to staying in mountain huts and of course climbing in the high the mountains themselves."
Publicised at schools and through social media, the project attracted a significant number of applications. A shortlist was compiled focused on offering the programme to those with the least opportunity. Participants were invited to a training weekend in North Wales based from the National Outdoor Centre at Play-Y-Brenin who kindly supported the project by loaning the participants their climbing hardware.
The training weekend consisted of some rock climbing in mountain boots and some roped scrambling on Tryfan to introduce the group to the mountain environment, giving them a taste of what was to come and practise some of the skills necessary for moving on the Alpine environments.
The group flew to Switzerland and travelled by train and Postbus, to the renowned mountaineering proving ground, Arolla. After settling into campground life, and some initial training and acclimatisation, they set out to climb several high Alpine summits including the Pigne d'Arolla at just under 3800m altitude. Each ascent involved staying in a mountain hut, undertaking a long approach walks carrying all the gear, and dealing with glacier crossings and some straightforward climbing on rock and ice. Everyone mucked in with the cooking and washing up and other everyday tasks and the whole experience was one of learning, living, and climbing.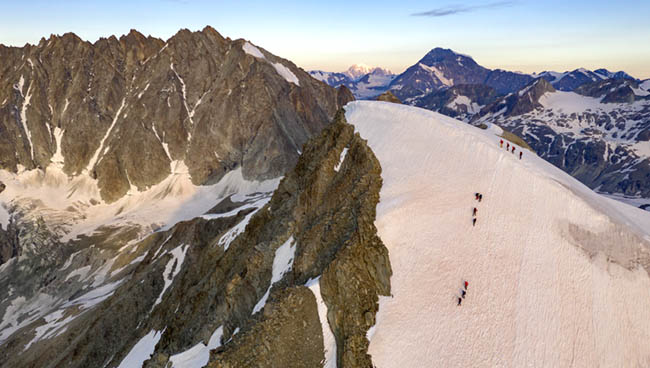 Here's what one participant, 16-year-old Louis, had to say about the experience; "As we made fresh tracks up a glacier in the pitch dark of 3am and finally as we reached the summit the sun crested up over the picturesque mountains to fill us with the days first light. A surreal feeling it was to be at the top of a peak in time for sunrise and for the most amazing photos."
Ric acted as the lead guide on the trip and was assisted by Rab Athlete and experienced Mountain Guide, Calum Muskett, as well as aspirant Mountain Guide Tamsin Gay.
"We had a motivated and diverse group from all manner of backgrounds. Everybody was enthusiastic and got on very well despite their differences - a testament to the shared enthusiasm of the team and the vetting process they went through. We had the same number of guys and girls for the trip coming from five different secondary schools in Gwynedd. It was a bilingual team with conversations naturally changing from Welsh to English depending on the guided team. Previous skills ranged from having done a bit of hill walking to some who were regular indoor and outdoor rock climbers. Only one had previously worn crampons before and that was in Scotland so a great learning curve for the team. A few of the team members were keen to pursue a career in the outdoors in the future and hopefully an experience like this will both inspire and provide a solid foundation to progress from." said Calum.
After the success of this year's Rab Young Alpinist Programme, we are looking to expand the scope of the programme to include young people from a much wider catchment area. We hope that the programme continues to inspire young people to take up Alpinism, especially those who do not normally have the opportunities to do so.