Breaking News: Steve McClure repeats Choronzon
Breaking News: Steve McClure repeats Choronzon
July 13th, 2015
Breaking news is that Steve McClure has just repeated Neil Mawson's Pembroke testpiece, Choronzon E10 (F8b+).
Steve, having narrowly missed out on his uber Malham project before the temperature rose and signalled a cessation of hard redpointing for the summer at The Cove, has switched his attention to other objectives and headed off down to Pembroke for a week-long trip. CLIMBER spoke to Steve before he left and it certainly looked as though he'd had got more than one eye fixed on Mawson's 2014 Flimston Bay testpiece. As it's turned out Steve has wasted no time and got stuck straight into Choronzon. Yesterday, and in double-quick-time, the news was that Steve had topped out on Choronzon.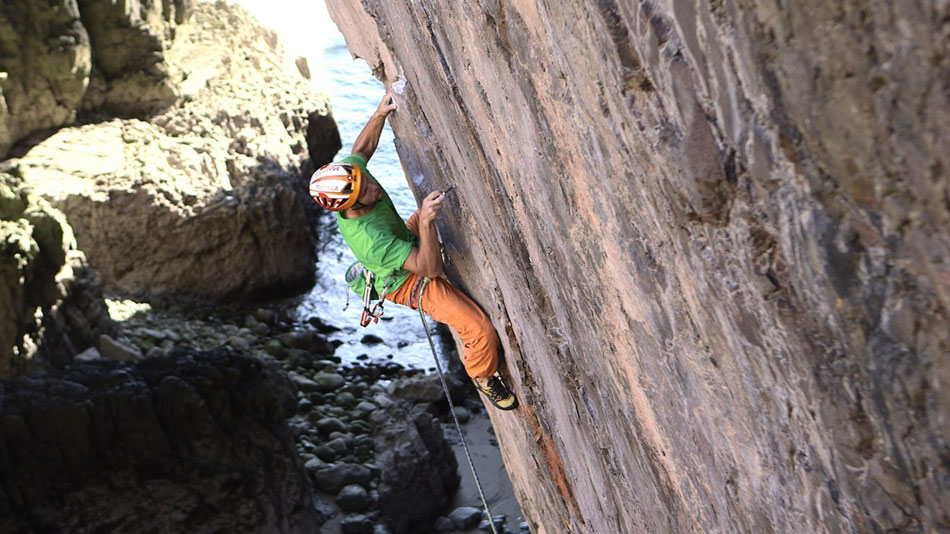 Neil Mawson on Choronzon. Photo: Ben Pritchard
On hearing the news, Neil Mawson was straight on-line with his congratulations to Steve; "Just spoken to @stemac5a after he's gone & made the 2nd ascent of my Pembroke route Choronzon today. Great effort Steve! I'm well psyched."
Neil Mawson on his first lead attempt of Choronzon. Photo: James McHaffie
James "Caff" McHaffie wrote an extensive blog about Neil Mawson's first ascent of Choronzon which is well worth a read. Click through here to read Caff's blog.
CLIMBER is in touch with Steve and hoping to bring more details so watch this space as they say…
Thanks to Ben Pritchard and James McHaffie for the use of their images.