Breaking News: Mike Adams climbs his first Font 8c with new bloc Serenata
Feb 9th, 2015
Tony Simpson reports:
The dark horse of british climbing that is Mike Adams has just climbed what is likely to be the hardest problem put up on the Far Eastern Limestone area. Climbed at the Impossible Roof (near Maltby in South Yorkshire) Serenata at font 8c is the culmination of around 7 years of history.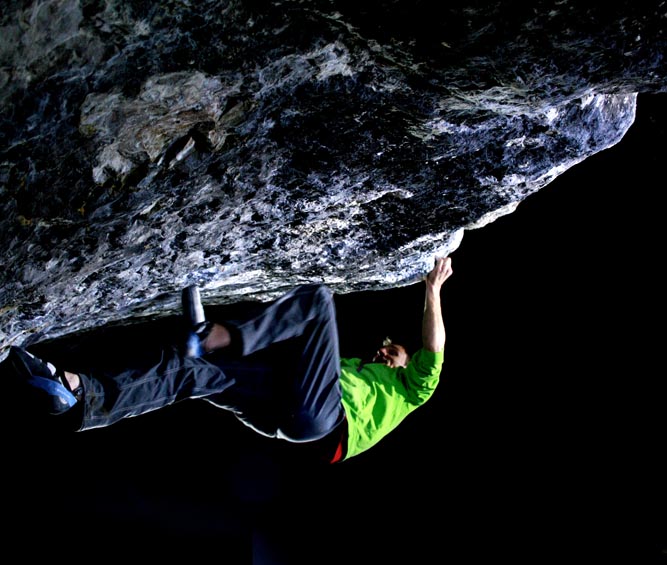 Mike Adams climbing his new font 8c Serenata Photography: © Tony Simpson
This is the story.......
Serenata is essentially a link up of the low start of Serendipity into the recently new Serenade finish.
Serenity was the first line done here by Mike Adams in Jan 2008 this was originally graded a soft 8b. It was repeated by Dan Varian who then in March 2008 added the low start of Serendipity. Despite suggesting the extra moves where 8a he graded this a hard 8b. Mike then repeated this at the end of November 2009 feeling the sit moves added considerably to the difficulty suggested an obvious upgrade to 8b+. Over the years Serenity has had a few notable repeats and the low start of Serendipity tried, but with no further repeats.
Recently the main undercut has broken slightly making them both tougher. In March of 2014 Ned Freehally had a couple of sessions trying Serendipity and in between goes worked out a sequence for an obvious leftwards finish to Serenity, eliminating the jug at the end and trending leftwards via some tricky and very droppable moves. It is felt that this could be 7c+ on its own. He came back and linked it from the Serenity start to give Serenade and in true British style graded this a 'stern' 8b. On Tuesday the 3rd of February Mike Adams managed to link in the obvious low start of Serendipity into Serenade, to give Serenata. This essentially extends an 8b+ (which has recently become harder). Or another way of looking at it is to say, it links 8a+ moves into a 'stern' 8b.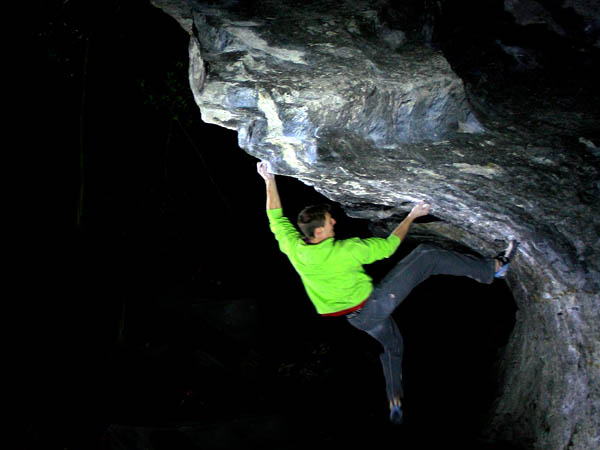 Another angle of Mike Adams climbing his new font 8c Serenata Photography: © Tony Simpson
Many thanks to Tony Simpson for the report and great photographs.