Breaking News: Mick Fowler and Vic Saunders succeed on Sersank
Tuesday 11th October 2016
Oct 11th; 2016
Rekindling an old climbing partnership, Mick Fowler and Vic Saunders have successfully summited on Sersank.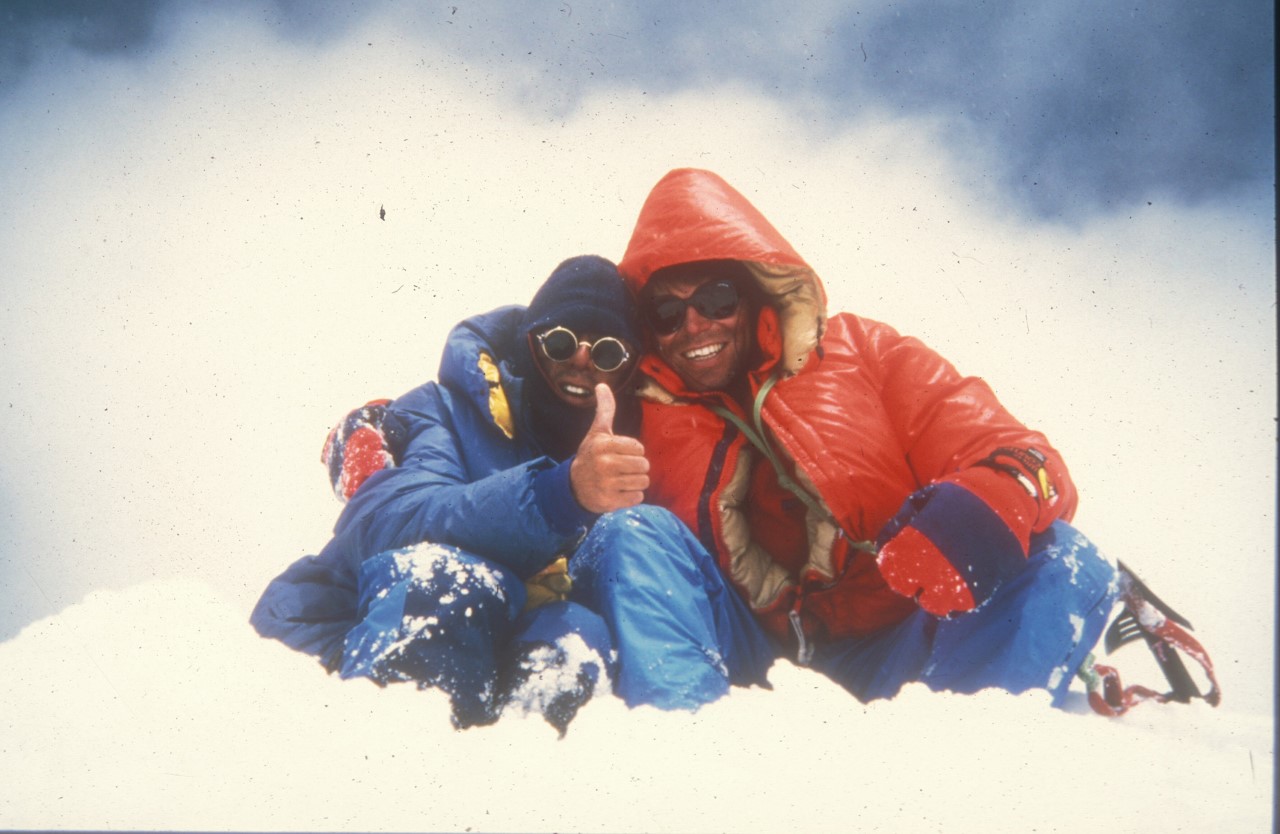 Vic Saunders (L) and Mick Fowlers on the summit of Spantik in 1987
Vic Saunders (L), Catherine Destiville and Mick Fowler. Catherine's company published Les Tribulations
Mick sent the following message to Berghaus: "All good here in Manali. Sersank ticked. Five days to climb the north buttress and an eight day round trip from base camp. Absolutely brilliant. Should be home on 14th, so more info then."
Mick and Vic last climbed together in 1987. They were regular climbing partners in the 1980s when both men lived in London, and became well known in mountaineering circles for completing many challenging Scottish winter routes, including Shield Direct on Ben Nevis, which was the first to be graded VI in a Scottish guide book. Fowler and Saunders also explored the Himalaya and their last climb together was the first ascent of the Golden Pillar of Spantik (Pakistan) in 1987, before they went their separate ways. After the Spantik climb, Saunders gave up his job as an architect and became a mountain guide in Chamonix (and around the world). Fowler stuck with the tax office and moved to Nottingham with a specialist department, fitting his climbing in around full-time work commitments and embarking on a series of successful Himalayan climbs and first ascents with other climbers. In 2015, Eric Vola (a mountaineer and interpreter in Chamonix) translated sections of books by Fowler and Saunders, merging their work to produce 'Les Tribulations de Mick et Vic.' The book was published in France and went on to win the Grand Prix at the Passy Book Festival.
Before leaving for Sersank, Mick commented: "Working with Eric on the book brought Vic and I back together again and reminded us that we haven't climbed as a team for far too long. That sowed the seeds for this year's Himalayan reunion trip and we are both looking forward to this latest adventure with great anticipation. Attempting a first ascent in a remote location with an old friend – what's not to get excited about?"
Further information will be available once the team return to the UK so watch this space. Meanwhile, you can read Mick's 10 day outline plan for the climb on the Berghaus website here