Bozeman hosts first round of 2015 UIAA World Cup Ice Climbing
Monday 15th December 2014
Dec 16th 2014
Over four days Dec 11th to Dec 14th, Bozeman hosted the first round of the 2015 UIAA Ice Climbing World Cup.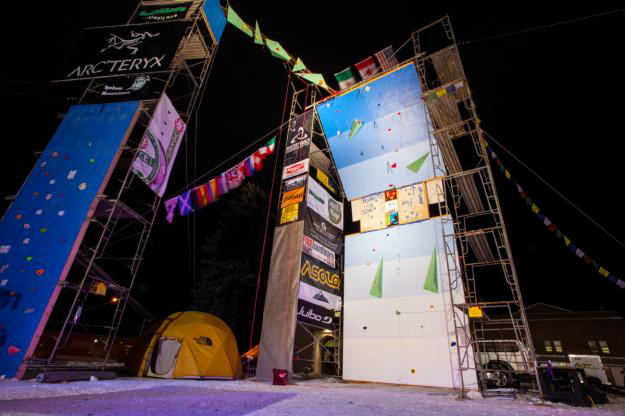 Bozeman Ice Climbing Festival. Photo UIAA
Since 1996 the Bozeman Ice Festival has been held in the US state of Montana. Hyalite Canyon which is only 30 minutes from Bozeman has been a major focus for USA ice climbing given its long season and the rich concentration of some of the hardest ice and mixed climbs in the world including the late Alex Lowe's testpiece Winter Dance. However, the UIAA Ice Climbing Commission decided as late as this month that the Bozeman Festival should be in inaugural comp for the 2014-15 season. Not suprisingly therefore interest in the first ever UIAA event in Bozeman was high and over a thousand spectators went to check-out the events. Featuring separate events for both men and women the comp was run on a specially constructed three-tower structure in downtown Bozeman. Both speed and difficult categories were held. The speed comp was held on a 10m high vertical ice wall and was run as a head-to-head. The difficult comp was set by Russian climber Pavel Dobrinskiy.
Nikolai Kuzovlev surveys the Bozeman crowd on the way down. Photo: Max Lowe for UIAA
The weather turned nasty for the finals on Saturday afternoon. Finally, and under gently falling wet snow, Liudmila Badalyan and Maxim Tomilov were crowed Women and Men's Lead champions of the first stage of the 2015 UIAA Ice Climbing World Tour. Reportedly however, the biggest cheer on the night went to Sergey Tarassov who finished in third place despite being 48 years old.
The next phase of the UIAA Ice Climbing World Tour takes place in Cheongsong, Korea (10-11 January 2015).
The top three in each category were:
Women's Speed
1 Kendra Stritch USA
2 Nadezhda Gallyamova RUS
3 Ekaterina Vlasova RUS
Women's Difficulty
1 Badalyan Liudmila RUS
2 Shin WoonSeon KOR
3 Gallyamova Nadezhda RUS
Men's Speed
1 Nikolai Kuzovlev RUS
2 Egor Trapeznikov RUS
3 Maxim Tomilov RUS
Men's Difficulty
1 Tomilov Maxim RUS
2 Park HeeYong KOR
3 Tarasov Sergey RUS
To see the full results click through to the UIAA site here.