Boswell and Mercier have full-on adventure in Lofoten
Wednesday 12th February 2020
Greg Boswell and Jeff Mercier have just concluded a two-week trip to the frozen Norwegian wonderland of Lofoten climbing numerous world-class ice and mixed routes.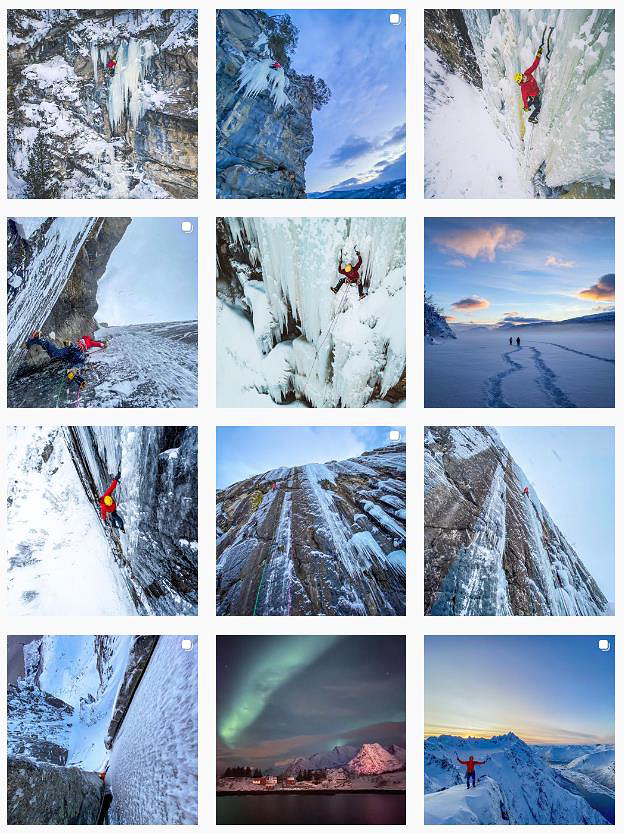 Greg Boswell's Instagram page showing some of the incredible climbing at Lofoten
Greg Boswell and Jeff Mercier, both Rab sponsored athletes, were so enthralled with their 2018 trip to Senja off the Northwest coast of Norway that they have returned once again to the frozen Norwegian north. This time, however, their chosen destination was Lofoten. Famed as an incredible summer rock climbing destination, the area – perhaps not surprisingly - also has a seemingly near-endless supply of amazing winter mixed climbing opportunities as well. Rab Equipment sent photographer Mathis Dumas along to accompany Boswell and Mercier to document their trip.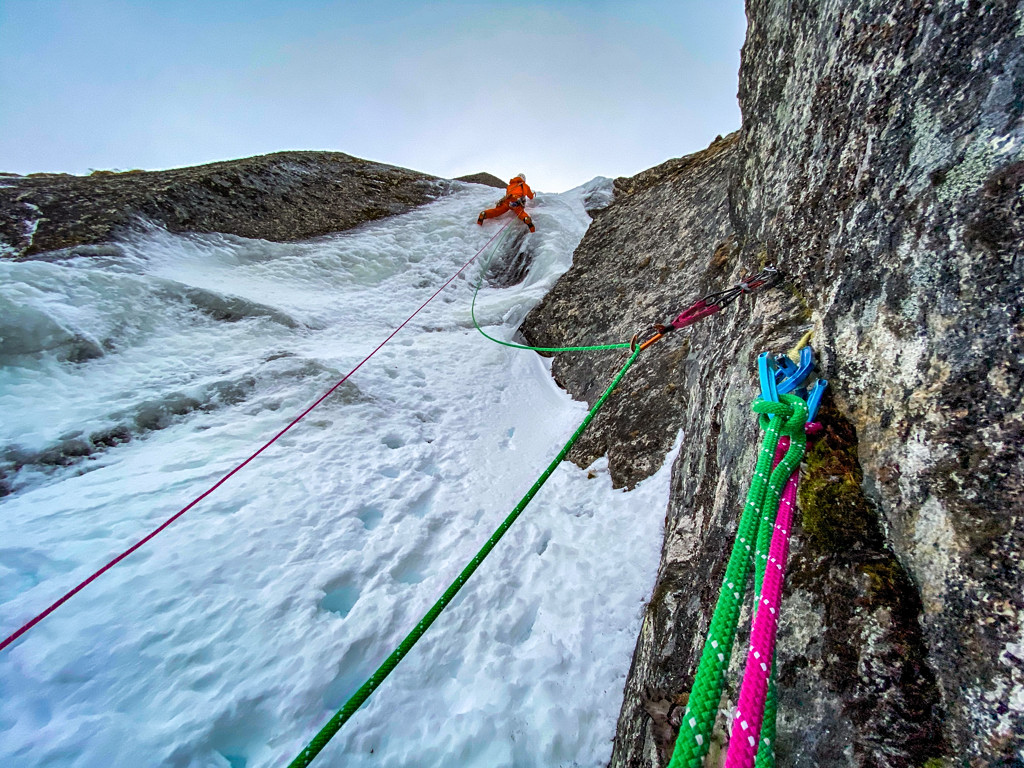 Greg Boswell and Jeff Mercier's opening gambit; Jeff Mercier leading on Terrible Twos, 120m (IX 10). Photo: Greg Boswell
Boswell and Mercier looked for a quick warm-up route to kick-off their Lofoten adventure; ideally one which would also allow them to break trail into their intended objective on the next day. What they got was a storming ice-seam featuring top quality climbing. Boswell describes the line and the climbing; 'We defo got warmed up that's for sure, but it wasn't the quick hit we thought it'd be! It was a three-pitch icy seam line with the crux leading to and going through the big roof, followed by thin bold climbing to regain the ice. Mega! One of the best pitches of climbing I've led in a while!' Boswell speculated further on the grade of their opening route; 'No idea about the Norwegian grade, but In Scottish money, you wouldn't get much change from IX 10.'
Jeff Mercier climbing their second objective, an existing route on Abrahamstind. Photo: Greg Boswell
'Lofoten delivered again today' Boswell wrote after their next adventure which followed a clean-cut couloir up an impressive face they spotted from the car earlier in the trip. Following an early start, the pair finally finished their climb as the sun was setting. They clearly enjoyed their day out as is evident from Boswell's summary of their day; 'I love visiting new places and seeing amazing features like this, knowing nothing about them and then just going and having a go. So much fun!'
Jeff Mercier engrossed in super-thin climbing on their attempt of There and Back Again, a summer line on Mount Geitgaljen. Boswell and Mercier subsequently bailed out proving that discretion is the better part of valour in some circumstances! Photo: Greg Boswell
Even for climbers with the stature of Boswell and Mercier, it doesn't always go according to plan. Their next adventure on There and Back Again, a summer line on Mount Geitgaljen, shut them down and forced them to retreat. Boswell explained; 'So our intended route for today was not meant to be. The first two pitches were out of this world good! Amazing, bold, technical and hard-won, but on pitch three the mountain put a stop to any upward progress. The whole face was glazed in a micro layer of hard verglass ice, which made finding safe protection on the first two pitches very difficult, scary and time consuming! The third pitch follows a steep 50m V-corner that was glazed shut for protection. Jeff gave it a good probe but decided he wasn't happy to risk the boldness. I thought I might as well have a go myself and we swapped ends. I reached his high point and forced myself to push on. I swiftly realised that it was getting stupidly serious and I'm not into risking it all for the prize. Down was the only option at this point. Gutted but also happy that we had made the right decision. Pushing on would've meant, we'd have been looking at a crazy runout and monster fall potential in the current conditions, so it'll have to wait for a braver team than us. Thankfully when the climbing is as good as it was up to our high point, the day doesn't feel too much like a failure.'
Jeff Mercier during the first ascent of La Tournée du Poltron (WI5+), the first of the two new routes on a low-level 'avalanche-free' wall. Photo: Greg Boswell
When conditions deteriorated the pair stayed low for their next objective, a thin vert ice-covered wall. The climbing turned out to be so good that they returned the next day when conditions remained poor and they needed an 'avalanche-free' area.
Greg Boswell on the upper section of Taking it Home (X,9/WI6); the second new route they climbed on that wall. Photo: Mathis Dumas
Boswell was keen to get involved with what he described as a 'crazy looking line'; it turned out to be truly memorable as he explained; 'The route turned out to be totally wild and super bold above the roof in the upper ice. I love it when you can only just piece everything together to make it possible. It really is the best prize when a vision becomes reality... just!'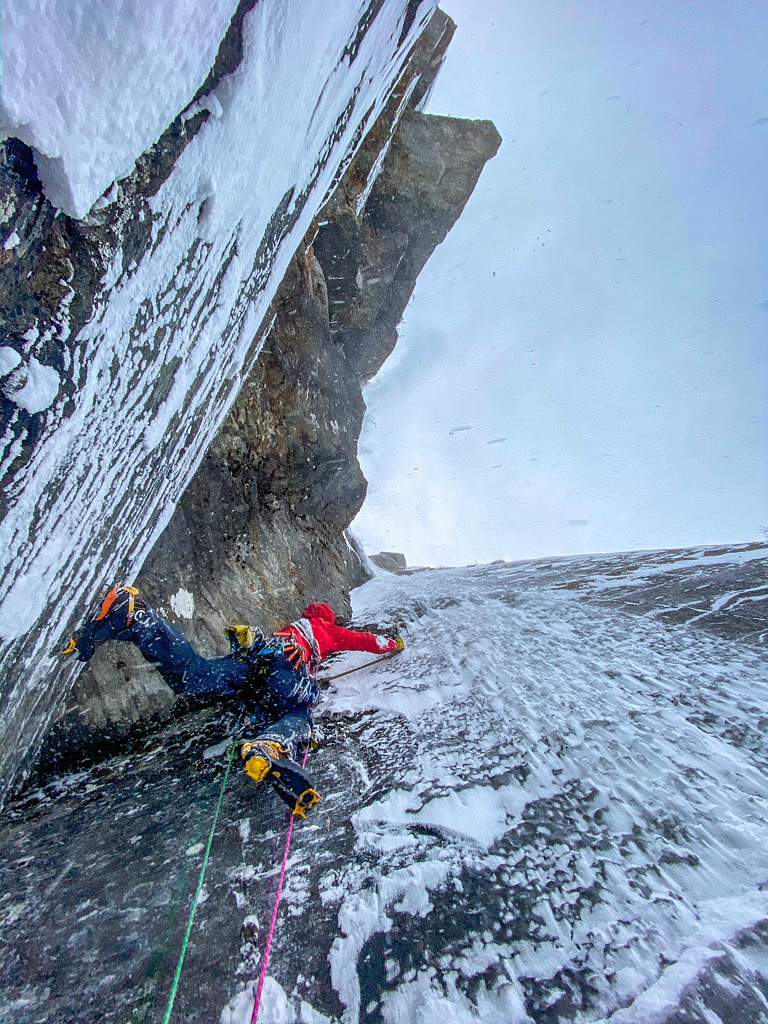 Greg Boswell fully involved in more super-thin conditions. Photo: Jeff Mercier
Following a day on some short steep ice flows the pair returned to another line they had spotted earlier in the week. Conditions weren't the best but they got stuck-in and had were rewarded with another great route as Greg explained again; 'Braving the storm today! It was a day of awesome steep ice, thin technical mixed and lots and lots of snow! None the less it was a super fun day and the route was really high quality. It was another line that we just spied from the valley and decided to do. It may or may not have been done before, but either way, it was worth getting dumped on by spindrift all day.'
Greg Boswell on To the Right of God, their 'last-day-best-day' mixed new route which weighed-in at IX,9/WI5. Photo: Mathis Dumas
Their final day at Lofoten gave Boswell and Mercier yet another new and striking mixed route which they climbed entirely on trad gear; Boswell again; 'After a snowy start this morning and a couple of plan changes due to daylight hours, we found and did an amazing new mixed line that didn't go down without a fight. Mega steep, techy and run-out through the roofs. The bonus was it all went on trad gear! What more could you ask for?!'
"For me, the best part of climbing in new places is the unknown", is how Greg summed-up his trip for Climber when we asked him what he thought was the best aspect of the Lofoten trip. "Jeff and I never really use guidebooks or topos when we climb together, we just explore the area and climb and try wherever lures us in. So even if things are established climbs or first ascents the experience is the same - full-on adventure!"
As with all trips into the mountains, there are downsides and challenges to Lofoten as Greg explained; "The snow and weather conditions were pretty engaging throughout our time in Norway. We had to be super careful where we climbed, due to avalanche risk and even when we chose an area that we thought was safer we had to be very vigilant when approaching and climbing on certain days. Despite what the Instagram stories looked like, we were still in a very wild and dangerous place and it is crucial to never take this for granted."
Climber asked how much potential is there at Lofoten for more new routes; quite a bit it seems: "We didn't manage to explore too much the full potential of Lofoten, but what we saw from some of our summits was out of this world! The surface and potential of this area has only just been scratched. There are masses to go at, you'll just need to work for it a little more as the approaches are involved and conditions dependant!"
Finally, we asked Greg to rank Lofoten in comparison with other areas for mixed/ice climbing; "Lofoten was pretty amazing, unfortunately due the conditions and daylight hours, we didn't explore the best that the islands had to offer. But for sure the place it is definitely up there in the world-class venue rankings! There is no doubt that I will go back soon. Probably just a little later in the season next time to gain more daylight and mountain time."
The following is a list of the routes – with lengths and grades – that Greg and Jeff did during their visit. FA denotes First Ascent…
Route 1– FA, Terrible Twos, IX 10, 120m
Route 2 – Existing Route (Name unknown), Couloir on the Abrahamstind mountain
Route 3 – Attempt on the summer line There and Back Again on Mount Geitgaljen. Backed off after 2.5 pitches
Route 4 – FA (Jeff) La Tournée du Poltron (The Tour of The Coward), WI5+, 40m
Route 5 – FA (Greg) Taking it Home, X,9/WI6, 40m
Route 6/7 – Existing Routes (Names unknown), steep ice above the Øvrevatnet Fjord, WI3-WI6 and everything in between is available here
Route 8 – FA, Nevada Ice, 3 pitches, M5,WI4. 130m
Route 9 – FA, To The Right Of God, (this was a local project that we had permission to try). IX,9/WI5. 100m, 3 pitches. Named after the late Guy Lacelle, who put up the two routes to the left of this one.