Bosi makes historic second ascent of Mutation (F9a+/b?)
Tuesday 2nd November 2021
Twenty-three years after Steve McClure's first ascent, Will Bosi has made the historic second ascent of Mutation at Raven Tor in the Peak District; one of the UK's renowned sport routes and originally graded "probably F9a" by Steve.
Keith Sharples reports on what is perhaps one of the most eagerly awaited second ascents of any UK sport route in history.
Will was clearly absolutely delighted to get the second ascent of this long-standing testpiece:
"Finally! This was by far and away my longest project on a route and I am so happy to clip the chains on it. It is so typical of the redpointing game that the route went down on the last go of the day with little expectation that I would send it! Full credit to Steve McClure on an amazing first ascent and for establishing a climb with such amazing moves."
Before we pick up on Will's remarkable journey to repeat this historic route it's perhaps worth reflecting on the then still young sport climbing scene in the UK when Steve did the first ascent of Mutation in 1998. Inevitably, the harsh Peak District grading regime which pervaded then and arguably, largely still exists today, has had more than a passing impact on both Steve as well as Mutation's given grade.
Back then, Ben Moon's mega Raven Tor testpiece Hubble and Jerry Moffatt's adjacent offering Evolution were originally given F8c+. A controversial 'down-grading' to F8c for Evolution was even suggested by the third ascensionist, Nick Sellars. When Steve climbed Mutation it was the UK's second only sport route graded F9a after Neil Carson's Big Bang at Pen Trwyn.
Steve recently published a blog (click here for the fascinating read) detailing the 24 days or so that the first ascent of Mutation took him. For comparison, Steve's ascent of Evolution took him six days in 1996.
Amazingly Will Bosi wasn't even born when Steve did the first ascent in October 1998. Quite literally, Will's ascent proves how 'next generation' Mutation was! Given Raven Tor is dead centre for the Peak's cutting edge sport climbing, that it's dry for probably nine months of the year and is a 15secs walk-in from the nearby road, Mutation has, understandably, drawn attention over the intervening years. Chris Sharma, Adam Ondra and Alex Megos are some of the biggest names in climbing and all have touched Mutation's hallowed crimps. Equally, some of the UK's finest sport climbers have been involved too; Ryan Pasquill and latterly Pete Dawson have both especially thrown their hats into the ring with determined and protracted efforts. All have left impressed but empty-handed!
Will explains the difficulties Mutation presents and just how hard it is to climb:
"Firstly the route is hard! Secondly, I needed a lot of factors to come together for the ascent. I needed perfect conditions, perfect skin as well as being in the right frame of mind. Finally, you have to climb it perfectly. As with the holds being so small, it is very easy to slip if the slightest movement is wrong.
Even though I felt ready to send it after a couple of sessions, it never all came completely together and while I felt so strong in comparison to when I first tried it, strength alone will not get you to the top of this route!"
Steve, renowned for his astonishing ability to crimp really small holds and execute sustained hard moves on very small marginal footholds, described Mutation as "A route designed for me". Will explains his take on Mutation:
"Mutation is probably the most consistent route in its style and grade; about 20 metres of the most savage crimping you can do! For me, the crux was in the last 2 moves before the intensity relents. You have to hold an edge so small it's hard to believe you are actually holding it at first! However, the moves do make it incredibly fun and complex. Especially the famous roll-over move in the middle."
Will's recent form has been staggering; early this year he climbed King Capella in Siurana a route which he graded F9b+ (Click here for our report on that ascent.) That took him around ten sessions to climb. Last year Will climbed La Capella (F9b); remarkably that took Will just three sessions! Earlier this summer Will made the fourth ascent of Steve's route Northern Lights (F9a) at Kilnsey; that went down in just two days.
Against this backdrop Will's 40-day ascent of Mutation is especially remarkable:
"So this has been by far my longest and hardest project to date. In total, it has taken me four years and around 40 sessions to complete."
Will's ascent on Sunday, October 31st, came in optimal condition – exactly the same as Steve's original ascent had done in 1998. The weekend's weather had been atrocious in the Peak District with torrential rain on both Saturday and Sunday mornings. The Tor however is renowned for not only staying dry but giving superb climbing conditions despite the prevailing weather. Once the rain had swept through, Will arrived at about 3pm having warmed up in Sheffield on a board. Most climbers were leaving when he arrived and he had just two hours before darkness fell. His first two redpoints went well but neither were successful.
Will explains how he felt and what the conditions were like for his third and final attempt:
"For the send, everything just came together; my skin was perfect, the conditions were great as there was a strong breeze whipping across the rock which kept the temperature down and I felt so strong on the wall. As I have spent the last three October's training for competitions, I have often missed the really good condition days so I think I had a lot of luck this time around."
So then, what about the biggest question of all; what grade does Will think Mutation is?
"Honestly, I think I lost all concept of the grade on this one about 20 sessions ago! However, I do know it cannot be F9a as the first half of the route is Evolution and gets F8c+. I sent Evolution in three attempts in the middle of July, in contrast, to send just the Mutation extension link took me around five days! So in my head, the top half has to be at least F8c+ too…? Now F8c+ into F8c+ definitely doesn't make F9a. Also to note, I reckon I must have sent Evolution hundreds of times by now which makes it even harder to grade, the bottom only takes about a minute to climb through now also! So is Mutation the world's first F9b? Maybe, time will tell with other ascensionists but I think I'll go for F9a+ for now…"
Wowzer – possible F9b?! Grade math is a wonderfully engaging subject; don't forget that Steve said that Rainman was an F8c+ into an F8c+ and adding those two together Steve got F9b for Rainman. Makes you think, doesn't it!?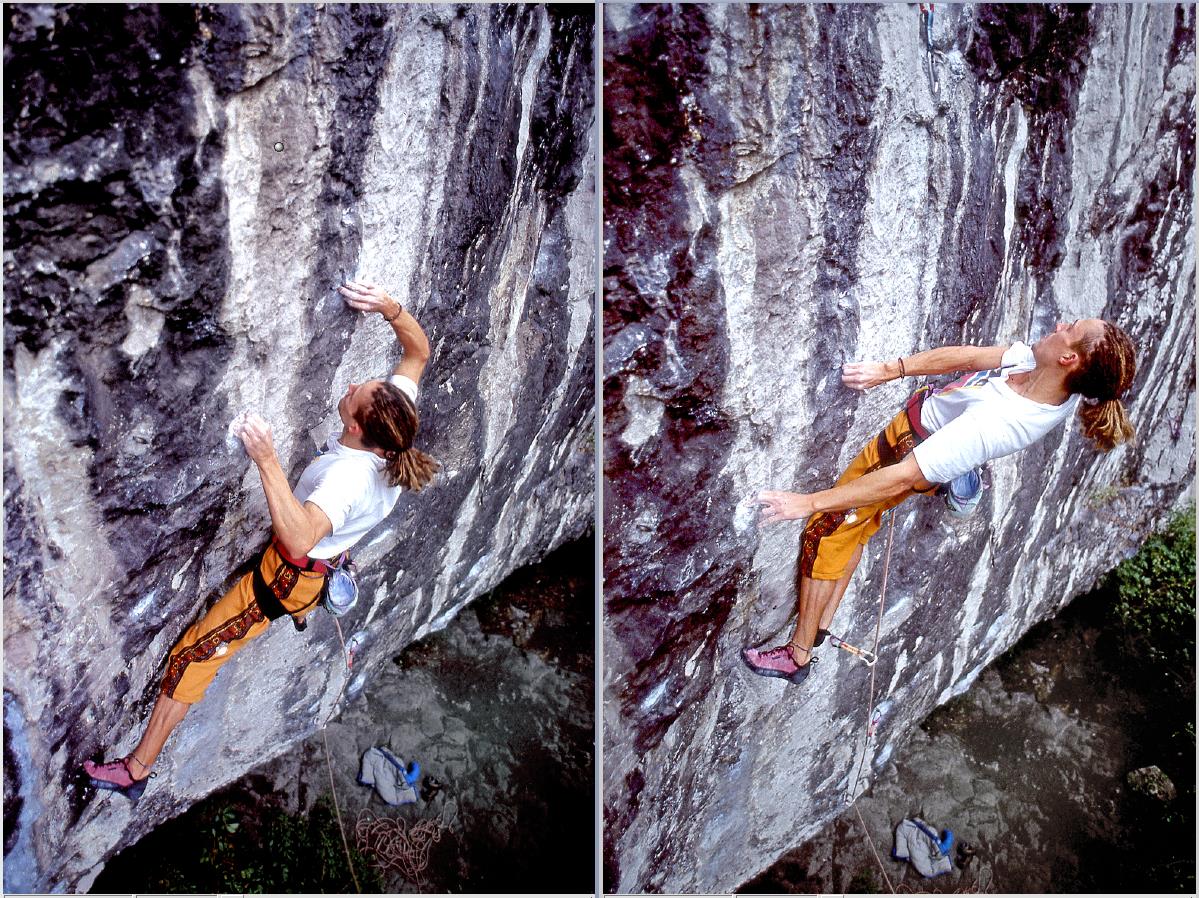 In the press release that accompanied this news, Steve had this to say about Will's second ascent:
"My first reaction when I got the news was 'Awesome!' I was so psyched for Will that he had finally done Mutation. A few years ago, I was really worried that the route was going to gather dust and not see a repeat so it was great when Will opened his account on it. Obviously, I think he took probably longer than he would have wanted on it but for me, the route is at the absolute limit with no margin for error. You need to have the route dialled, be in great shape and have perfect conditions so I am really happy that it all came together for Will!"
Climber has since been in touch with Steve for his reflections following Will's repeat for his thoughts – not least on how long it's taken to get a repeat and on the tricky business of the grading.
We asked Steve whether he expected that it would take 23 years before it would see a repeat:
"No! No – definitely not! At the time I did it though I wasn't even thinking about it being repeated – I was just focused on doing it and how to grade it really."
And on the subject of grading:
"I was relatively in-experienced back then and didn't want to go throwing a big grade about as a no-body! In the end, I gave it "probably F9a" as a compromise."
Interestingly, Steve's been back on Mutation in the last year or so and that has inevitably made him reflect on his original grading:
"Having been back on it I can see now I clearly under-graded Mutation! I hadn't done Hubble at that time and Nick had suggested Evo was F8c so in my mind I was questioning whether Mutation was two grades harder than Evo and whether it was just F8c+ hence I gave it probably F9a; that felt like a stretch at the time!"
So how does Steve reflect on Mutation's grade now:
"It's still really hard to say. I was really into the Tor at the time having done Mecca Extension (F8c) and Mega Whore (F8c) and as you know when a place suits you it's really hard to be objective. I see now that Mutation is not F9a for sure, but what it is I'm still not sure. I did Evo last year again in less than an hour and also linked the top Mutation headwall too. There was talk of it having lost a bit of an edge when Ryan was on it but I think he glued it a bit and it all looked and felt pretty much the same to me.
For me, Mutation is not as hard as Rainman. I reckon I would fancy my chances of repeating Mutation rather than doing Rainman again but that might just be me and my style of climbing."
Footnote
The word is that Alex Megos is massively psyched for a return match with Mutation also. He plans to reacquaint himself with said route next year and as set aside a whole month for a sustained campaign. Maybe we'll know more then, so watch this space, the Mutation story isn't over yet perhaps!?
Three years after Steve's ascent of Mutation Chris Sharma, then considered the best climber in the world, did the first ascent of Biography at F9a+ in 2001. At the time of this ascent it was considered to be the world's first F9a+. Sharma went on to establish was then considered to be the world's first F9b, Jumbo Love in 2008.
A number of other gradings are relevant: Evolution is F8c+, Hubble and Action Direct – both originally F8c+ are now both widely considered F9a, Huber's Open Air climbed in 1996 and then graded F9a has been upgraded to F9a+.