Bosi and Phillips set new British speed records in Chongqing
April 27th; 2019
Both Will Bosi and Emily Phillips finished the Chongqing speed comp with new PB's and British speed climbing records!
YiLong Song on her world record run of 7.101 in the quarterfinal. Photo Eddie Fowke
Will's record run of 7.079 secs gave him his best ever place in a WC speed event finishing in a very respectable 38th. Emily's record run of 10.898 secs was likewise her best ever result giving her 48th. Billy Ridal also had a very good day clocking 7.597 secs finishing in 48th, his first time in the top 50.
Yesterday's competition also saw a new women's world record of 7.101 secs in the quarter final by YiLing Song of China. That bettered the previous record of 7.37 secs jointly held by Iuliia Kaplina and Anouck Jaubert. Remarkably, Song finished last year's speed world cup in 16th place so she's really stepped up her 2019 game. Song also finished 4th in the Hong Kong Asia bouldering cup recently so she's very definitely worth watching as the season progresses. Song took the gold ahead of Aleksandra Rudzinska and Iuliia Kaplina. Anouck Jaubert finished in fourth. Over in the men's comp Alfian Muhammad toke gold with a blistering 5.970 sec run ahead of Kostaintyn Pavlenko and Sergey Rukin.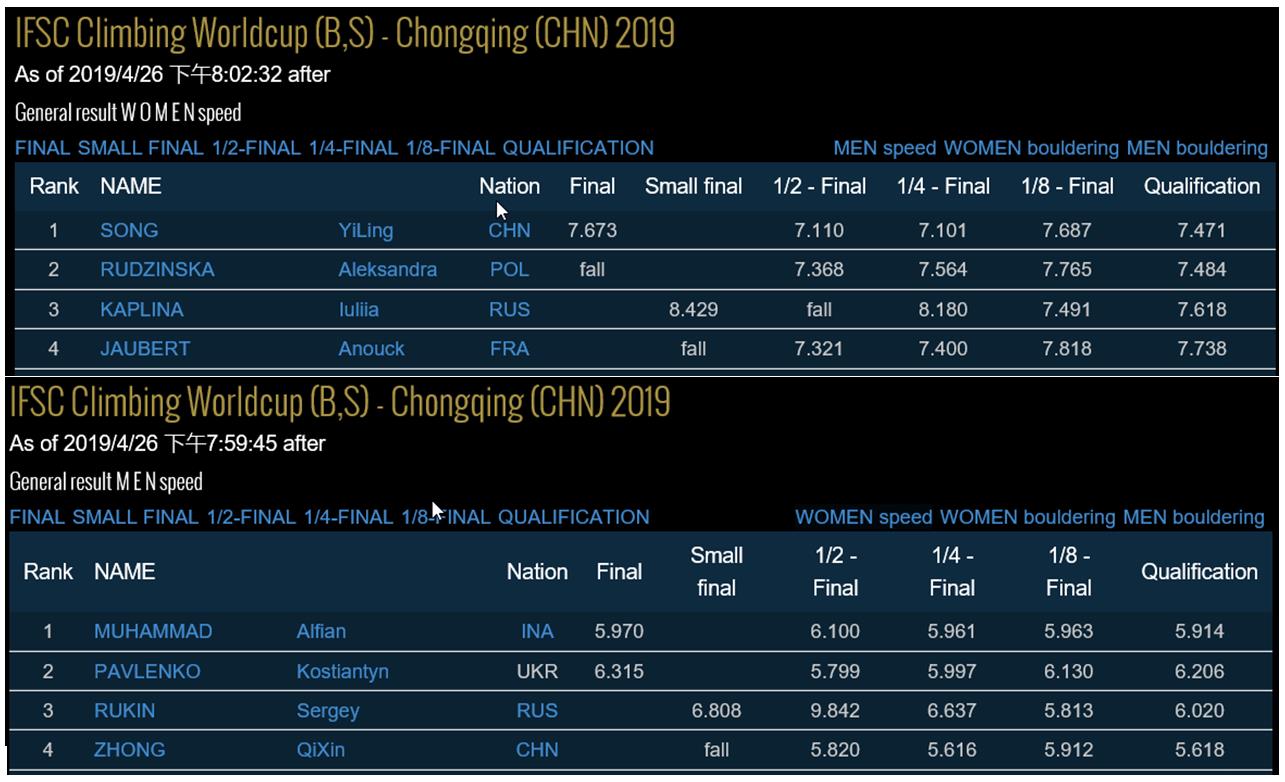 The speed results
The non-specialists speeds times also reveal an interesting picture with many climbers recording fast and/or PB times. Of the big lead/bouldering names in the women's comp, Sol Sa recorded 9.41 secs whilst Janja Garnbret recorded 9.46 secs - a new PB for her. Just behind were Kyre Kondie with 9.56 secs with the 16 year old Australian star Oceania Mackenzie recording 9.64 secs. Akiyo Noguchi, Petra Klingler and Julia Chanourdie all stopped the clock under 10 secs whilst Chloe Caulier, Fanny Gilbert, Jain Kim and Emily Phillips come in under 11 secs.
It was a similar picture in the men's speed comp as well with Kokoro Fujii recording 6.620 secs (24th), Manuel Cornu 6.678 secs (26th) and Jan Hojer 6.763 secs (27th). A further raft of non-specialists came in between 7 and 8 secs including Will Bosi 7.079 (34th), Sean McColl 7.111 (37th, Nathaniel Coleman 7.165 (39th), Jacob Schubert 7.167 (40th), Rei Sugimoto 7.372 (42nd), Jongwon Chon 7.467 (44th), Sascha Lehmann 7.581 (47th) and Billy Ridal 7.597 (48th). Farther down the order was Jernej Kruder 8.074 (56th), Aleksey Rubtsov 8.971 (68th), Stefano Ghisolfi 10.450 (80th).
Watch the finals below…